Molisani inducted into Oneonta society
ONEONTA — Kathryn Molisani of Queensbury was inducted into SUNY Oneonta's Alpha-Kappa-Iota chapter of Phi Alpha Theta, the National History Honor Society. The students were inducted during the History Department's Awards and Phi Alpha Theta Induction Ceremony last week in Le Cafe at Morris Conference Center. The special guest was Elizabeth Mosher, Daughters of the American Revolution state chairperson and SUNY Oneonta alumna.
Phi Alpha Theta is an American honor society for undergraduate students, graduate students and professors of history, and is the second oldest such society in the United States. In order to be inducted, undergraduate students must complete a minimum of 12 semester hours (four courses) in history, achieve a minimum grade point average of 3.1 in history and a grade point average of 3.0 or better overall. A maximum of three credit hours of online, transfer or AP credits may be applied to the membership eligibility requirement. Membership is not limited to history majors.
Students initiated into Phi Kappa Phi
BATON ROUGE, La. — The following local residents were recently initiated into The Honor Society of Phi Kappa Phi, the nation's oldest and most selective all-discipline collegiate honor society.
Tyler Moseman of Bolton Landing, initiated at State University of New York College at Plattsburgh;
Brittney Campbell of Corinth, initiated at State University of New York College at Plattsburgh;
Camryn David of Greenfield Center, initiated at State University of New York College at Plattsburgh;
Courtney Jaffe of Lake George, initiated at State University of New York College at Plattsburgh;
Kylie Shufelt of Lake Luzerne, initiated at State University of New York College at Plattsburgh; and
Stephanie McLain of North Creek, initiated at State University of New York College at Plattsburgh.
Students present research projects
ONEONTA — More than 100 students presented projects at SUNY Oneonta's annual Student Research and Creative Activity Day event from April 18-19.
Created to recognize and promote undergraduate scholarship and creative activity, Student Research and Creative Activity Day has become the premier on-campus event for scholarly student exhibition. A total of 152 students, supported by faculty sponsors from a variety of academic disciplines, displayed poster presentations in the college's Hunt College Union during the two-day showcase.
Amy Rohrman of Granville presented a project titled "Survey of Microsporidia in the Aquatic Invertebrate Taxon Glossosoma sp. in Otsego County N.Y.;" and
Eilean Underwood of Chestertown presented a project titled "Waste Production, Energy Consumption, and Sustainable Practices within the Food Sector."
Students inducted into honor society
CANTON — Students have been inducted into Chymist, the chemistry honorary society at St. Lawrence University in Canton. This organization derives its name from Robert Boyle's "The Sceptical Chymist," a volume that solidifies Boyle as the founder of modern chemistry. To be eligible for membership, St. Lawrence students must have taken at least six courses of chemistry with a minimum grade point average of 3.5 and an overall grade point average of at least 3.2. Local students include:
Gabrielle T. Davis of Glens Falls, a member of the class of 2020, majoring in chemistry; and
Kellen M. Wolfe of Glens Falls, a member of the class of 2020, majoring in chemistry.
Local SUNY Canton students recognized
CANTON — SUNY Canton recognized students with the highest grades at the William J. Mein Honors Convocation, held as a formal recognition of student achievement. It is named annually to honor a retired faculty member who has made significant contributions to the college. An award is bestowed to each student with the highest grade point average for their academic year in each of the college's programs. Local students include:
Elian L. Erickson of Hampton, game design and development;
Jonathan A. Luse of Middle Grove, mechanical engineering technology; and
Michael Wilson of North Creek, graphic and multimedia design.
Lake George student gets university award
HIGH POINT, N.C. — Michael Dreher, a senior from Lake George, received the University Award for Service from High Point University in High Point, North Carolina.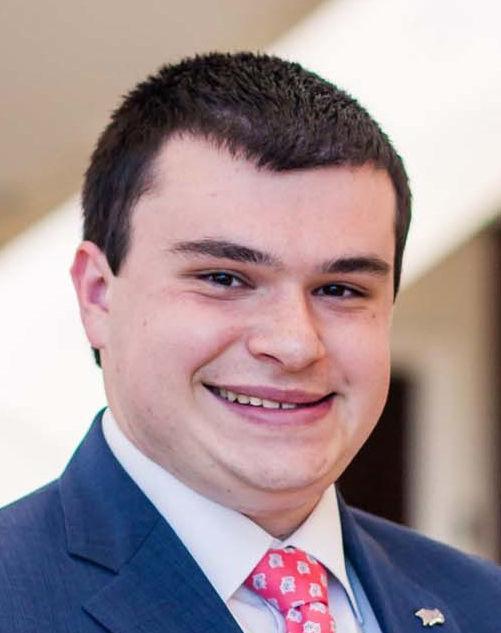 Dreher, a business major and computer science minor, has been an involved member of campus and the surrounding community. At HPU, he is chief justice of the Student Government Association and a presidential scholar. He is also a member of six honor societies: Alpha Chi National Honor Society, Order of Omega Greek Honor Society, Delta Mu Delta Business Honor Society, National Society of Leadership and Success, Order of the Lighted Lamp and Beta Theta Pi Fraternity, of which he is the past president. Under his leadership, Beta Theta Pi was the recipient of the Chapter of the Year Award.
Beyond campus, Dreher volunteers in the High Point community with organizations including the Boys and Girls Club, Open Door Ministries, the Salvation Army and Make a Wish Foundation. His nomination for the award called him "an incredible example of a leader" and said he has "served as a valuable resource, guide and mentor to his community."
Local SUNY Oneonta students honored
ONEONTA — Sixty-one SUNY Oneonta students were recently inducted into the Tau Sigma National Honor Society, which is designed exclusively for transfer students. The mission of the organization is to recognize and promote the academic excellence and involvement of transfer students. The minimum academic average required for membership is either a 3.5 on a 4.0 scale (or the equivalent thereof) or an academic average that places the prospective candidate in the top 20 percent of all incoming transfer students during their incoming semester. Local students include:
Sean D'Annibale of Gansevoort;
Nick Lehoisky of Fort Ann;
Cheyenne Reuter of Schuylerville; and
Christine Ward of Middle Grove.
Local student named outstanding scholar
ROCHESTER — Andrew DeVries of Gansevoort was one of more than 100 Rochester Institute of Technology students honored March 28 as Outstanding Undergraduate Scholars. The students were also able to invite the high school or community college teacher that made the most impact on their education.
The Outstanding Undergraduate Scholar Awards, held annually since 1976, honored students who have achieved at least a 3.85 grade point average. The scholars have maintained a high standard of academic excellence while also giving back to their community through civic or volunteer work, conducting research or being engaged in a co-op or work in their field of study.