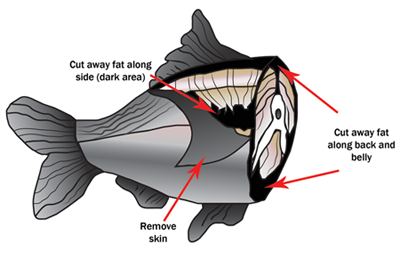 With more people out fishing and enjoying the weather, state health and environmental conservation officials want to remind the public to not eat fish in the upper Hudson River.
"For virtually every fish and virtually every location in the Hudson River, the advice is, nobody eat any of it, OK?" said Kevin Farrar, with the state Department of Environmental Conservation. "Eat none, for virtually every species at every location in the upper Hudson."
The advisories were a discussion at the Hudson River PCBs Superfund site community advisory group meeting last week, held at the Gideon Putnam Hotel and Conference Center in Saratoga Springs.
The General Electric Co. dumped PCBs, or polychlorinated biphenyls, into the river for decades. They dredged out some of the pollutants, but GE, the U.S. Environmental Protection Agency and the DEC are still monitoring the fish to determine a bill of health for the river. PCBs are hazardous to human health, potentially causing some cancers, and negatively impacting people's immune, reproductive, nervous and endocrine systems.
SARATOGA SPRINGS — The U.S. Environmental Protection Agency acknowledged there could still be a lot of PCB cleanup around the Hudson River, an…
In the middle and lower Hudson River, there are some advisories where men and women over 50 can eat up to one meal a month for certain species, but women of child-bearing age and children cannot eat any of the fish in the Hudson River.
Regina Keenan, with the fish advisories office of the state Health Department, added that it's striped bass season, but those are also off-limits for eating north of Catskill. There's a misconception that they're safe to eat, officials added, because they swim to the area from the Atlantic Ocean.
"We're not anti-fishing, and we're not against eating fish, but we are against eating contaminated fish," Keenan said.
Erin Silk, a spokesperson for the Department of Health, said Friday that the health department surveys people at various outreach events, to get information on what people are eating. It has collected 1,400 surveys so far.
"From Troy south, where it is legal to eat Hudson River fish, survey respondents report about 40% practice catch and release, and 75% of people who say they eat fish, eat striped bass," Silk added in an email to The Post-Star." NYSDOH advises women under 50 and children under 15 to not eat any fish from the Hudson River, and no one should eat striped bass from Troy to Catskill. South of Catskill, men and older women can eat striped bass and most other fish up to once a month."
While most local residents know the fish advisory drill by now, Farrar said the state is working on reaching non-English-speaking communities, especially in the lower Hudson River.
Silk said the Health Department "works with six mini-grant partners and many other organizations at the local level to help promote awareness of fish consumption health advice, learn more about who is eating Hudson fish, and develop educational tools and outreach activities."
There are also advisory materials the Health Department has that are translated into Spanish, Chinese, Haitian Creole and French.
"To reach immigrants, NYSDOH partners with Capital Region BOCES, and immigrant and refugee organizations trusted by these communities," Silk said. "Through these connections, NYSDOH and partners have presented the advice, suggestions for alternative water bodies to eat fish, and distributed outreach materials in 'English as a New Language' classes, at church congregations of refugees from Burma, at community events and on Spanish language radio."
Those men and older women that decide to eat a meal a month of certain fish as outlined in the state's health advisories should trim away fat from the fish and cook it on a rack so the fat drips off, according to a Department of Health pamphlet.
The fat is where PCBs collect in the fish. The fat drippings should not be used for stock or sauce.
The community advisory group plans to meet again in June to discuss fish findings and more about the Superfund site. The date and time is to be determined. To learn more about the group, go to hudsoncag.ene.com.
Get local news delivered to your inbox!
Subscribe to our Daily Headlines newsletter.