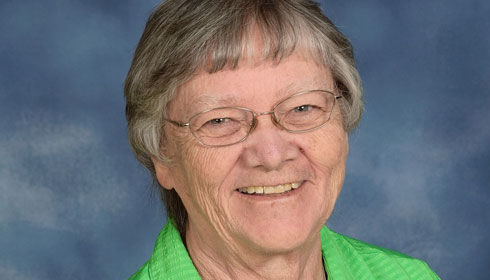 SCHROON — A Roman Catholic nun died in a head-on crash that injured two other people on Route 74 on Monday, police said.
Sister Monica Murphy, 77, of Albany, died when the 2015 Toyota Corolla she was driving veered into the oncoming lane, hitting a pickup truck head-on, according to State Police.
Murphy was pronounced dead after the 5:09 p.m. collision, which occurred when her eastbound car hit a Ford F-250 that was headed west.
The occupants of the truck, John Homer III, 49, and Dalton J. Homer, 22, both of North Creek, were taken to Elizabethtown Community Hospital for treatment of neck and back pain.
State Police said it was unclear what caused Murphy to cross into the oncoming lane. An autopsy was scheduled to determine her cause of death and whether a medical problem might have played a role in the crash.
You have free articles remaining.
She was the director of the Roman Catholic Diocese of Albany's Pyramid Life Center, a retreat on Pyramid Lake near the hamlet of Paradox in the town of Schroon, near the crash scene. She also taught at Catholic Central High School in Troy.
She had been a nun for 58 years, having earned a bachelor's degree in mathematics from the College of Saint Rose in 1965, a master's in mathematics from Duke University in 1973 and a master's in school counseling from the College of Saint Rose in 1993.
Murphy, a Sister of St. Joseph of Carondelet for the past 58 years, celebrated her 50th anniversary in a ceremony at Catholic central in 2011. She began her 33rd year as director of the Pyramid Life Center this summer, according to the diocese.
"All of us in the Roman Catholic Diocese of Albany are so saddened to learn of the news of Sister Monica's passing," the diocese said in a statement released on Twitter. "She was a beloved figure in our diocese, bringing her passion for her Catholic faith — and for all people — to everything she did, whether in our Catholic schools, where she served for more than four decades, or at Pyramid Life Center, where she was the driving force that has kept that camp thriving since its beginnings."
Staff at Pyramid Life Center, which Murphy helped found, said a celebration of her life will be held at a future date. Center activities and reservations will continue as scheduled.
"While the loss of Sr. Monica is tragic to the entire PLC family, it is our belief that she would want us to carry on her work," Pyramid staff posted on Facebook. "Therefore, Pyramid will continue to operate under our normal schedule for the rest of the season and beyond."
Route 74 was closed for several hours because of the crash, and the investigation was continuing Tuesday.