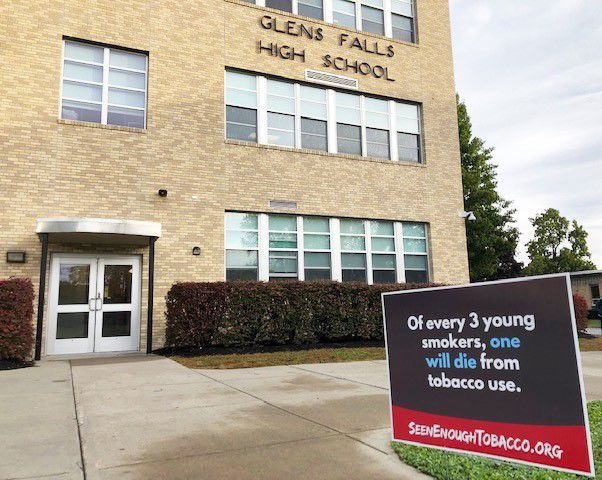 As more teenagers begin vaping tobacco, Glens Falls High School students were confronted Wednesday by haunting statistics.
Signs designed by Reality Check, a youth-led group, were posted around the school. They didn't pull their punches. One sign read, "Of every three young smokers, one will die from tobacco use."
Another said, "Tobacco companies spend more on marketing than the junk food, soda and alcohol industries combined."
The goal of Reality Check is to "counter the deceptive marketing practices of the tobacco industry and raise awareness about the effects of tobacco marketing on youth."
It is funded by Adirondack Health Institute.
The statistics are stark. Cigarette smoking among high school students is at its lowest rate in decades, but vaping has erased those gains. In 1976, 29% of high school seniors reported smoking cigarettes daily. It was at 17% in 2002, before vaping became widely available in 2003. Now, 27% of high school students are using some tobacco product.
The Centers for Disease Control and Prevention are also urging children to stop smoking.
"If cigarette smoking continues at the current rate among youth in this country, 5.6 million of today's Americans younger than 18 will die early from a smoking-related illness. That's about 1 of every 13 Americans aged 17 years or younger who are alive today," the CDC reports in a bolded message at the top of its tobacco page.
Out-of-network law results
There is good news about the law that holds patients harmless if they see an out-of-network provider during an emergency or without their knowledge.
From its implementation in March of 2015 through the end of 2018, the "OON Law" has saved consumers over $400 million. It reduced out-of-network bills by 34% and reduced in-network emergency physician payments by 9%, according to a report just published by the state Department of Financial Services.
"Surprise medical bills have been a huge burden that can stress consumers' finances, literally causing some people to go broke," Department of Financial Services Superintendent Linda Lacewell said in a statement. "Our review shows that the law is making a major difference in helping New Yorkers receive the health care they deserve without the unnecessary shock and onerous cost of surprise bills and the stress of having to enter disputes themselves."
The law essentially said that providers and insurers should decide together how much is paid in emergency situations, but the patients must not pay more than they would pay if they were in-network.
The law primarily protects patients in emergencies, when they often can't choose a provider but must take whoever is assigned to their case.
After the law was passed, more emergency physicians joined health insurance networks, the report found.
The law created an "increased incentive" to join networks, according to the report.
The law also applies to surprise bills. That's when a patient goes to an in-network provider, and some of the services are provided by an out-of-network provider without the patient's knowledge. For example, an in-network doctor might send specimens to an out-of-network lab.
When a provider sends in an out-of-network bill, the insurer now works with the provider to find an acceptable charge.
If the provider and insurer can't agree, they go to an Independent Dispute Resolution entity, which determines whether the provider or insurer has the more reasonable bill.
Patients who are not fully insured, either because their employer self-funded their insurance or because they are uninsured, can also submit out-of-network bills to an Independent Dispute Resolution entity for review through the Department of Financial Services. There's a link on the DFS website.
Chemical threats
Dr. Michael Holland is one of 68 experts worldwide selected by the European Commission's Scientific Committee on Health, Environmental and Emerging Risks.
Their job is to provide rapid risk assessment of chemical threats to public health, consumer safety and the environment.
He is the medical director of occupational medicine and employee health at Saratoga Hospital. He is also a consulting medical toxicologist at the Upstate New York Poison Center.
He specializes in occupational toxins, hazardous materials and indoor air quality, among other topics.
The European Commission chose him for his significant expertise in medical toxicology and environmental health.
In addition to his work locally, Holland is a principal medical toxicologist at the Center for Toxicology and Environmental Health in Little Rock, Arkansas, and serves on the American Industrial Hygiene Association Emergency Response Planning Committee. He lectures throughout the world.
Golfers support nursing
Golfers raised $157,514 for Saratoga Hospital's Nursing Scholarship Program last month.
More than 300 golfers turned out for the annual event at Saratoga National Golf Club.
The scholarship program began in 2002. So far, 127 recipients have graduated, and another 36 recipients are in school.
"Investing in nursing education is one of the best ways to ensure that we continue to provide the high-quality patient care our community deserves," said Mary Jo LaPosta, chief nursing officer and senior vice president of patient care and organizational excellence at Saratoga Hospital. "On behalf of our nurses and our patients, we extend our thanks to the very generous sponsors of this event."