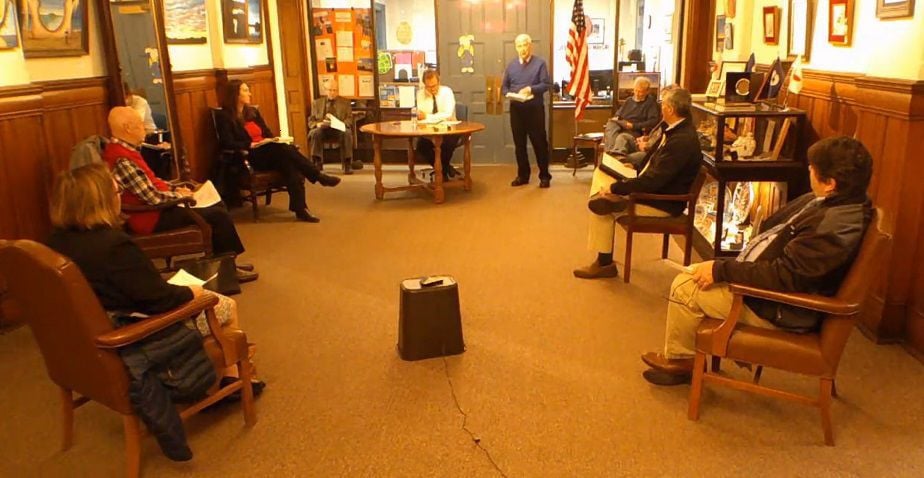 The Glens Falls Common Council soldiered ahead with its Tuesday meeting in a little different format to guard against the spread of the coronavirus.
The council met in the hallway outside Mayor Dan Hall's office with chairs spaced about 6 feet apart. The meeting was streamed on YouTube as many other government meetings are these days.
EDC Warren County President Edward Bartholomew gave some remarks about community development funding. This was followed by the Pledge of Allegiance and an opportunity for public comment through the telephone, but no one called.
Hall and council members then provided some brief updates and passed some mostly routine resolutions in a half-hour meeting.
Near the end of the meeting, Fifth Ward Councilman Jim Clark complimented the city's efforts during the COVID-19 pandemic.
"I just wanted to thank the mayor and the city employees for all their hard work during these trying times under your leadership, mayor, in guiding us through this," he said.
Hall said the city has good department heads, police chief and fire chief that are all working together through phone teleconferencing.
"We've got skeleton staffs, but all departments are being covered. I think we've done a great job," he said.
Fire Chief James Schrammel is serving as the city's liaison to Glens Falls Hospital and the Warren County Department of Public Health, according to Hall.
First Ward Councilman Jim Campinell urged the need to practice social distancing.
"When you sick, you don't go out. Even if you're not sick, you could be asymptomatic and still have the coronavirus, I've heard reports of people and even a business that had a gathering and this is totally unacceptable. This is not a joke," he said.
Fifth Ward Councilman Scott Endieveri thanked people who are doing random acts of kindness for each other.
Third Ward Forum
Third Ward Councilwoman Diana Palmer and Glens Falls Third Ward Supervisor Claudia Braymer will be holding their community forum — originally scheduled for April 2 — on Thursday using the Zoom virtual meeting website.
Sara Frankenfeld from Warren County Planning Department will talk about the 2020 Census and Elizabeth Little Hogan, chairwoman of the Crandall Park Beautification Committee, will speak about improvements at the park.
Communication is important
Third Ward Councilwoman Diana Palmer said that now, more than ever, it is important for residents to stay connected and the work of the Technology Committee has proven fruitful.
The city has an Instagram page. People can subscribe to a notification system to get emails about important information. She recommended signing up for the "Spotlights" notification. People will receive an email when any important notification is posted there.
Building code update
The council postponed its public hearing on the revision to the building code. The city is amending the code to take out all language regarding fees.
The purpose of this change is so a separate fee schedule can be adopted by a simple resolution instead of the cumbersome process to amend the code. The fees have not increased in about 15 years.
Councilwoman Diana Palmer said the Building and Codes Committee has a meeting tentatively scheduled for April 9, but she is not sure how that is going to happen. City officials are preparing a draft of its vacant property registry law. This would require building owners to pay a yearly fee and provide a contact person that the city can reach out to if there is an issue.
Community development funds
Bartholomew, the EDC Warren County president, gave an overview of the nearly $500,000 in community development funds that are used for projects to help eligible homeowners repair their homes, including roof and electrical upgrades, and discussed the First Time Homebuyer program and stepped-up city code enforcement efforts.
Community development funds have also been used for infrastructure projects in low- and moderate-income neighborhoods that qualify. Also, Bartholomew said up to 15% of the allocation can be used to help nonprofits. Bartholomew said the city will be discussing with housing officials about whether more money can go toward nonprofits that might be seeing increased need.
Funds may have to be reallocated from other uses such as recreational activities, according to Bartholomew.
Roofs study
The council voted to award an engineering contract to study replacement of roofs at City Hall and city buildings to C&S Companies for nearly $300,000.
The city has been evaluating the needs of its aging buildings, which also include the Department of Public Works facility on Dix Avenue and the fire stations.
Last column
This will be my last City & Town column. I am adding covering Warren County and cops and courts to my beat since Don Lehman has left to take a job as director of public affairs for Warren County. I am handing over the city beat reins to Will Doolittle.
It's been fun keeping tabs on the revitalization of Glens Falls and I will still be writing stories that affect the city in my new position.
Get local news delivered to your inbox!
Subscribe to our Daily Headlines newsletter.