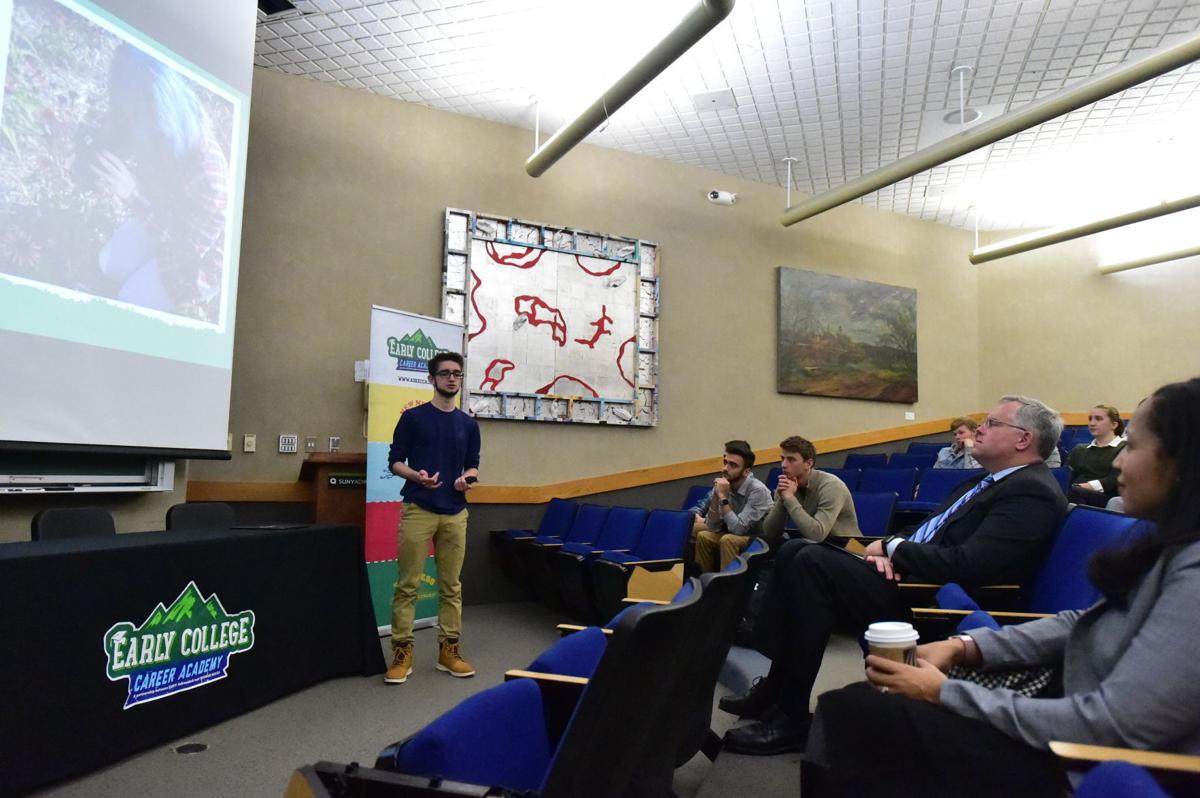 Assemblyman Dan Stec, R-Queensbury, got a glimpse of the myriad of programs offered by WSWHE BOCES last Friday when he toured three separate BOCES facilities and heard from students and instructors at each.
His last stop was SUNY Adirondack, where students enrolled in the Early College Career Academy filled him in on the courses they take and how much college credit they're getting out of the way while still in high school.
Stec spoke to the students after their presentation and said he was impressed with the wide range of "pipelines" students have to pursue interests early.
"In 1987, there weren't all of these choices. It was really only one or two paths. There was a four-year college path and an everyone-else path," Stec said. "You're in a position now where if you know what you want to do, you can jump on it."
Stec said he thought his teachers did a great job at the time, but the ability for students to tailor their education to their own needs leads to higher engagement and better outcomes. He added the internships and work experience also helps students get ready for life after school.
"This is unique and I think unique helps prepare you for the everyday rough and tumble of a less-scripted existence," Stec said.
Student loan regulation
Gov. Andrew Cuomo issued a regulation last week designed to protect student loan borrowers from "unscrupulous" practices in the student loan servicing industry.
You have free articles remaining.
A news release from the governor's office said the new rules will require lenders to apply payments in borrowers' best interest rather than maximizing fees, as well as inform borrowers of income-based repayment and loan forgiveness options, provide time responses to complaints and more.
Cuomo said he was taking action to hold lenders accountable for deceptive practices.
"This new regulation will force student loan servicers to be more transparent when it comes to how they do business and in the process help ensure students and their families aren't misled when trying to pay for their higher education," Cuomo said.
A full version of the final regulation is available at the Department of Financial Services website.
SRO oversight
A new report from Strategies for Youth has found less than half of states have legislation requiring SRO training with even fewer requiring de-escalation training or adolescent development training.
School resource officers should not inquire about the immigration status of a student or a s…
Strategies for Youth, a policy organization working to improve interactions between youths and police, argued in the report that despite the nearly $2 billion investment at the federal and state level, oversight on training protocols is lacking especially at the federal level.
The analysis did applaud five states for requiring training to be trauma informed, but urged advocates across the country continue pushing for a more thorough training program before officers enter schools.
"Advocates in every state must continue to be vigilant in their efforts to ensure that SROs are not pushing children unnecessarily into the juvenile justice system, criminalizing normative adolescent activities, or unnecessarily using force against children who pose no danger to themselves or others," the report states.