Not everybody is high on the idea of New York legalizing marijuana for recreational use.
Law enforcement personnel, elected officials and substance abuse prevention advocates are concerned about increasing police costs to enforce the law and sending the wrong message to children about drug use.
"I think this is going to set prevention back," said Amanda West, executive director of the Council for Prevention.
A work group is drafting legislation for the upcoming session for a regulated adult use marijuana program. A report studying the issue found that anywhere from $248 million to $678 million in revenue could be collected through a marijuana tax, depending on the price of marijuana and how high the tax is.
The report estimates that 1.29 million people would buy legal marijuana during the first year after legalization. It suggests making 21 the legal age for purchase.
West worries that making the drug legal will give teenagers the perception that it is not risky for them to use, but she said the human brain is not done developing until a person's mid-20s.
"If parents are doing it and if it's widely available and regulated, what message are we sending to our youths?" she said.
West also worried about increasing incidents of youths using marijuana and driving.
About 3.5 percent of seventh- through 12th-grade students in Warren and Washington County reported that they had driven while using or under the influence of marijuana, according to the 2016 survey from the Council for Prevention. While that is down from 5 percent in the 2014 survey, prevention officials expressed concern, because that means about 212 students reported driving under the influence of marijuana.
About 9.5 percent of youths reported that they had used marijuana within the past 30 days, which is a little above the state average.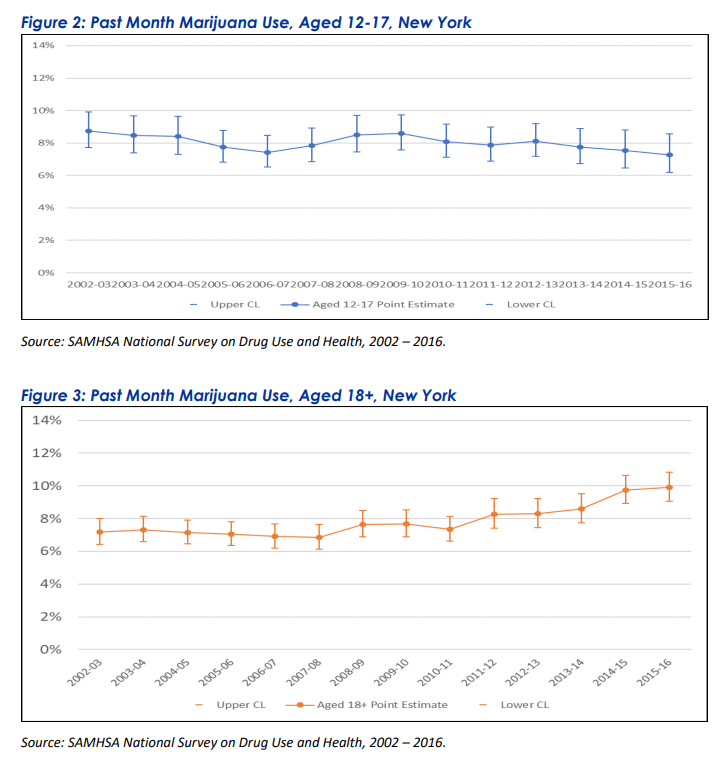 Question of perception
Queensbury Superintendent of Schools Douglas Huntley also opposes legalization.
"I think it minimizes the risk that students will perceive. If it's legal, it must be OK. That's what students will be thinking. In my opinion they will be more apt to use it," he said.
Huntley believes marijuana, if legalized, will be more accessible to underage users.
Warren County Undersheriff Shawn Lamouree also worried about keeping it out of the hands of children.
That there are licensed dispensaries for marijuana in Colorado has not prevented a black market from springing up for untaxed marijuana, according to Lamouree.
A study from the Rocky Mountain High Intensity Drug Trafficking Area found that the average number of youths who used marijuana during a two-year period from 2013-2014 increased by 20 percent over the two years immediately before it was legalized in Colorado.
Other studies found, however, there was no significant increase in marijuana use by teenagers. The Colorado Department of Public Health and Environment found that 21 percent of high school students surveyed in 2015 had used marijuana within the past month, almost the same as the 20 percent in 2013.
Also, studies in the states of Washington and Oregon found that marijuana use among teens has been stable or slightly lower after legalization.
Marijuana use among 12 to 17-year-olds nationwide has dropped to the lowest level in more than two decades, according to a 2016 U.S. Substance Abuse and Mental Health Services Administration survey.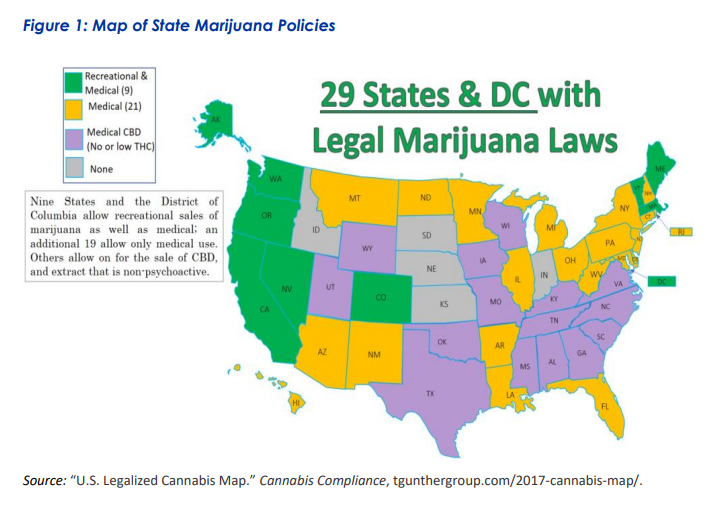 Traffic safety
Lamouree worries about road safety. He said one of his school resource officers, who worked for a few years in a Colorado resort town, told him that authorities there saw a great increase in the number of people driving while impaired by drugs.
"We spent so much time doing education and enforcement to reduce drunk driving crashes, injuries and fatalities. I would be concerned that you would possibly see an increase in those categories due to people driving impaired by marijuana," he said.
Lamouree said officers can't measure marijuana impairment accurately, as they can with equipment that measures a person's blood alcohol content.
"We only have one drug recognition expert. If he wasn't on duty, you'd be looking to call him to assist on making a determination," he said.
The state report acknowledges the expense of training drug recognition experts. But it says long-term savings could come from reductions in police, court and prison costs.
There is not a lot of data on the impact of marijuana use on vehicle crashes, according to the state's report. The National Roadside Survey of 60 sites across the country found that 12.6 percent of drivers tested positive for THC, the chemical in marijuana responsible for getting high, in 2013-2014. That is an increase from 8.6 percent in 2007.
A study in Washington State found the percentage of driving while intoxicated arrests as a result of marijuana impairment increased to 21.4 percent during the 6 months after marijuana legalization, compared to 14.6 percent for the 6 months prior to legalization.
Marijuana can cause slower reaction time and impair judgment and motor coordination. The number of crashes in Colorado has not increased significantly since legalization, however, according to the New York report.
Gathering input
The state is holding 15 listening sessions across the state to get input on the matter. One held Sept. 6 at SUNY Adirondack drew an audience mostly of people who favor legalization.
Politicians are researching the issue, as they will likely take it up in the new session in 2019.
Sen. Elizabeth Little, R-Queensbury, said she has concerns about legalization, including about people driving under the influence and the ability of police to track that.
"It supposedly stays in your system for a long time, so how do you know whether a person is impacted by the use of marijuana?" she said.
QUEENSBURY — North Country residents came out overwhelmingly in favor of the legalization of marijuana at a listening session on Sept. 6, citi…
She is also hearing concerns from people in the addiction community.
"They still feel it's a gateway drug," she said.
Little's Democratic opponent, Emily Martz of Saranac Lake, supports legalization. She said arrests have disproportionately hurt low-income people and can be financially devastating. In addition, there would be an economic benefit to New York, as in other states.
"We certainly don't want our farmers and business community to be left behind, especially in the North Country, when you think about all the farm land," she said.
Martz pointed to studies in other states where marijuana was legalized, which showed no increase in use by youths or in traffic accidents.
She added that, if elected, she would insist that a significant amount of the revenue from marijuana taxes go toward prevention and recovery programs.
Steve Ruzbacki, a write-in candidate for the state Senate, strongly supports legalization. He said people should have personal cultivation rights and this is an opportunity for economic justice.
"The people that've been hurt by cannabis prohibition are the very people that should have the first crack at this industry," he said at the forum.
Assemblyman Dan Stec, R-Queensbury, and Democratic Assemblywoman Carrie Woerner of Round Lake did not return messages seeking comment about this issue.
Woerner's Republican challenger, Morgan Zegers of Ballston Spa, said she is not ready to support legalization until she hears more about how the issue is affecting other states. She is hearing concerns from law enforcement officials that they had to spend more money to enforce the law and catch people driving under the influence, she said.
Inevitable?
Glens Falls resident Robin Barknhagen, proprietor of the 42 Degrees head shop on Park Street, said it is about time for the state to legalize marijuana. He sees positive economic benefits from legalization and taxation.
"I think it's going to be incredible. There's going to be more jobs —from the manufacturing end to the retail end," he said. "There's going to be more tax money, so no municipality should be worried about their school budgets or raising higher taxes. We may even be able to lower taxes."
"The concerns are mostly unfounded, that youth are going to be doing it more, that it's a gateway," Barkenhagen said.
Barkenhagen is pleased with the listening sessions being held all around the state.
"They're taking the time to try and make it right. It seems to me that it's going to happen," he said.
Queensbury Superintendent Huntley agrees legalization is probably inevitable.
"The political and economic impact for the state probably will result in marijuana being legalized," he said.