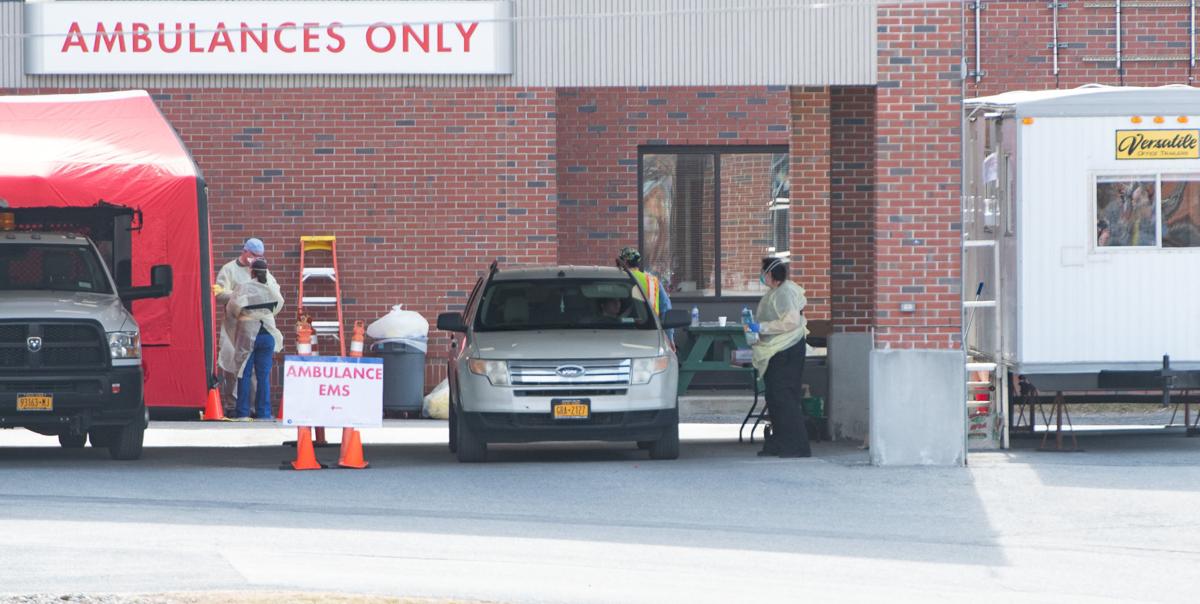 For one North Creek family, coronavirus snuck in almost unnoticed.
Now the patriarch of the family, 84, is in critical condition at Glens Falls Hospital.
It all started last Friday, when he told his daughter he had a slight fever. His wife said she thought she'd heard him wheeze once during a nap.
Alarmed, his daughter decided to drive over and evaluate the situation herself.
"They keep talking about watching people's breathing. Neither of them were feeling they had breathing issues," she said. "We were not alarmed by any symptoms."
The Post-Star is withholding her identity because she has asked to remain anonymous since her father is now sedated on a ventilator. She can't get his permission to tell his story, and she doesn't want to embarrass him.
But she is speaking out because she wants people to know how serious the virus can be and how quickly it can turn into a life-threatening situation.
Her father has no underlying health conditions. He felt he was not high-risk, though she argued that his age inherently put him more at risk if he caught the virus.
He was also careful. More than two weeks ago he stopped all contact with groups and only left the house to go to the grocery store.
"And he was very careful, he sanitized his cart, he used hand sanitizer after he finished and tried to maintain distance from people," she said.
When he got a fever, she insisted on taking him to Glens Falls Hospital even though he seemed to have no breathing problems.
"We had to sit in the parking lot of the hospital for a few hours. He really did not seem sick," she said, adding that she used the time to watch him closely for any signs of illness. "He coughed once."
Cars are stopped at the hospital entrance and are directed to the parking lot to wait for evaluation at an outdoor location, in an effort to minimize the spread of the virus.
After a wait, he was taken into a trailer, where they checked his oxygen level. Immediately, they gave him oxygen, put him in a wheelchair and took him to the Emergency Department. His daughter could not go with him because visitors aren't allowed.
The hospital did an X-ray and then a CT scan of his lungs.
"He did not feel he was have breathing issues, but when they looked at his lungs they looked terrible," she said.
Pneumonia, a telltale sign of coronavirus, had invaded his lungs.
That evening he was sedated and placed on a ventilator in the intensive care unit. A ventilator is a machine that breathes for a patient, pushing oxygen into the lungs.
Doctors told the family that he was in critical condition. On Monday he was still critical, though improving slightly.
"The oxygen that he's needing through the ventilator has gone down, so that's good. But his kidneys are not functioning well now," his daughter said.
Since the family can't visit, an ICU nurse arranged for them to call. She placed the phone by her patient's ear so they could speak to him.
"My mother really feels awful that he's there alone," the daughter said.
Nurses offered a video call, but the daughter thought it would be too upsetting for her mother to see her father laying in bed, sedated. So they spoke to him without video instead.
Hospital officials are very aware that a man is in a life-threatening situation without family to comfort him.
"Having a loved one in the hospital with a COVID-19 diagnosis during this crisis is incredibly stressful for the family. And, of course, the patient is isolated from family members, which makes healing even more difficult," said hospital spokesman Ray Agnew. "We are keenly aware of this, and do everything we can to provide regular communication for the family about their patient, and to have alternate methods for the family and patient to be in touch with each other."
And then things got worse.
The day after she brought her father to the Emergency Department, she brought in her mother.
"Because my mother exhibited the symptoms, I brought her. They diagnosed her but they sent her home," she said.
An X-ray showed the mother's lungs were clear, so she was sent home with instructions to watch for "any downhill symptoms."
Given how few symptoms her father had shown, the daughter bought an oxygen sensor to monitor her mother. Figuring she had already been thoroughly exposed, and not wanting to leave her sick, elderly mother alone, she moved in to take care of her.
"Then two days after I was exposed to my father, I exhibited symptoms — fever, headache, tiredness. But it is mild," she said.
So they waited it out. On Tuesday, her mother was admitted with pneumonia and medical providers had to increase the oxygen for her father.
"I would appreciate any healing thoughts or prayers," she said. "It's not good. They are both 84. People need to take this virus seriously."
She wishes the area could be flooded with tests to accurately show how much the virus has spread. Then, she said, people might actually stay home and stop spreading it.
Concerned about COVID-19?
Sign up now to get the most recent coronavirus headlines and other important local and national news sent to your email inbox daily.