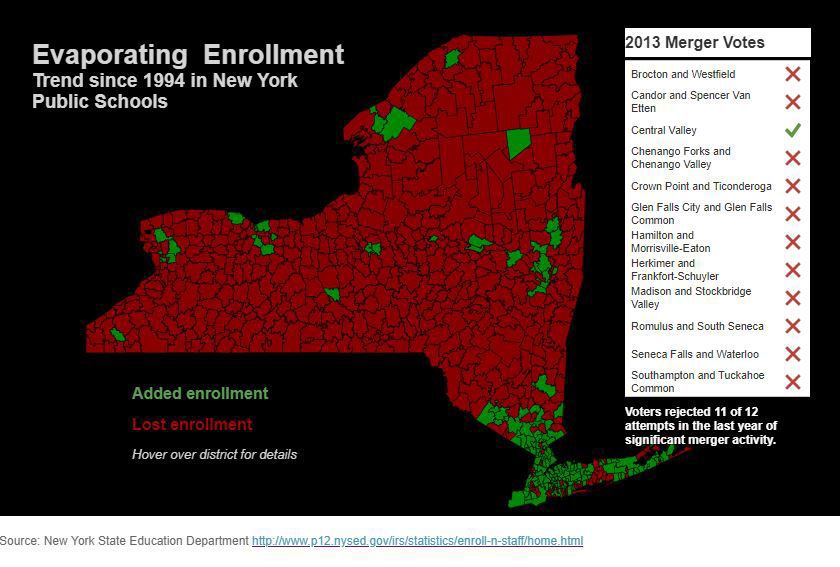 Public school enrollment is almost universally down across Upstate New York, according to a report released on Sunday by the newly formed Rural Data Journalism Project.
In its report, titled Evaporating Enrollment, the organization used New York State Education Department data going back to 1994 to show the decline being felt by many of the 31 districts in The Post-Star's coverage area.
Smaller and more rural districts were some of the hardest hit with Minerva Central School District seeing more than a 40% drop and many others in Warren and Washington Counties in the high 20% range.
Shrinking has been slow at some larger districts such as Queensbury Union Free and Hudson Falls Central School Districts, which saw five and seven percent drops respectively, but not all were insulated from decline as Glens Falls City School District saw a 28% decrease.
Of the 31 districts in The Post-Star's coverage area, only three have increased in size since 1994, including Newcomb Central School District, which expanded mostly due to its foreign student program, and Schuylerville which saw a gain of only four students in the 25-year span.
The only district with significant growth without programs specially designed for it was South Glens Falls, which saw a gain of 8.8%.
The decline is no great secret to districts in the area, and some, such as Lake George Central School District, have already commissioned studies to examine how to deal with the decline going forward. The study focused on the issue many districts struggle to grapple with; how to maintain programs and opportunities for students with less and less revenue.
LAKE GEORGE — Lake George Central School District received the results of a comparative stud…
Although the findings may not be surprising, it is important to get a measure of exactly how much the populations are changing, according to the project's Founder and Editor Tom Foster.
The stated mission of the collective is to crowdsource coverage of rural areas that are struggling to maintain a local paper or are stretched too thin to tackle large scale stories on their own.
Foster said enrollment became the focus of the first report from the collective was on enrollment because it was not only interesting, but pertinent to his life and family.
"We thought it was wise to start in New York because that's where my kids go to school," Foster said.
The readily available data and Foster's children's enrollment in Jasper-Troupsburg Central School District made it a great place to start Foster said.
He said the organization is ready to tackle all sorts of topics that affect people in rural communities such as broadband internet access and distances to healthcare providers.
The group will use whatever publicly available information they can find such as census data or weather data from the National Oceanic and Atmospheric Administration.
Foster said the practicality of one person or newsroom to harvest national data sets in high detail is daunting, so the crowdsourcing model made sense to bring coverage into coverage "deserts" where rapidly folding newspapers no longer have the time or staff for many of their own investigative work.
Foster hopes the collective can bring people together in a way that keeps residents in the communities informed.
"There's a lot of people who can spot stories in the data, but the time it takes to do it on their own is often unavailable because of how thin people are stretched," Foster said.
Get local news delivered to your inbox!
Subscribe to our Daily Headlines newsletter.