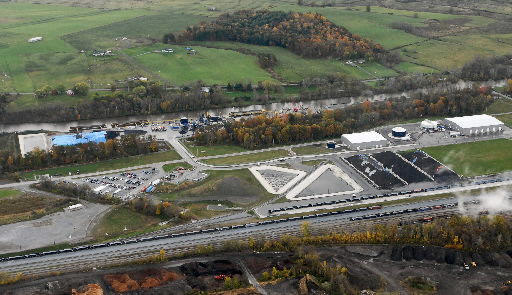 FORT EDWARD — During a public hearing regarding the village of Fort Edward's annual budget on Wednesday night, a village resident asked about the tax implications of the former General Electric Co. dewatering facility, previously owned by WCC LLC.
And those questions led to more questions about the new owners, the Fort Edward Local Property Development Corp., and whether they will be paying the taxes on the parcels, a third of which fall within the village borders.
"So who owns that land?" asked village resident Linda Thorpe.
"I do not know. I understand there is a company interested in a portion of that property over there," said village Mayor Matthew Traver. "I do not understand the agreement between the previous owner's new corporation and the new LDC.
"I don't know much about it and a lot of people don't know," Traver continued. "There's questions to be answered. We're hoping that it is going to come back and benefit the community. … Anybody that comes in, they'll be taxed. I think we're in a lot better shape than we were."
On Thursday afternoon, Traver said that he does believe the new LPDC will pay taxes on the parcels, referring to the comments made by a WCC attorney during a February Board of Supervisors Finance Committee meeting about a potential management agreement between WCC and the LPDC.
"The LPDC and the 'Management Co.' will be paying taxes and not looking to become exempt," Traver said in an email.
Nonetheless, the recently-made available New York State Articles of Incorporation for the LPDC say it is a not-for-profit local development corporation and that it is exempt from taxes.
Washington County Treasurer Al Nolette said on Thursday that the 2019 taxes, due by April 2, on the parcels had not been paid.
And after reading the articles of incorporation, he was left with more questions than answers, he said.
Traver explained during the hearing that the total raised by village taxes is reduced from $1.7 million to $1.6 million because the taxable assessment dropped following a property assessment challenge by WCC.
"That dropped significantly. That was a huge loss of revenue coming off the tax rolls," Traver said. "Last year we billed taxes at $14.06 per thousand (of assessed valuation), and this year we are looking at a rate of $14.63 per thousand to be raised by taxes."
You have free articles remaining.
As Traver said, the 3.78 percent increase is well within the state's 2% tax cap, adding that he had worried it was going to be much higher without a settlement with WCC.
"Fort Edward residents are lucky we stepped up to the plate and went to the county to try to get a deal done, because it may not have gotten settled," he said. "It got settled two weeks before the county was going to pull the plug on it. And we could have been on the hook for a $1 million plus dollars owing the county with penalties and interest."
Deputy Mayor Peter Williams said that the village has put up with a lot tied to the former dewatering parcels.
"The sad part is the taxpayers in Fort Edward are picking up the tax bill for WCC," Williams said.
Resident Thorpe said that what is happening is "disgusting."
"But we owe the county because the company that owned that land did not pay the taxes?" she asked. "So are they going to get thrown in jail?"
Fort Edward village residents and officials are not the only ones wondering about the LPDC.
At this point, many Washington County officials are baffled about this fledgling LPDC, with board membership, minutes and activities remaining relatively secret.
In the articles of incorporation, three board members — Neal Orsini, Deanna Derway and Tom Roche — were listed with a 118 Broadway, Fort Edward address, the same address as the town and village offices.
Roche, the president of the Fort Edward school board, said on Thursday that he had resigned from the LPDC on Jan. 27.
Derway, the president and executive director of the Washington County Local Development Corp., said on Thursday she was not on the board.
"I was advised by attorney Donald Boyajian, who represented the Fort Edward Local Property Development Corporation, that I was removed as a member of the board," she said. "It is my position that I never accepted any position with that corporation and the listing of my name was in error, which is why my name was removed upon my request."
During a February Washington County Board of Supervisors Finance Committee meeting, Fort Edward Supervisor Terry Middleton said that his son was on the LPDC board.
A month earlier, Middleton said that he did not know who was on the board besides Orsini.
Kathleen Phalen-Tomaselli covers Washington County government and other county news and events.