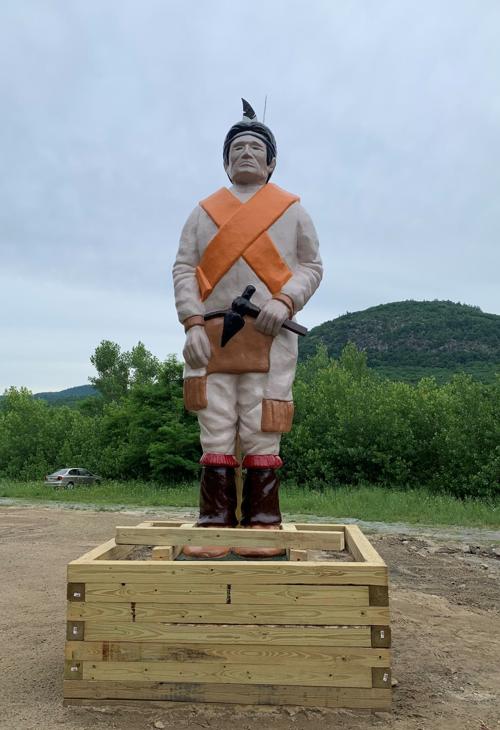 LAKE GEORGE — A Native American is standing guard over the Lake George region.
But he's actually lived here for about 30 years.
Kevin Quinn, the owner of the Leather Outlet, the home of the "World Famous TeePee," purchased the statue from Magic Forest when the amusement park was sold two years ago.
Magic Forest was founded in 1963 by Arthur Gillette and contained one of the largest collections of Muffler Men, original fiberglass figures from the 1960s. Longtime owner Jack Gillette sold Magic Forest to developer Ruben Ellsworth, who added Dino Roar Valley to the park.
"For years and years he was tucked back in with all the rest of the beautiful stuff Jack had down there," Quinn said.
The large fiberglass statues were called Muffler Men because one popular design was placed near auto shops holding a muffler. Other designs included lumberjacks, cowboys and American Indians.
With the postponement of the Americade motorcycle rally, Quinn spent his free time rehabilitating the 12 to 14-foot statue with a new coat of paint in the original colors and building a flower box base. A nearby cactus completes his Western theme of his leather shop.
"I thought it would go with the motif of the property," Quinn said. "The whole property is Western themed."
Five minutes after the structure was erected, a family stopped and took pictures of their kids with the American Indian.
He said he hopes the cactus and American Indian inspire kids traveling on Route 9 to ask questions about the history of the area, particularly the role of Native Americans in the Revolution. He also plans to add some informational signs about the Revolutionary War and Bloody Pond.
Quinn hopes people will stop and take pictures with the statue, but also get a little history that inspires them to visit Fort William Henry and Fort Ticonderoga.
"With the times where everything is right now, I think history's a good thing for people to look back on," he said.
Now Quinn says he is on the lookout for a Muffler Men cowboy, which could cost anywhere from $15,000 to $30,000. The American Indian was not that expensive, he said.
He hasn't yet named the statue, but says he is going to do some research and try to find a historical name. The statue is situated directly in front of French Mountain.
"He's the entrance to the Adirondacks," Quinn said. "If that doesn't say Adirondacks, what should?"
Gretta Hochsprung writes hometown news and covers Washington County. You can reach her at ghochsprung@poststar.com or 518-742-3206. Follow her on Twitter @GrettaHoch or at her blog on www.poststar.com.
Get local news delivered to your inbox!
Subscribe to our Daily Headlines newsletter.