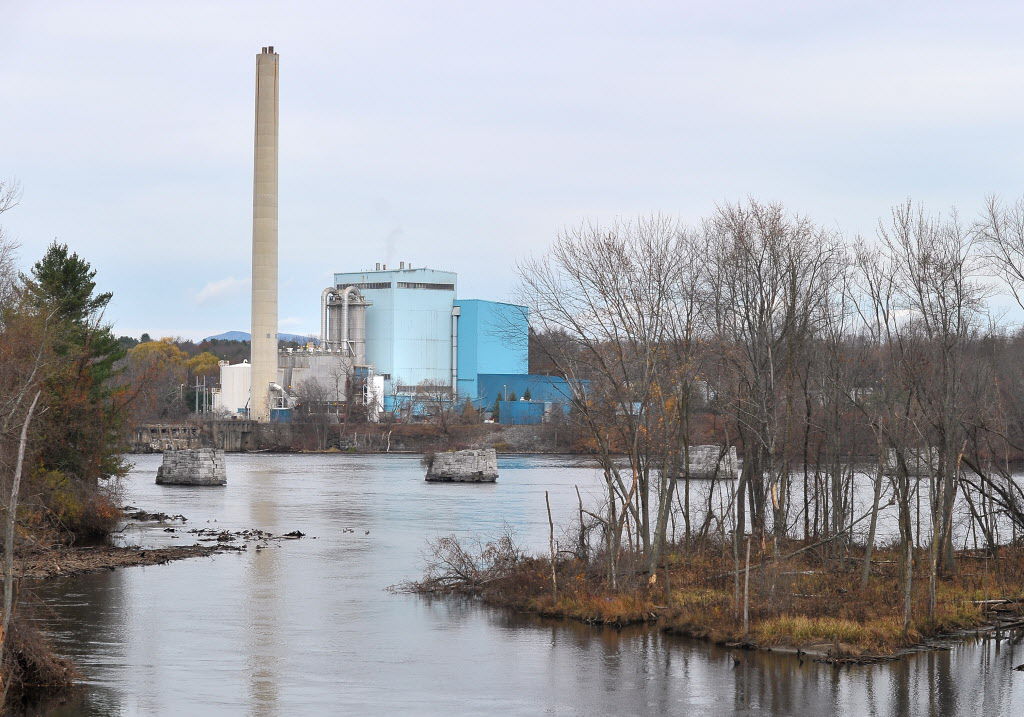 HUDSON FALLS — A national environmental advocacy organization working to shut down all incinerators in the country has its long-term sights set on the Wheelabrator trash plant in Hudson Falls.
While there's no specific move to close it now, air-quality legislation passed in Albany County and in Maryland that have impacted businesses are fueling some to look at similar laws locally.
The Energy Justice Network, spearheaded by Mike Ewall, is working with a new local grassroots organization, Glens Falls Wants Clean Air. That group, led by Argyle resident Tracy Frisch, would like to see municipalities in the Glens Falls area pass local laws that would limit the amount of waste burned and require industries that do burn waste to continuously monitor their air emissions for multiple pollutants.
The air-quality group would like municipalities to model a local law after one passed in Coeymans in Albany County earlier this month. Ewall helped draft that legislation.
If such a law was passed in Hudson Falls, it would essentially shut down the Wheelabrator trash plant.
Ewall has already worked with the city of Baltimore on legislation called the Baltimore Clean Air Act. That has led Wheelabrator to say it will shut down its plant in Baltimore.
When asked if Ewall was looking to shut down the plant in Hudson Falls, he said, "Yes, absolutely. We're working to shut down every incinerator in this country. The Coeymans law would work."
Another option to shut down the plant, he added, would be for municipalities to stop signing waste contracts with Wheelabrator.
Frisch, who started her organization last month, said the group is still in the educational phase and she has no plans to go before local government boards yet to call for an air-quality law. They're creating fact sheets using publicly available air emissions data on industrial facilities in the area, and they hope to hold an informational forum later this summer, she said.
Ewall said he will be providing assistance to the local group, and added that things can be slow to start.
"We don't come into communities and say we're saving the day," he said.
It doesn't seem likely that the Hudson Falls Village Board would pass something like the Coeymans' law, however.
In response to whether he would pass a local law like it, Mayor John Barton had said he had "confidence in our current regulatory agencies to monitor these air-quality situations."
While local communities in New York can sometimes pass legislation stricter than state and federal law, Wheelabrator and others feel they are already regulated thoroughly to protect the environment and human health.
"While federal and state laws sometimes have clauses that generally allow for more stringent local regulation, local laws that amount to a de facto total ban on an activity that is otherwise permitted by federal or state laws or that are inconsistent with federal and state laws are pre-empted," said Michelle Nadeau, a spokeswoman for Wheelabrator Technologies, in an email. "Whatever residual authority a local jurisdiction may have over environmental issues does not allow it to countermand state and federal law."
In a letter, Ewall said that Wheelabrator's stance on a local law being "pre-empted" is false, citing a portion of the federal Clean Air Act that allows states and local governments to limit air pollutants or require limitations.
You have free articles remaining.
Ewall and Nadeau also have differing views of the Coeymans' law's new air emissions standards. Nadeau called them "arbitrary." Ewall said they're not, and are from standards already in place at other trash incinerators in Ontario, Canada and West Palm Beach, Florida.
The Coeymans' law requires waste-burning facilities to monitor 19 pollutants, some of which Wheelabrator already monitors for. Others simply cannot be monitored continuously, Nadeau said.
"These other levels are periodically measured using EPA test methods proven to provide the accuracy needed to ensure compliance with applicable standards," she wrote.
Ewall argued that for many of the pollutants, the technology is out there to continuously monitor them. He feels that companies don't want to spend money on the technology.
He admitted that some of the monitoring capabilities are not widely used, and some are proven in other parts of the world.
Marco Castaldi, a chemical engineering professor at the City College of New York, said for some things, continuous emissions monitoring is not possible.
Nadeau asked Castaldi to provide a letter to the editor to The Post-Star on Wheelabrator's behalf, and Castaldi has testified for Wheelabrator on occasion.
Some of the metals, Castaldi said, have to be sent to a lab and digested in acid, for example. Companies are working on these continuous monitoring technologies, but until they're fully vetted and "100% bulletproof," he said he did not think it fair to make the requirements legally binding.
"To say when the technology comes to fruition, it should be mandated, no problem there," Castaldi said. "But to just say do it now, I'm sorry, this is crazy."
The other question is, where will communities bring their trash if not to the incinerator?
First, Ewall hopes that local governments will get creative with their trash. Some already have.
He recommended starting a compost pickup, so food scraps are kept out of landfills. Charging residents per trash bag, too, encourages residents to reuse, recycle and compost more, he said, pointing to a study in Maine where residents reduced their trash use by 44%.
While not promoting landfills, Ewall believes they are the lesser of two evils.
Wheelabrator brings its residue ash to landfills, which Ewall said makes them more toxic. The other material, he continued, goes into the air as pollution.
Both Nadeau and Castaldi said the idea of landfilling being better than incineration is counter to all scientific evidence.
"Our waste-to-energy facilities reduce by 90 percent the volume of solid waste we manage, dramatically reducing the need for landfilling and associated greenhouses gases while simultaneously recycling metals and generating clean, renewable energy for local communities from post-recycled household waste," Nadeau wrote.
Wheelabrator processes 500 tons of waste per day, generating enough electricity to power 14,540 homes, according to its website.
Castaldi said in the waste management pyramid, landfilling is always the last resort.