While the latest United Nations report on climate change released in October highlighted doomsday events looming across the globe, a report released in November focuses on what's happening in the United States, and the answer is a mix of good and bad, though it's mostly bad and the good might not last.
The Fourth National Climate Assessment is a quadrennial review delivered to Congress and the President of the United States based on the Global Change Research Act of 1990. The report was released on Nov. 23, and highlights the "human welfare, societal and environmental elements of climate change" for 10 regions, including the Northeast.
"By 2035, and under both lower and higher scenarios, the Northeast is projected to be more than 3.6 degrees warmer on average than during the pre-Industrial Era," according to the report. "This would be the largest increase in the contiguous United States and would occur as much as two decades before global average temperatures reach a similar milestone."
HAGUE — The Adirondacks have warmed more than two times the global average, according to scientific studies done by SUNY Plattsburgh.
The temperature increase is really being felt during winter months, which are warming three times faster than summer, the report added.
People and wildlife at risk
Climate change is hurting our health.
The assessment predicts that by 2050, there will be 650 more excess deaths per year caused by extreme heat in the Northeast alone. There will also be more ozone pollution related deaths, and pollen season is expected to intensify, which could cause more allergy concerns.
Respiratory problems are also expected to increase in the Northeast, as warmer and wetter weather provides the cozy conditions for mold to grow.
Ticks and mosquitoes are also flourishing, leading to more diseases like West Nile and Lyme.
Pros and cons for agriculture
While the southern United States is expected to struggle with more drought, New York farmers could reap the benefits of more rain and warmer temperatures.
Mike Hoffmann, executive director of the Cornell Institute for Climate Smart Solutions, said as winters warm and shorten, the growing season is also getting longer. The area, he said, has already picked up days over the years.
But Laura McDermott, a regional agricultural specialist with Cornell Cooperative Extension, said while the growing season is growing, it's more unpredictable. Late frosts threaten woody plants like apple trees, plums, cherries, blueberries and even grapes.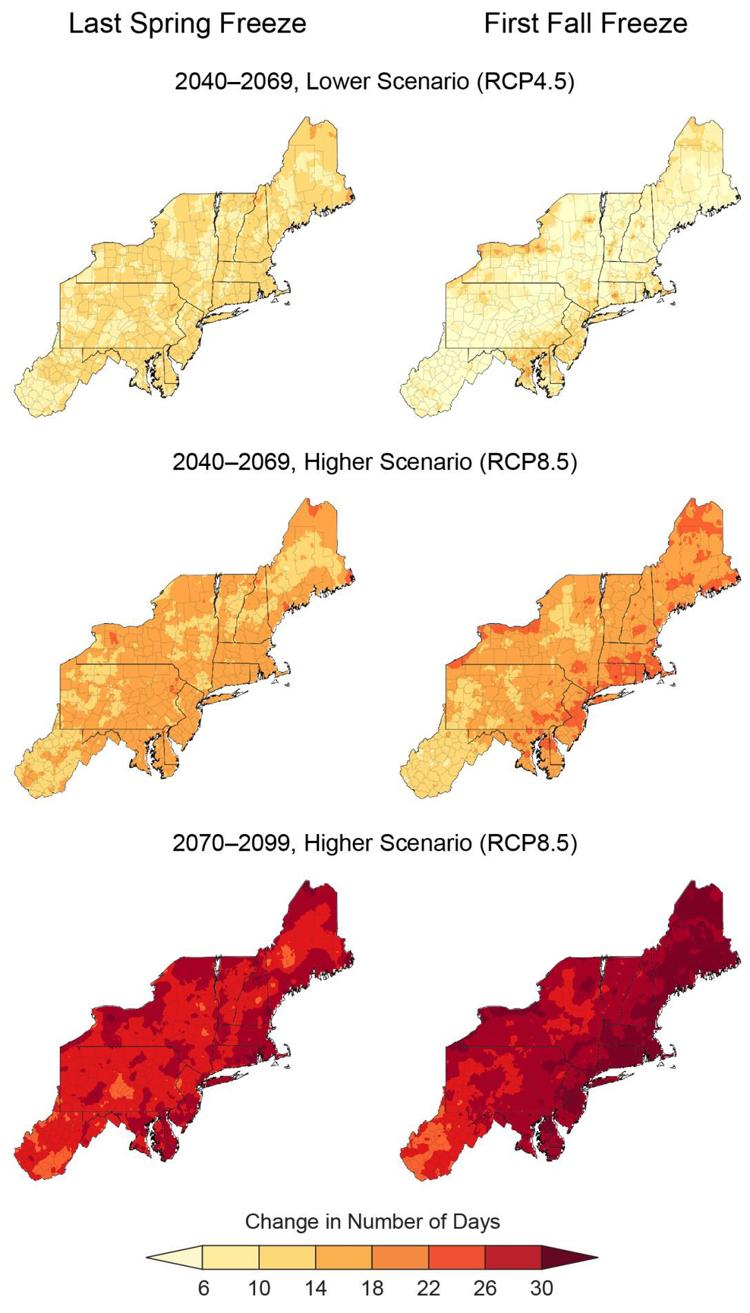 "They have to endure the possibility of spring frost for an extra four weeks every spring," McDermott said. "That's a real bad thing. We would much rather have a shorter growing season that we can rely on than have a longer growing season be less reliable."
The more frequent heavy and intense rainstorms, too, are both a blessing and a curse. While other areas of the nation may suffer from drought, many times the downpours comes at inopportune times for farms, said Corinna Aldrich, manager of the Washington County Soil and Water Conservation District.
"When we do get rain, it comes hard and fast in an afternoon," she said. "It tends to run off instead of soaking in, so we don't benefit as much as if we had some of these lighter rain events. We're seeing rain in times of year when we don't need it. We had an inch on Sunday, on the second of December, after, where I live, there were four or five inches of snow in the previous week."
As a result, farms are incorporating more water management into their overall plans using things like cover crops to keep soil from washing away and installing manure storage lagoons to keep from spreading manure on frozen ground when it might wash away into water bodies.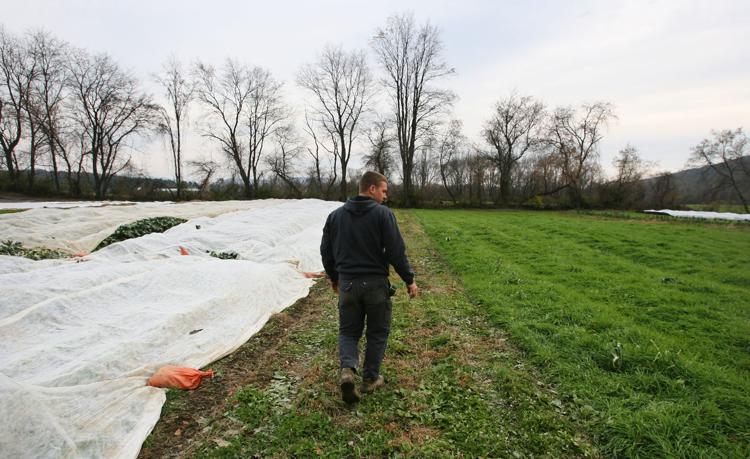 Dealing with unpredictable weather isn't really anything new for farmers, but Cornell University has developed a Climate Smart Farming program that includes a county-by-county look at how temperature and growing seasons are changing since 1950, and what the projections are all the way into 2100.
For example, if greenhouse gas emissions continue to be released into the atmosphere at high levels, the growing season for Washington County is expected to increase from about 138 days in 1950 to an average of 196 days by 2100.
"It's not all doom and gloom," Hoffmann said. "We maybe have opportunities, you just have to adapt to a new normal, and these tools can help along with a lot of what our farmers are already doing."
Urban infrastructure feeling the impact
The national assessment also warns that the aging infrastructure in the Northeast isn't able to handle the effects of climate change.
"Current water-related infrastructure in the United States is not designed for the projected wider variability of future climate conditions compared to those recorded in the last century," the assessment said.
Jim Lieberum, manager of the Warren County Soil and Water Conservation District, said it's a costly challenge for municipalities to upgrade their systems, which weren't built to handle storms that dump 4 inches of rain in 12 hours.
Flooding also causes more erosion and runoff, which could be pushing more pollutants into water bodies, he added.
The district encourages everyone, from individual landowners to big businesses, to install green infrastructure and good stormwater practices like rain gardens.
"If you can slow the timing down of when all that water arrives and spread it out a little bit, it will help our infrastructure and help our stream system, and help our lake systems through a variety of ways," he said.