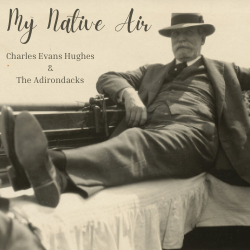 A documentary about Charles Evans Hughes, one of Glens Falls' most famous residents, will be coming to Mountain Lake PBS later this year.
"My Native Air: Charles Evans Hughes and the Adirondacks" is expected to premiere on the public television network as early as May or June, although an exact date has not been set, said Maury Thompson, who led the film's production over the last two years.
"I'd love to tell people a specific date, but I don't have it yet," he said.
The 43-minute documentary tells of Hughes' connections to the Adirondacks. It was filmed at various locations throughout the Glens Falls region, including Lake George, Silver Bay and The Hyde Collection, among others.
Thompson, a former Post-Star reporter, had the idea for the film about 12 years ago, when he picked up a book on New York politics at a Friends of Crandall Public Library book sale.
The book contained a section on Hughes that caught his attention, and Thompson began researching and writing extensively about the man who would go on to become governor of New York and later run for president.
Hughes was appointed secretary of state under President Warren G. Harding and would serve as chief justice of the U.S. Supreme Court before retiring in 1941.
Creating documentaries is part of an "encore career" for Thompson, who retired from the newspaper industry in 2017 but continues to write about local history for a number of publications, including The Post-Star.
His hopes for doing a documentary about Hughes were helped by a meeting with Caitlin Stedman of Snarky Aardvark Films, a video production company.
"I looked at a couple of short films she (Stedman) had done and determined she was the right film partner. We went to work in 2018 on raising money and then started production," Thompson said.
The film has been garnering attention online through various news sites and blogs, including iloveny.com, which Thompson said has been exciting to see.
He had plans to premiere the film at the Charles R. Wood Theater earlier this year, but was forced to change course because of the pandemic.
Instead, it premiered virtually as part of a fundraiser benefiting the Wood Theater and the Glens Falls Arts District, which has been hit hard by state-mandated restrictions put in place to reduce the spread of the virus.
The virtual screening raised $2,072.
Crandall Public Library also hosted a virtual screening of the film last month.
Thompson said he still has plans to host an in-person screening once conditions permit, but said the film will get a larger audience on Mountain Lake PBS.
Asked whether he has any follow-up plans to document Hughes' life, he said there is "potential," but noted he is in the early stages of research for a number of other productions.
"We'll see where it goes. I've got a big box of files upstairs and I continue to do research. I expect to be writing and blogging about Hughes till the day I die," he said.
Chad Arnold is a reporter for The Post-Star covering the city of Glens Falls and the town and village of Lake George and Washington County government. Follow him on Twitter @ChadGArnold.