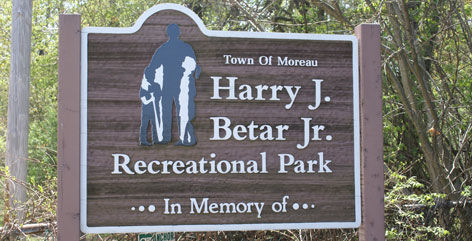 MOREAU — A new paved trail by the river, pickleball and improved ballfields are on the town's agenda for next year.
The 2020 town budget calls for $121,000 to be spent from the Recreational Capital Project fund.
It will cover "the key goals" of the five-year recreation master plan, Supervisor Todd Kusnierz said.
The recreation committee, a group of nine residents appointed by the town, submitted their draft of the plan Tuesday. The Town Board will finalize it, likely by the end of the year.
"We have enormous potential to grow our recreation offerings," Kusnierz said.
Two years ago, he said Route 9 sewer and a recreation master plan were his top goals. He hopes the plan will become "a blueprint for future years," he said.
Master Plan Committee Chairman and former Town Board member Bob Vittengl urged the board to consider waterfront programs as it expands recreation.
"We're totally surrounded on three sides by the Hudson River. We forget that," he said.
The committee envisioned a rowing or boat center on the river, riverfront pavilions and Adirondack chairs, and a sky-watcher stand.
Other ideas ranged from small — flower pots in the parks — to a multimillion-dollar aquatics center.
"I think the biggest problem is funding," Vittengl said.
He told the board to "convert some non-performing assets into cash" and encouraged board members to start right away, even if just with inexpensive improvements.
"We've been kind of stagnant in the rec department," he said.
He highlighted several items that he said the town should be able to afford immediately, including pickleball at the tennis courts and more space for walking on the side of town roads.
"If the highway before, when they've paving, could put a little extra in ... two feet extra shoulder would be huge with biking, walking," he said.
The town is moving ahead with pickleball next year. The board also plans to build a paved trail by the river off Nolan Road. The 2020 preliminary budget includes $60,000 to pave a path there, and BOCES has agreed to help by having its students clear the path. They will also clear undergrowth by the river so that walkers have an unobstructed view, Kusnierz said.
The board has also set aside funds for improving fields four and seven at Harry J. Betar Recreation Park, and will build a pole barn for recreation equipment.
"While we didn't take all your suggestions, we're off to a good start for 2020," Kusnierz told Vittengl at Tuesday's board meeting.
Get local news delivered to your inbox!
Subscribe to our Daily Headlines newsletter.