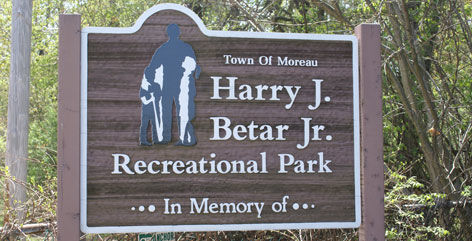 MOREAU — After years of investing in traditional sports — baseball, softball and the like — at Harry J. Betar Jr. Recreational Park, the Town Board is exploring other options.
The latest is disc golf, in response to a request from residents.
"You have to have offerings that are not just your cookie-cutter offerings like a baseball field," said town Supervisor Todd Kusnierz.
The board last week approved the purchase of disc golf equipment, which will be installed as soon as it arrives, even as winter begins.
Also new to the park are pickleball courts and an accessible playground, with a spray park that should be complete Tuesday (although the water will not be turned on until spring).
The board is also investing in building a new trail near the Hudson River and is putting out a request for proposals to build a second bowl for performances and sporting events. Developer Rich Schermerhorn has already offered to create the bowl, paying for the sand that he would excavate, and other developers may join the effort. The town likely needs at least two developers to excavate sand to make the entire bowl.
"I wanted very much, and fortunately I have a board that is like-minded, to expand our recreational opportunities to a greater number of our residents," Kusnierz said. "Our goal is to broaden our offerings and to also broaden the season of use."
Disc golf, for example, can be played year-round. It involves throwing Frisbees of different sizes into metal nets. Players line up far away, as they do in golf, and pick the Frisbee most likely to go the distance needed, short or long. Each net has a certain number of throws for par, and it is scored like golf. In winter, players can even use snowshoes to hike to each spot, though it can be hard to determine the starting point if the line is buried in snow.
Pickleball has become popular with older players, a plus in Kusnierz's book.
"Our goal is to bring in not only younger residents but older residents," he said. "That's why we added the pickleball courts."
He was pleased to see the concrete laid to finish the accessible playground too. In addition to typical play structures, it also features a zip line and the spray park.
"I am so excited," Kusnierz said. "Although it's designed for any individual to utilize, with a focus on those who have challenges, I'm confident, especially with the younger kids, that spray pad will be a huge draw on a hot summer day."
Next year, the town will also finish a portion of a path by the Hudson River. BOCES students are already clearing trees.
"It's not just for walking, it'll be biking, hiking," he said.
But these amenities do not come cheap. That's been the sticking point for previous park plans.
For the disc golf, Stewart's gave the town a $1,000 grant. That paid for almost a third of the project, he said.
"We were very fortunate that the Stewart's Corp. gave us a grant," Kusnierz said.