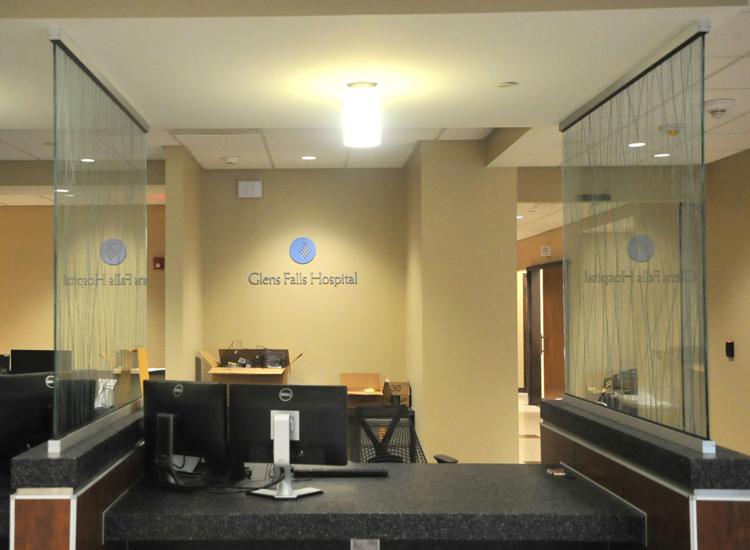 MOREAU — Providers with Hudson Headwaters Health Network are going to find plenty of room when they move into their new Moreau Family Health office this week.
The building on Route 9 is three times larger than their current space, with more services and even a break room that can fit more than three people at once.
The state Department of Health inspected the new building Monday and providers are now moving in. It will open Jan. 20.
The nurses and doctors can't wait. They've been leaving cheerful messages for each other on the white boards in their new "pod" — an open-office area where teams will work together. The idea is to increase collaboration.
Patients will also be able to call into the pod directly to ask for test results and other feedback.
"We want our patients to be able to have that access," said Nick Rebmann, vice president of health center performance for Hudson Headwaters. "Instead of having to wait for an auto-attendant, press 1 for so-and-so."
They have built the open-office concept in two other primary care units — in Warrensburg and West Mountain 2 — and no one has abused the call-in privileges. In fact, the health network's Patient Advisory Council "overwhelmingly said they love it," Rebmann said.
The new office will bring many more services to its patients, including X-rays, ultrasounds and CT scans. Those will be provided in a separate area of the building, run by Glens Falls Hospital. The hospital will also do blood draws. Prescriptions will be needed for each service, but patients do not have to have a prescription from Moreau Family Health to use the scanning and blood draw services.
In the waiting area, there will be a triage room for any very ill patient who comes in — perhaps with the flu or bleeding profusely and needing immediate stitches, Rebmann said.
"So they don't have to wait out there for a long time," he said.
Everyone else will be able to enjoy a front wall with tall, wide windows.
"It allows lots of natural light, which is calming for people," he said.
The building also has a room set aside solely for behavioral health. It will be staffed daily. That's another big improvement — while the practice has behavioral health services now, they're not available daily and the specialists must share offices with others, which can make it awkward to create a comforting space for a counseling session.
For employees, the building offers a much higher quality of work life.
Workers had to squeeze around one small table, which could hold at most three people with very small lunches. Now they have a spacious room with multiple tables and a door to the outside, complete with a grill.
For nursing mothers, there is also a fully appointed room to express milk during the workday. That's required by law, but most companies have a closet-like space with a chair. This room has everything, including a sink for cleaning pumping supplies.
For training sessions, there is a full conference room, complete with a large screen and camera so teams can "call in" to trainings held elsewhere. That has become standard for Hudson Headwaters, because it has focused on primary care in rural areas.
"As we grow and expand, it becomes harder to get everyone together," Rebmann said.
They turned to real-time video training.
"So it is not just an email or a faceless connection," he said.
The health center will be open late on Tuesdays, Wednesdays and Thursdays, from 8 a.m. to 8 p.m.
On Mondays and Fridays, it will be open from 8 a.m. to 5 p.m. Saturday hours are 8:30 a.m. to noon.
Glens Falls Hospital's imaging area will be open Monday through Friday, 8 a.m. to 4 p.m.
Blood draws will be available Monday through Friday from 6 a.m. to 6 p.m.
Get local news delivered to your inbox!
Subscribe to our Daily Headlines newsletter.