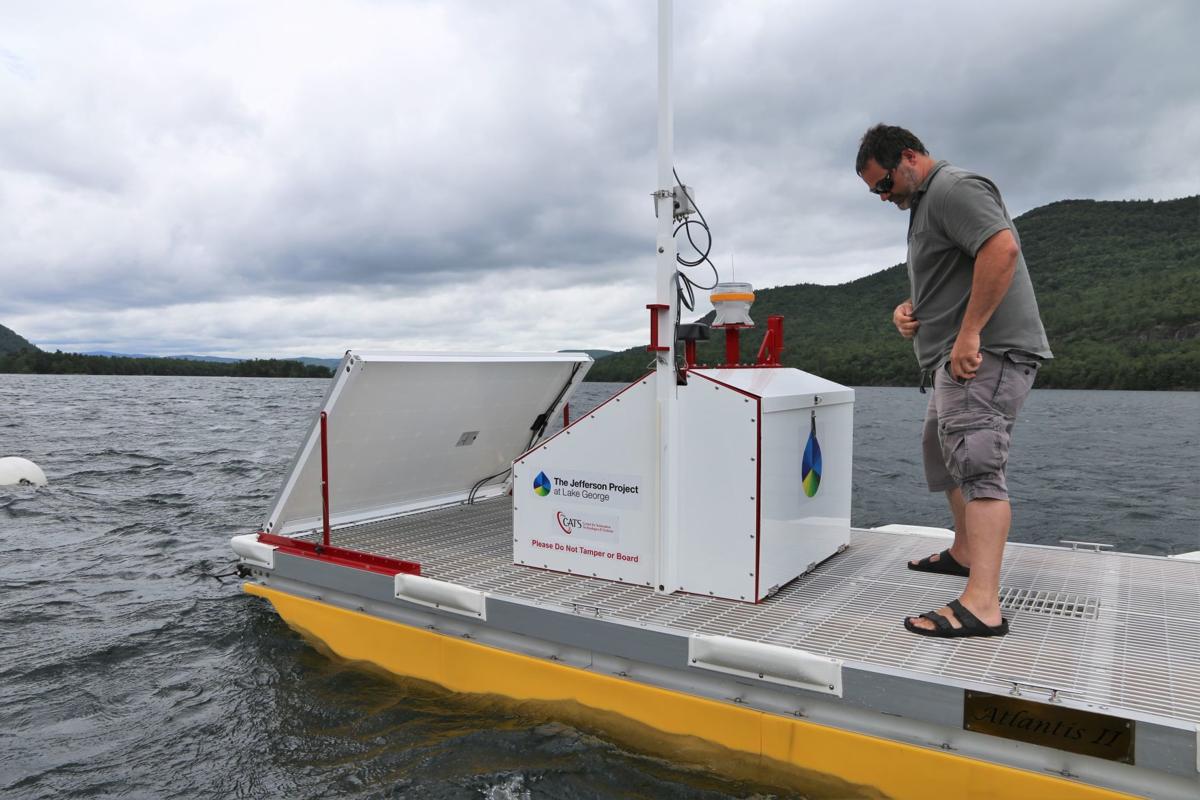 Skaneateles Lake, a Finger Lake in Onondaga County that provides drinking water to the city of Syracuse and multiple surrounding towns and villages, was plagued with the blooms last year, too.
The Jefferson Project, an environmental monitoring system developed by IBM Research, Rensselaer Polytechnic Institute and The Fund for Lake George, is expanding from Lake George to Skaneateles Lake with a monitoring platform already set up, according to a release.
Called a vertical profiler, the buoy-looking platform collects different water quality data using sensors. One has been on Skaneateles Lake since late July and will remain there through November. The profiler has a sensor capable of detecting phycocyanin, a kind of blue pigment found in most toxic algal blooms.
As a journalist, the term "harmful algal bloom" is kind of a pain.
The Jefferson Project hopes it can begin predicting and detecting harmful algal blooms, also known as cyanobacteria.
"Given that Lake George and Skaneateles Lake are both experiencing intensifying pressure from human use creates a strong impetus for shared action," said Jeff Killeen, chairman of the board of trustees of The Fund for Lake George, in a release. "New York's HAB (harmful algal bloom) Initiative provides both a call to action and working structure, as well as a source of much needed public funding, that can ensure we succeed in protecting our waters. The advanced technologies of the Jefferson Project stand to benefit both lakes generations to come."
Lake George and Skaneateles Lake are two of 12 lakes in a $65 million statewide initiative to combat toxic blooms. It is generally believed that Lake George has not had a toxic algal bloom, though officials have been worried that it could produce one since Skaneateles Lake is also a low-nutrient, high water quality lake.
Moreau Lake in Saratoga County has also experienced toxic blooms this year, closing the state park's beach multiple times.
Besides phycocyanin, the sensors will collect data on things like chloride, temperature and pH. There is also a weather station and an acoustic Doppler current profiler to measure lake currents, according to a release. The assembly is powered by solar cells. Data will be analyzed by IBM Research and Rensselaer.
"The deployment of Jefferson Project technologies and bringing our collective experience to Skaneateles Lake supports our original intent to expand beyond Lake George to other locations with water quality concerns," said John Kelly, senior vice president at IBM, in a release. "We are excited to work with local experts to apply our supercomputer technologies, data analytics, IoT platform, and advanced environmental monitoring and modeling capabilities originally developed on Lake George."