SARATOGA SPRINGS — A national conference about the science and management of invasive species is taking place this week in the city, and on Monday some of its focus was on the important role of boat washing and decontamination stations.
Representatives from the Adirondack Park spoke about local boat washing programs, but attendees also heard from stakeholders in Montana, where boat inspections are mandatory statewide.
The Adirondack Council and other environmental groups have called on the state to implement a mandatory boat inspection program, similar to the one that is already on Lake George.
While representatives from Montana shared the successes of the mandatory inspection program, as did David Wick, executive director of the Lake George Park Commission, they all talked about the challenges those programs still face, including costs and staffing.
Lindsey Bona-Eggeman, of Montana's Missoula County Weed District, said the inspection program at first focused on inspecting the boats of anglers. It began in 2004 with 16 inspection stations.
It wasn't until 2016, when the larvae of invasive mussels were spotted on a boat, that state officials were convinced that a stronger program was needed.
Now, there are over 34 inspection stations, which may seem small considering Montana has more than 3,000 lakes and ponds. But Montana has taken the approach of focusing stations off of highways and not necessarily on water bodies.
"You can see how big of a state we are trying to protect," Bona-Eggeman said. "There are lots of holes."
Strong support from local law enforcement helps, but this statewide mandatory inspection program cannot afford to staff stations 24 hours a day, seven days per week, 365 days per year, Bona-Eggeman continued.
"We're missing boats, that's the reality," she said.
Staffing is also an issue, considering the remote locations of some of the water bodies, a lack of cell service and a lack of proximity to any population hubs.
Those challenges were echoed by Eric Paul, of the Adirondack Watershed Institute at Paul Smith's College.
With 11,000 lakes and ponds, 30,000 miles of rivers and streams, 105 communities and some remote locations also without cell service or outside help, staffing all of the Adirondack Park is a challenge.
Still, it has come a long way from where it started, and to date has inspected over 500,000 boats, Paul said.
Having the association with the college, too, provides more staffing opportunities, as many are students from Paul Smith's. But students go back to school in September, and when they graduate, go off to other opportunities, so retaining people is a challenge, Paul said.
The Adirondack Park's inspections are not mandatory, either, nor do staff at the institute have any regulatory authority. Usually, boaters want to protect the waters in which they recreate, and the institute has a 98% rate of cooperation, Paul said.
Staffing the seven inspection stations around Lake George isn't so much a rural problem, but Wick said there are more than 90 launches and there is no way to tell if boaters have had an inspection once they're in the water.
The start-up cost of the program could be a deterrent for other areas, too.
Wick said about $300,000 is needed, and to maintain the program, it costs about $500,000 annually. That funding comes from the state's Environmental Protection Fund, as well as Warren County, the town and village of Lake George, Bolton, Queensbury, the Lake George Association and The Fund for Lake George.
Wick thinks it has been a worthy investment, however.
Before the mandatory boat inspection program, Asian clams and spiny waterflea made it to the lake.
Since the inspection program's start in 2013, however, there have been no new invasive aquatic species.
One audience member asked the boat washing panel why boat inspections aren't mandatory everywhere.
Karen Hahnel, of Maine's Department of Environmental Protection, said there are "too many lakes, too many ramps, and not enough resources."
"It's an expensive success," added Wick, about Lake George's program. "There's a lot to it."
The invasive species conference, organized by the North American Invasive Species management Association and Cornell University's New York Invasive Species Research Institute, continues through Thursday.
Hilary Smith, of the Department of the Interior, said the week's event covers the tough challenges the entire country faces when tackling invasive species.
"This is an opportunity to learn from one another this week through the conference to connect scientists and managers to implement strategic solutions to address invasive species," Smith said.
David Lodge, a biologist at Cornell University, said science and policy has to come together more and more.
"If we don't do anything, we just watch a new species arrive," Lodge said.
A member of the audience asked Jeff Morisette, of the National Invasive Species Council, whether he felt the work against invasive species was threatened in the current political climate. The question was addressed to Morisette during the plenary.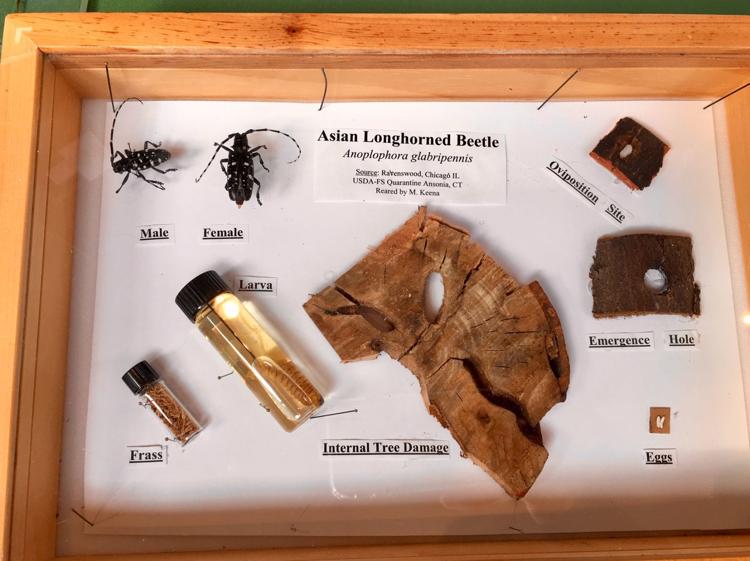 Morisette laughed, but said invasive species are a "fairly bipartisan, non-divisive topic." He pointed to how U.S. Rep. Elise Stefanik, R-Schuylerville, was in attendance Monday morning, and how politicians on both sides of the aisle are working on the issue.
Stefanik, who is the co-chair of the Invasive Species Caucus, talked about how she has introduced legislation to combat invasive species.
Get local news delivered to your inbox!
Subscribe to our Daily Headlines newsletter.