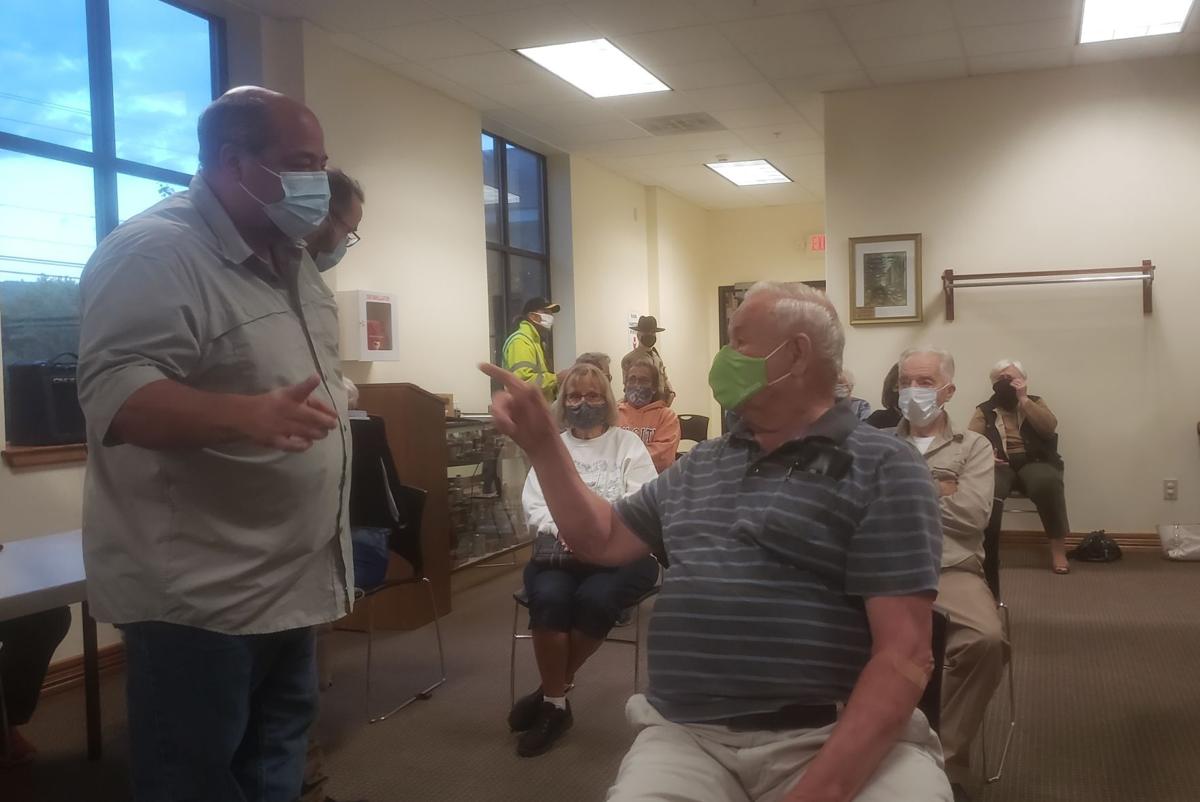 LAKE LUZERNE — Supervisor Gene Merlino is back and planning to run for reelection in November.
Merlino has been out on medical leave since falling ill at the June 12 Town Board meeting, but he showed up for the regularly scheduled meeting on Monday.
Board members on June 12 voted to express no confidence in Merlino, because they say he authorized improper overtime payments and made purchases without board approval.
The no confidence resolution, not made public until last month's meeting, included 18 separate points. The board also asked the state Comptroller's Office to look into the allegations, an investigation that is ongoing.
Not retiring now
Earlier this year, Merlino announced he would retire after 16 years. He said Monday he had been feeling worn down by the accusations of wrongdoing.
"They took my personality away from me. They killed my pride. I was going to the post office with a mask, hat and sunglasses because of what they were doing to me," he said.
He received so many "beautiful" cards and letters, however, he decided to run for reelection as a write-in candidate.
"I am not going to give up without a fight," he said.
Deputy Supervisor Dan Waterhouse, who has been acting supervisor in Merlino's absence, had been running unopposed for supervisor.
Merlino is asking voters to write in candidates for the board, too. Two four-year seats on the board are up for election, and Republicans David O'Neal and James Niles are running unopposed.
Republican Michael Fazio and Democrat Margaret Ann Paoloni are vying for the two-year seat that would be created by Waterhouse's move to supervisor.
Merlino said he is resuming his duties now against the advice of his doctor, who wanted him to take off two more months. His health is perfect, he said. He has lost a few pounds and is happier.
"I'd rather pass out at this table than let this go on — what's happened the last 2 or 3 months in this town," he said to applause from members of the public.
Merlino said afterward that he has syncope, a condition in which stress can stop the heart. He is monitoring his heart rate through a watch, he said.
Board members leave
Monday's meeting was originally going to be held online, because the board had voted to put in-person meetings on hold until Jan. 15, 2022, given the spread of the delta variant and rising number of cases throughout Warren County.
Waterhouse said Monday morning the town had three positive cases or exposures in the Highway Department, resulting in quarantines, and another one from a county employee who had been at the building.
Despite the decision to shift to an online meeting, reports surfaced in the community that Merlino was planning to attend in person — even promising to hold a meeting in the parking lot.
At the start of the meeting, board member Dave O'Neal read a statement reiterating the board's vote to halt in-person gatherings. He said the county has had 312 new cases in recent weeks, and Lake Luzerne had the second-highest rate of positive cases in the county. The town's legal counsel had signed a letter, requesting the board shift to online meetings and the board agreed.
"Mr. Merlino has taken it upon himself not to comply with the councilmen's decision," O'Neal said to applause from the roughly 40 people gathered.
"Clap as you lay in an ICU room because you catch COVID," O'Neal said, to jeers from the crowd.
"We as a Town Board feel it is in the best interest of the community's health that we do not have an open meeting this evening," he said.
"Why don't you want an open meeting?" asked one of the residents.
"School's open," said another resident.
"If we were afraid, we wouldn't be here," added another.
"Sorry for any inconvenience folks," O'Neal concluded. Then, he and fellow members Michael Fazio and Paul Lewandowski left the meeting.
O'Neal argued with a resident on the way out.
Waterhouse was not present.
Merlino speaks
After the other board members left, Merlino stayed for about 40 minutes to talk to residents.
He said the town's legal counsel, David Mitchell, had resigned, and he had Deputy Town Clerk Lorri Holcomb read his letter into the minutes. Mitchell wrote that Merlino threatened him at the conclusion of a meeting.
Merlino denied creating a threatening environment. He said he was bringing up his belief that the Town Board had held an illegal meeting, because the town clerk was not present.
He said Monday's meeting should have been held in person, because there were a lot of items on the agenda and the public wanted to come.
"I guess that's considered intimidating," he said.
Merlino said he talked to some other supervisors and the county administrator and said no one else is closing down their town halls. He believes the pandemic was used as an excuse to prevent people from coming and expressing their opinions.
Merlino said he believes the board can meet safely. Monday, everyone was wearing masks and sitting apart from each other. Merlino had people sign in and have their temperatures checked. He said not all residents would be able to watch the meeting online.
Merlino responds
Merlino said that the 18 points mentioned in the board's resolution of no confidence are "lies and innuendo."
He refused to debate them point by point but said he has hired his own lawyer.
"I've never lost one penny of taxpayers' money in my 16 years," he said. "Everything I did was for the benefit of you people. We kept the taxes down for five years."
He called the audit a routine review that the state periodically conducts and said it wasn't tied to the board's request.
Residents praised Merlino for building the new town hall and helping residents who have problems.
Merlino said he loves the town, where he has lived for 38 years.
"I'm an old ex-Marine, I'm a stubborn Italian. And when you're in the Marines, they teach you if you go over that hill, it's going to cost your life, you know you're doing it to defend your town, defend your country," he said.
Deputy responds
When contacted Tuesday, Waterhouse said he showed up at the Town Hall at 6:20 p.m. but did not want to go in because it was crowded. Although he is vaccinated, he has a child who is too young to get the vaccine.
"I'm not taking my chance — risk getting him sick or my wife sick," he said.
Merlino was upset at the decision to move to a remote meeting, because he wanted to have a "platform" to speak, Waterhouse said.
Waterhouse confirmed the Comptroller's Office had been planning to audit the town before being contacted by the board. But he pointed out the state has a Civil Division as well as a Criminal Division.
"We called the state because of the violations of the procurement policy," he said.
Some of the allegations are serious, such as that Merlino awarded a $15,000 no-bid contract for roof repair, Waterhouse said.
"The procurement policy is in place to prevent government corruption, to prevent people from giving their friends business and it happens over and over and over at our town and he thinks he's above the law," he said.
Board members have said Merlino sold the town's 18-foot pontoon boat and bought a new 24-foot one without authorization. Police are investigating whether the new boat may have been stolen and how the company that sold the vessel ended up with it.
More than $100,000 worth of overtime may have been improperly awarded, Waterhouse said.
Board members say Merlino told Building and Grounds Department employees who worked one hour of overtime on the weekend they would be paid for four hours, regardless of how long they were on the job.
Waterhouse, who owns Waterhouse Restaurant, said Merlino would not run his Lamplight Inn the way he ran the town.
"We would never let anybody write their own ticket for overtime," he said.
Waterhouse has said auditors are in town once a week and will be there full-time in October. State officials have told him the town should not expect a report until the first of the year.
Michael Goot covers politics, crime and courts, Warren County, education and business. Reach him at 518-742-3320 or mgoot@poststar.com.