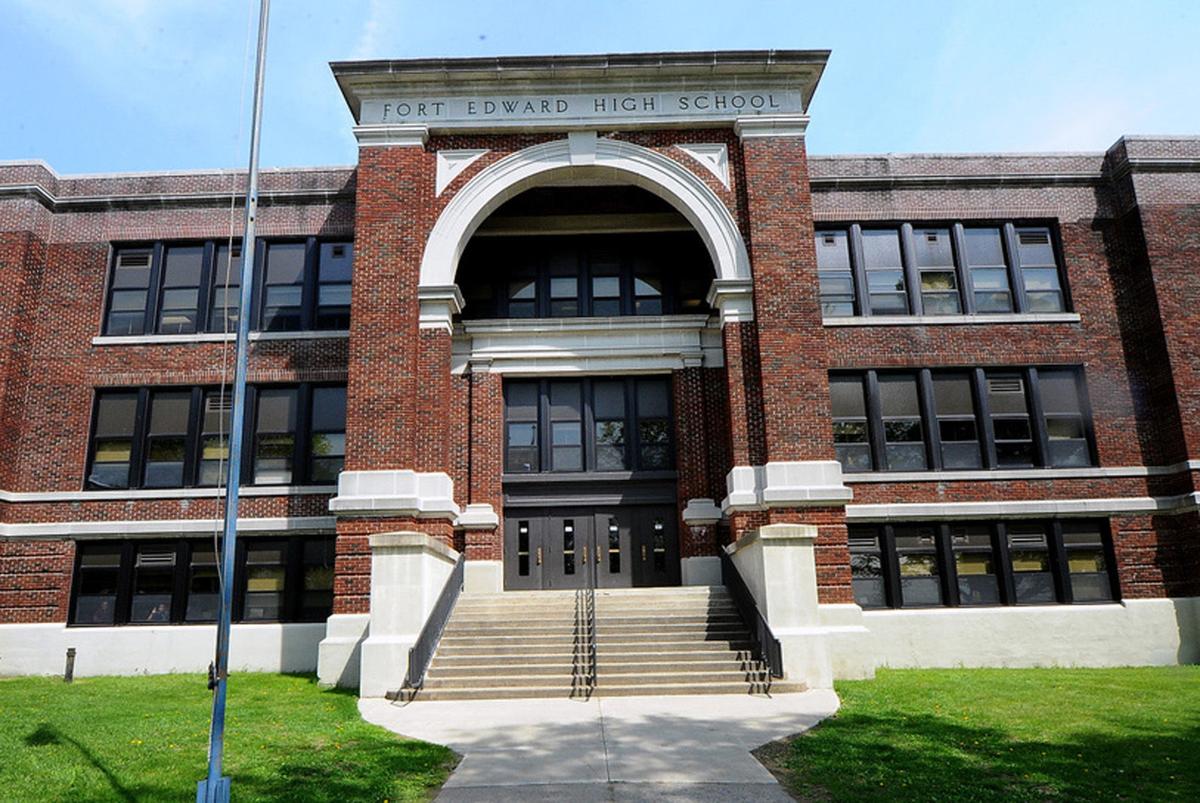 FORT EDWARD — Elizabethtown-Lewis Central School District Superintendent Scott Osborne said the school boards of Fort Edward and South Glens Falls should have their "eyes wide open" and consider what is best for children when considering any merger, which he said will be an emotionally draining process.
"There's going to be a lot of information presented. It's going to be important, particularly for board of education members, to jump to no conclusions, to examine that information thoughtfully," Osborne said.
Voters in his district agreed last week to merge with Westport Central School District to form a new combined district. The process took over two years and started when the districts agreed to do a pre-merger study, which is what Fort Edward and South Glens Falls are planning to do.
The Fort Edward Board of Education on Monday voted to hire the firm of Castallo & Silky — the same firm that Elizabethtown-Lewis and Westport used — to conduct the study. Fort Edward and South Glens are splitting the $11,000 cost, which will be partially reimbursed through state aid.
Osborne said that is an important first step. The data gave both boards the information they needed to decide it was worth doing a full-blown study, he said.
It was a difficult process at times. Communities take a great deal of pride in their school and the experiences they have had there, Osborne said.
"Those are the things that forge identity — much more than a color or a mascot. It's the sum total of all your experiences. There's an emotional connection there. To even remotely believe that we have to make this monumental of a change to protect education for kids is staggering," he said.
Fort Edward Board of Education President Thomas Roche said people have expressed concerns about the pre-merger study, but appreciate the fact that the board is doing its due diligence.
Superintendent of Schools Daniel Ward said the district is simply gathering information.
"There's no pre-determined outcome," he said.
Other than the vote, the merger discussion did not come up during the Fort Edward school board's meeting this week. Board member Todd Tyler alluded to the issue during his presentation about a talk he heard about school goals at a New York State School Boards Association conference.
"Each district has things that matter most. We're hoping it's not survival," he said.
When asked to comment on the pre-merger study, Fort Edward Teacher Association President Marianne Stark said in an email that the "FETA will continue to partner with the district to make the best moves for the students and the community. Our teachers will continue to provide instruction, programs and support for our students."
More opportunities
One thing that was working in Elizabeth-Lewis and Westport's favor is they were already sharing services, including sports, administrators, concerts, a school psychologist, art exhibits and clubs, such as Model United Nations, according to Osborne.
Elizabethtown-Lewis has about 256 students, and Westport has 208. Both districts are creating a brand-new district as of July 1, with a new school board. That board will appoint a superintendent and hire staff. This is different from what is being studied locally, which is annexing the Fort Edward district into South Glens Falls. Fort Edward would cease to exist and would be absorbed into South Glens Falls.
The biggest issue is trepidation about each community losing their school, according to Osborne. However, the positives outweigh the negatives, he said, adding that both districts would have continued to struggle on their own with rising costs and stagnant state aid.
Osborne said the hope is that by joining forces, the combined district will be able to offer more opportunities for students. Both districts have cut positions and courses.
Westport Interim Superintendent Joshua Meyer said his district cut all social studies electives, increased class size, eliminated the business program and got rid of the academic interventions services math teacher and other staff.
"We were at the point where we were running out of programs and positions to cut without getting into things that the state would require that we teach," he said.
Among some of the options that were considered were paying tuition to send the students in grades 7-12 to another district, shortening the school day and reducing employees to less than full time.
Meyer's advice is for other school districts to exhaust all other options before considering a merger. He said even some of the vocal supporters of the merger saw it as a last resort.
"They didn't necessarily want to merge, but they saw it as the best option," he said.
School programs
South Glens Falls offers Advanced Placement courses, business courses and a variety of electives, including creative writing, world mythology, adventure outdoor skills, forensics and environmental science. The district also has students participate in the Early College Career Academy at SUNY Adirondack and the New Visions program, which allow students to explore a variety of careers.
South Glens Falls offers more sports programs, including lacrosse, cross-country, track, wrestling, swimming and ice hockey.
Fort Edward has had to merge its fall sports with Argyle in order to field teams. The fall offerings include football, volleyball, golf, soccer and volleyball. In the wintertime, the district offers boys and girls basketball. Spring sports consist of baseball and softball, and those involve merged teams with Hartford.
Fort Edward school officials said they try to offer a wide variety of extracurricular activities, including Key Club, Student Council, Outdoors Club, Anti-Bullying, Yearbook and STEM.
"We have a ton of activities for the kids we have here," said Sam Ratti, Fort Edward's interim junior-senior high school principal.
Hudson Falls study
Fort Edward officials have said that any potential merger with Hudson Falls is not off the table. Hudson Falls school officials did not want to contribute to the cost of a pre-merger study because it did not include the cost in their budget.
If Fort Edward wants to go forward with a full-blown study with Hudson Falls after doing its research with South Glens Falls, Hudson Falls Superintendent Linda Goewey said her district could include funding in the budget.
Goewey said it would ultimately be up to taxpayers whether they support any merger.