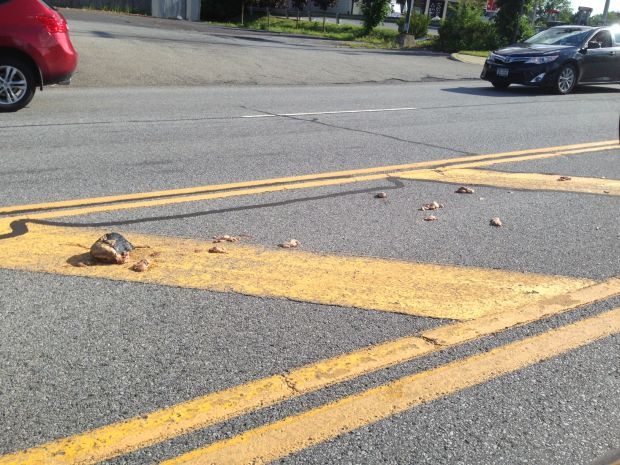 QUEENSBURY -- It's a meat mystery.
And while the mess was amusing to some, to those who drove through it, and those whose cars stink of rotting meat because of it, the situation was not very funny as of Friday.
Saratoga Springs resident James Teele had the misfortune of meeting the meat Thursday afternoon as he drove home from work at Maple Tree Funding in Queensbury.
He said he quickly realized what the ramifications were.
"I immediately took my Toyota 4Runner to a car wash but it was too late," he said. "My vehicle still smells like rotting meat. Flies are swarming on my vehicle at my office."
Teele said he believed the material was chicken fat.
Absent a criminal complaint or major environmental issue or cleanup, State Police were not actively investigating where the meat came from.
Dozens of chunks appeared on the road in front of the mall during the late afternoon. It was cleaned up by the state Department of Transportation.
Shortly after 5 p.m., turkey vultures were spotted flying over the area.
Police said it appeared it fell off a truck that was transporting the material, possibly from a farm or slaughterhouse to a rendering plant. But no one had come forward Friday claiming responsibility.
Matt Phillips, one of the managers of Hoffman Car Wash on Quaker Road in Queensbury, said the influx of dozens of sullied vehicles Thursday night forced the business to have them pre-washed to clean off much of the meat before going through the automated wash.
He estimated the car wash was visited by as many as 35 customers whose vehicles were dealing with decomposing material.
Phillips said the car wash staff realized what had happened, and the smell of rotting meat got to the point that some workers had to catch their breath.
"My guys had to step out for a while, it was so bad," he said.
The staff had drivers who were dealing with the issue go through the self-serve bays to hose off their cars before they went through the automated wash, Phillips said.
The smell had dissipated at the car wash as of Friday, but drivers were still coming in looking to rid their vehicles of the stench.
"After a while it will decay. But until then, when you turn the air (conditioning) on or air comes through the vents, watch out," he said.
Pam Ogden, an assistant manager at Adirondack Car Wash on Quaker Road, said her business dealt with a few customers struggling with the problem as well.
"I saw a lot of people on Facebook asking about what they can do about it," she said.
Get local news delivered to your inbox!
Subscribe to our Daily Headlines newsletter.