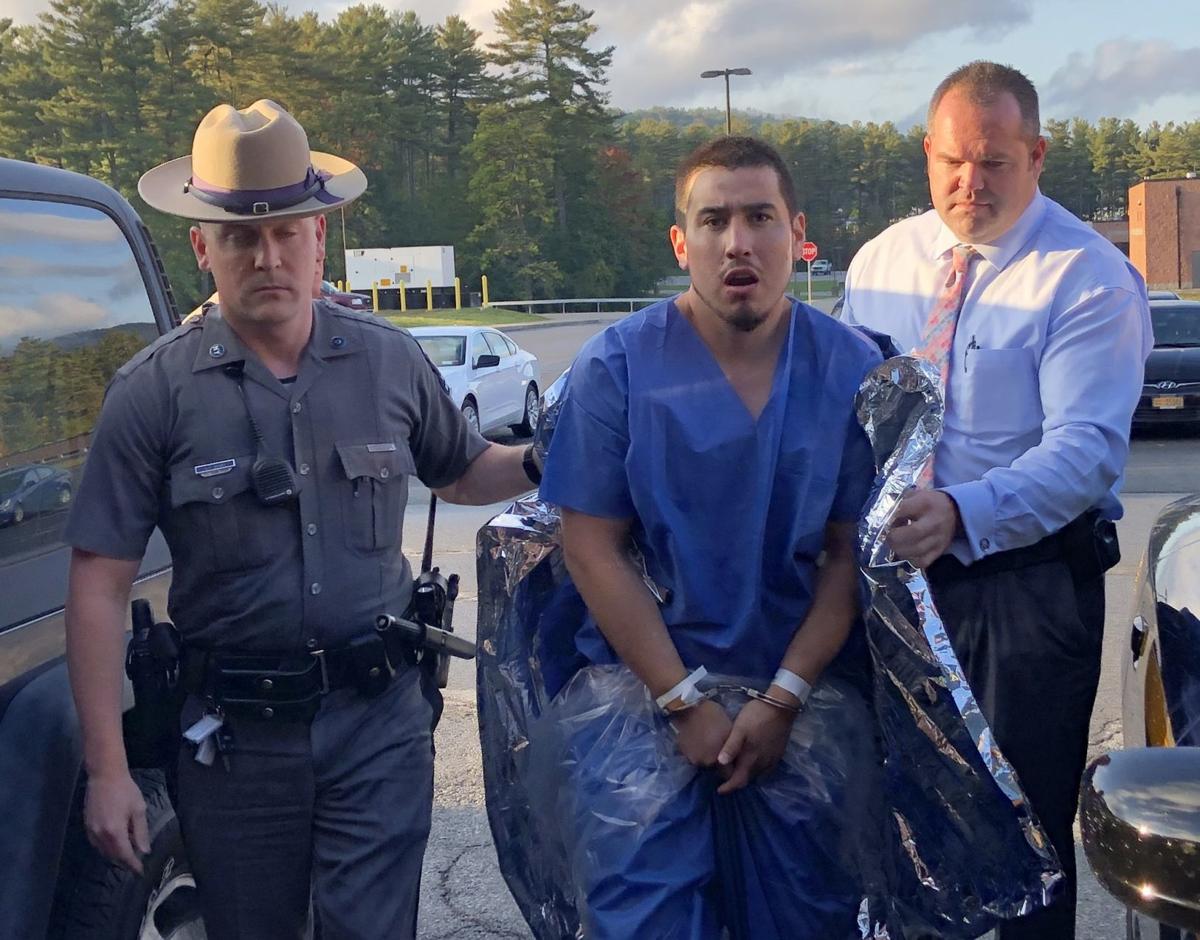 QUEENSBURY — The arraignment of the man charged with manslaughter for the killing of a Horicon resident during a crash was postponed Wednesday when he was hospitalized for treatment of an infection.
Skyler B. Crouse was taken to Albany Medical Center for treatment on Tuesday. He suffered injuries during the crash and when he was bitten by a police dog as he ran from officers after the crash.
It was unclear which wounds became infected, but the dog bite wounds on the back of his leg and buttocks appeared serious when he was first in court last week, as he was bleeding through a hospital gown and State Police wrapped him in plastic to prevent the spread of his blood. He also complained of pain, telling his lawyer that it was "10" on a scale of 1 to 10 at that point.
Warren County District Attorney Jason Carusone said it was unclear Wednesday when Crouse would be brought to court.
Crouse, 30, of Akwesasne, faces a 12-count indictment for a high-speed chase and crash that ended with the death of Joseph D. Turcotte on Sept. 26.
He faces felony charges of second-degree manslaughter, first-degree assault, second-degree assault, reckless endangerment and lesser counts for the 25-mile chase that ended when Turcotte's pickup truck was hit on the Exit 25 northbound exit ramp.
State Police sought to stop Crouse when he was spotted speeding through a construction zone near Exit 19, traveling 90 mph in a pickup truck registered to an address in Ontario. He sped up, topping 100 mph at one point, as the chase headed north.
Police used a tire deflation device before Exit 25 to puncture one of the truck's tires, and Crouse veered onto the exit ramp seconds later before slamming into Turcotte's truck, authorities said.
State Police are reviewing the actions of the troopers involved. Trooper Kerra Burns, the local troop's public information officer, said a police supervisor monitored the pursuit via police radio. Pursuits are often terminated amid traffic or danger concerns, but there was little traffic on that section of the highway early that morning.
"The pursuit was monitored by a supervisor in accordance with State Police policy," Burns said. "The New York State Police pursuit policy integrates both officer safety and public safety concerns with a duty to enforce the law. In the decision to continue a pursuit, the protections and safety of the public, occupants of the pursued vehicle and the pursing police officer must be weighed against the dangers involved."
Turcotte worked for his family's boat-building business, Gar Wood Custom Boats of Brant Lake.
Crouse's lawyer, Martin McGuinness, said his client would plead not guilty, but he had no further comment on the case.
Don Lehman covers police and court matters and Warren County government. He can be reached at 518-742-3224 or dlehman@poststar.com
Get local news delivered to your inbox!
Subscribe to our Daily Headlines newsletter.