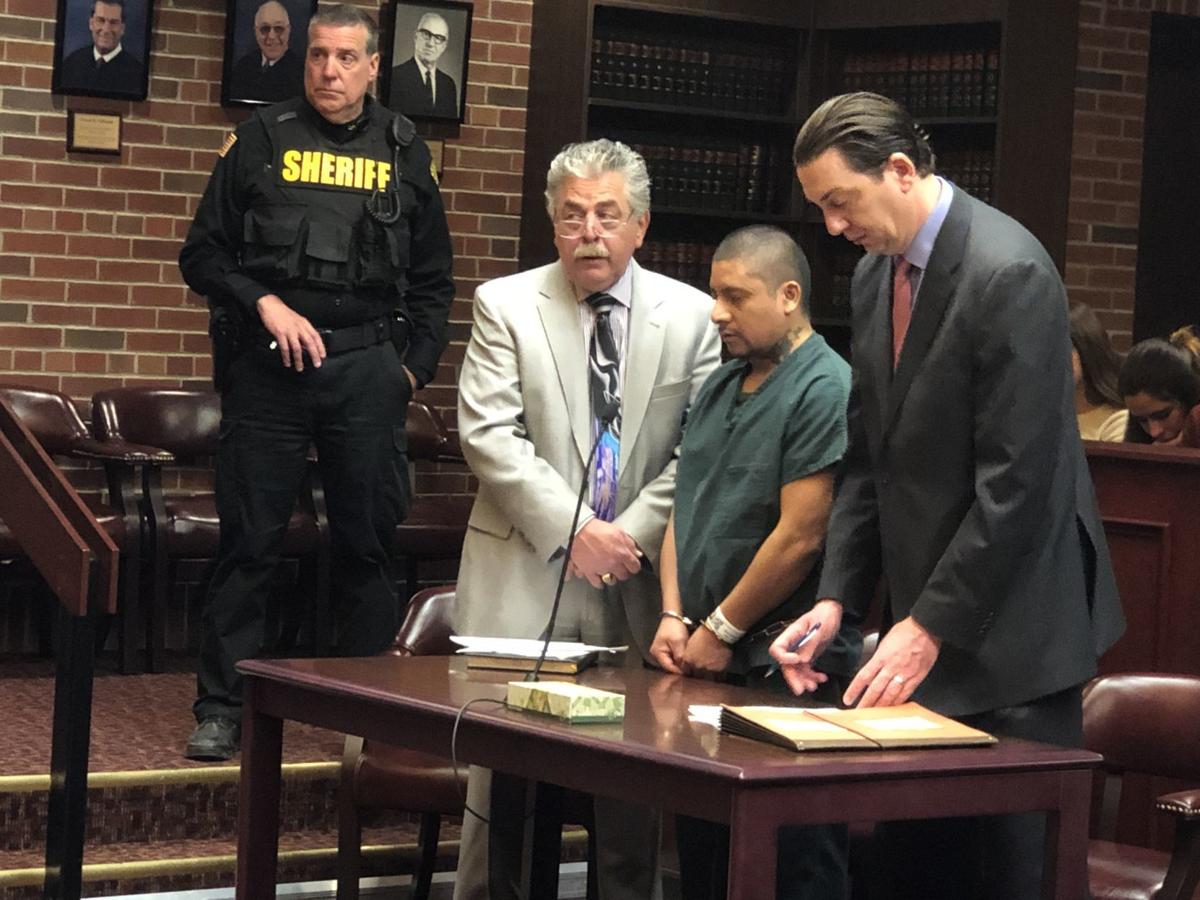 BALLSTON SPA — The illegal immigrant who fired a gunshot through a Wilton motel wall, killing a man in another room, was lambasted for his "abhorrent" actions Tuesday, after a judge heard a sad victims impact statement about how the death had affected the victim's young daughter.
Daniel A. Salas-Miranda, 40, was ordered to serve 10 years in state prison for his guilty pleas in connection with the death of Michael J. Kornacki in his room at Crest Inn & Suites on Route 9 in Wilton last Oct. 7-8.
Police said Salas-Miranda, a native of Mexico who has been deported from the U.S. numerous times, was drunk and handling a loaded 9 mm handgun when it accidentally discharged and sent a round into Kornacki's adjacent room. Kornacki was hit and died in his bed, but his body was not discovered for several days.
The case drew extra scrutiny in light of the fact that the family that owned the motel also owned the limousine company that had been involved in an Oct. 6 crash that killed 20 people. Kornacki's family questioned whether the shooting was related to the crash, as Kornacki may have had information about the company owners. But State Police said there appeared to be no connection between the two events.
That Salas-Miranda knew the gun fired though the wall and didn't check on Kornacki afterward was a painful point for Kornacki's family, which provided a victims impact statement read in court Tuesday by Saratoga County Assistant District Attorney Mary Northrup.
Kornacki's companion and the mother of his child, Mary Peyton, told how the death had devastated the couple's 10-year-old daughter, and how she missed her father and was scared "all the time" in light of his death. Peyton said Kornacki was a dedicated father and their daughter frequently stayed at the motel with him.
"I feel her childhood ended in so many ways last October," Peyton wrote.
She wrote she was particularly upset to hear that Salas-Miranda had made comments in Saratoga County Jail that the death case "was no big deal" and that he would serve a few years in prison, be deported when he is released and return to the U.S. again with fake identification documents.
"I felt like I was being assaulted over and over again," Peyton wrote.
Saratoga County Assistant District Attorney Charles Bucca said Kornacki was an "innocent victim." Bucca said he was struck by the fact that the bullet fired by Salas-Miranda narrowly missed homework done by Kornacki's daughter that was hanging on the refrigerator door hit by the round that eventually killed Kornacki.
Salas-Miranda, helped in court by an interpreter, had no statement during the proceeding.
Saratoga County Judge James Murphy lauded Kornacki's family for their strength after their loss, and called Salas-Miranda's actions "abhorrent."
"You have inarguably changed this family forever," Murphy told Salas-Miranda. "You deserve every single day you will serve in prison, and you no longer deserve to be in this country."
The judge ordered a 10-year prison sentence, to be followed by 5 years on parole, on the felony charges of criminally negligent homicide and criminal possession of a weapon.
Kornacki was a self-employed well pump contractor who had lived much of his life in Schenectady.
Get local news delivered to your inbox!
Subscribe to our Daily Headlines newsletter.