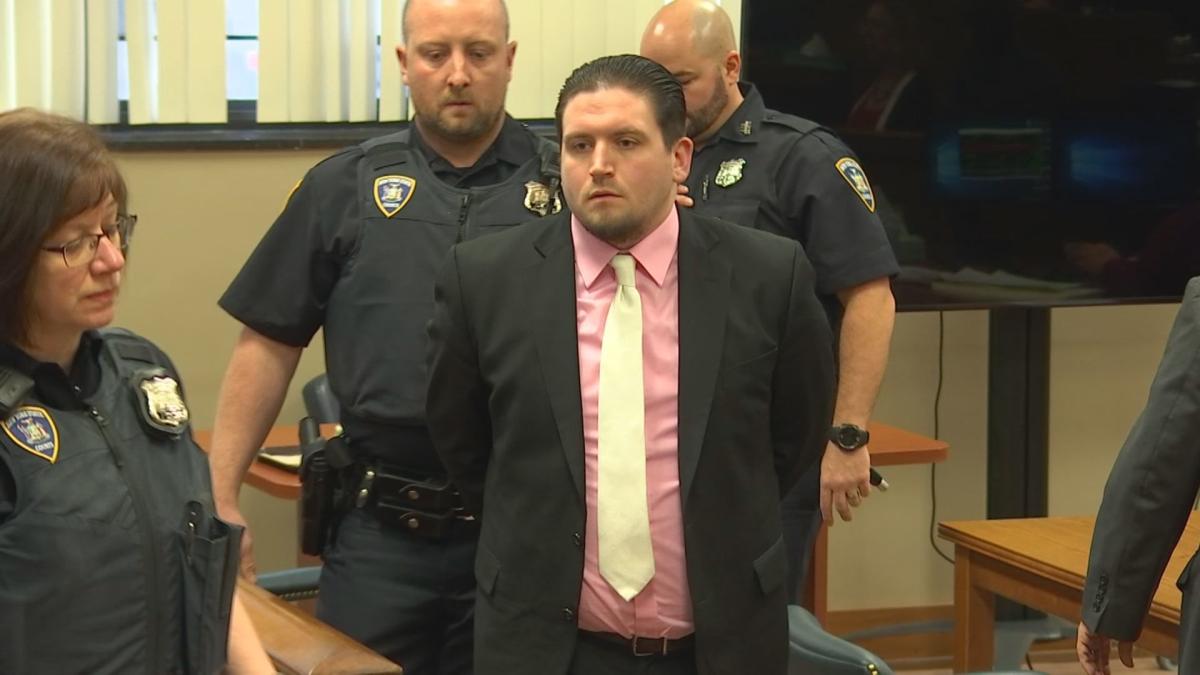 QUEENSBURY — The Glens Falls man who fired a shotgun blast into a home last spring, killing a dog and almost hitting a man inside, was convicted of all charges Tuesday following a trial in Warren County Court.
The panel in the case of Joshua P. Marcantonio deliberated for about four hours over two days before finding him guilty of six felonies and two misdemeanors.
He showed no emotion as the eight-man, four-woman jury found him guilty of felony charges of attempted burglary, criminal possession of a weapon, reckless endangerment, criminal mischief and misdemeanor animal cruelty.
The charges stemmed from a May 9 incident at a home on Charlotte Street in Glens Falls, where Marcantonio fired a shotgun through the front door of a friend's home, nearly hitting a resident and killing a purebred dalmatian named Sir Edwin.
The jury heard five days of testimony that included the testimony of the victim, Shannon Gilligan, who said that he invited Marcantonio, a friend of his son's, to his home to hang out, watch movies and catch up after not seeing each other for years.
But Marcantonio was acting erratically as he drank wine, putting aluminum foil on cellphones and making strange comments before he attacked Gilligan as he slept on a couch.
A fight ensued where Gilligan threw Marcantonio out of his home, and Marcantonio returned seconds later with a 12-gauge shotgun he fired through the front door.
Warren County District Attorney Jason Carusone praised the work of the police agencies that investigated the case and assistant district attorneys Matthew Burin and Avi Goldstein.
"They prepared and presented the case well," he said. "We are pleased with the verdict. This was a very difficult case for the family."
Defense lawyer Jeff Matte had no comment afterward.
The jury deliberated more than two hours after a long day of testimony and closing arguments Monday. They were sent home at 9 p.m. by acting Warren County Judge Kelly McKeighan.
The panel had McKeighan direct that they re-hear the 911 call placed by the man who testified he was nearly hit by the shotgun blast as well as the bodycam video from the first officer to question Marcantonio after the gunshot report.
In that video, Marcantonio is seen telling Glens Falls Police Sgt. Miguel Chico that he didn't know what happened as police arrived at the home moments after the gunfire.
That is different from what Marcantonio testified Monday, when he told the jury that the man whose home was shot, Shannon Gilligan, attacked him and stabbed him with a knife, and the gun went off when they struggled over it.
The shot went between Gilligan's arms as he locked the door, and it hit Sir Edwin, who was on a couch in the home. His owner, Gilligan's daughter Jacqueline, was in a second-floor bedroom when the shot rang out, but testified tearfully about the death of her beloved canine as it ran bleeding through the home.
Marcantonio, 31, who has a prior assault conviction, faces up to 15 years in state prison on the weightiest charge, attempted first-degree burglary.
He rejected a plea deal before trial that would have resulted in a 2-1/3 to 7-year prison term for guilty pleas to a felony and misdemeanor.
He was sent to Warren County Jail without bail pending sentencing Feb. 28.
Don Lehman covers police and court matters, Warren County government and the outdoors. He can be reached at 518-742-3224 or dlehman@poststar.com
Get local news delivered to your inbox!
Subscribe to our Daily Headlines newsletter.