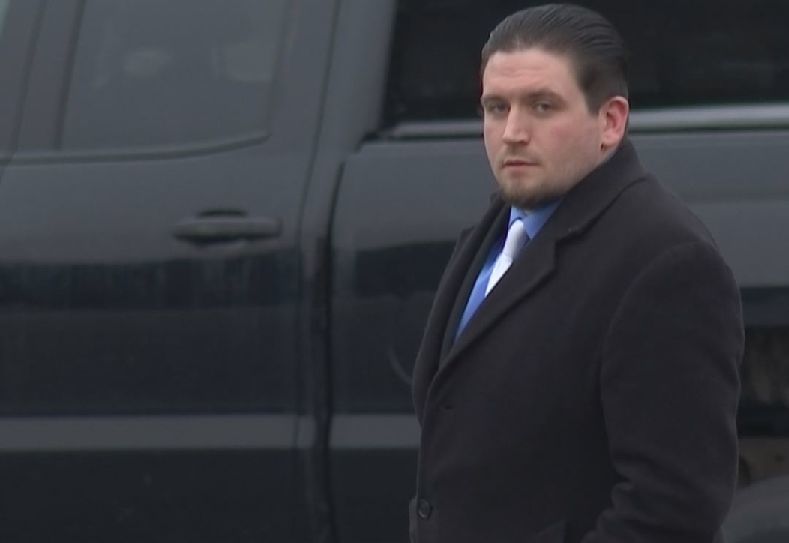 QUEENSBURY — The man accused of shooting into a Glens Falls home and killing a dog testified Monday that he was attacked by the man whose house was shot, and that man had the gun when it went off as they struggled over it.
Joshua P. Marcantonio told a Warren County jury that the man authorities said was the victim, Shannon Gilligan, was actually the aggressor, and that he became upset that Marcantonio would not help try to get Gilligan's son released from jail.
Marcantonio testified that Gilligan hit him and then cut his arm with a knife before approaching him with a shotgun that Marcantonio had brought to the home. The two struggled over the gun before it went off and fired through the home's door. He said he heard a dog yelp; the dog, a dalmatian named Sir Edwin, died moments later.
"You're accused of charging that house with a shotgun. Did you do that, Josh?," Matte asked.
Marcantonio, a Glens Falls resident, is on trial for felony charges of attempted burglary, criminal possession of a weapon, criminal mischief and misdemeanors that include animal cruelty stemming from the May 9 incident at his friend's home.
The jury heard closing arguments late Monday afternoon and began deliberations before being sent home for the night at 9 p.m. Jury deliberations will resume on Tuesday.
Marcantonio's account was pretty much the opposite of what Gilligan told the jury occurred when he testified last week.
Gilligan said Marcantonio, a friend of his son's, had been drinking and acting erratically and attacked him as he slept, then became angry when he was thrown out of the house. He testified that Marcantonio walked to his car and retrieved his shotgun, then walked back and fired a shot through the door.
Gilligan told the jury he had smoked marijuana, but Marcantonio testified that he thought he smoked crack cocaine before he became angry.
Key to how the jury views Marcantonio's testimony could be the fact that Marcantonio did not tell police his version of events when he was arrested near the Charlotte Street home.
He told the jury Monday that he did not tell police that Gilligan attacked him because he didn't want to get Gilligan in trouble.
"I'd known Joey, his son, since we were kids," he told the jury.
He also didn't recite that version when asked by reporters what happened as he left his May 9 arraignment.
Warren County First Assistant District Attorney Matthew Burin questioned many aspects of Marcantonio's story, including why he allowed Gilligan, 20 years his elder and dealing with serious health issues, to attack him, and didn't scream for help despite claiming he was stabbed.
"You just take the beating?" Burin asked.
"Yeah," Marcantonio replied. "It dazed me, but I wasn't about to hit my close friend's father who is 50 years old."
Marcantonio did suffer a cut to his arm that required stitches, but police believe it was either self-inflicted or from a sharp edge on the shotgun that kicked back at him when it was fired.
Burin pointed out there was a lack of blood on the home's porch where Marcantonio said he was stabbed.
Marcantonio, 31, faces up to 15 years in state prison on the weightiest charge, attempted first-degree burglary.
Don Lehman covers police and court matters, Warren County government and the outdoors. He can be reached at 518-742-3224 or dlehman@poststar.com
Get local news delivered to your inbox!
Subscribe to our Daily Headlines newsletter.