The haunting, howl-like call of the common loon is enough to give one goosebumps on a dark Adirondack night.
Those who are woken up by these "where are you?" calls might prefer quiet (and some sleep), but the loons are a special part of the Adirondack Park's soundscape.
Threatened by mercury poisoning, habitat degradation, predators and humans, to name a few, the iconic Adirondack bird is on the rebound, flourishing in the area's freshwater lakes, streams and ponds at near peak numbers.
Nina Schoch, executive director of the Adirondack Center for Loon Conservation, estimates there are between 1,800 and 2,000 adult loons in the Adirondack Park, up from about 400 in the 1970s. It's an encouraging sign for the many organizations that participate in a loon population count every third Saturday in July.
Sometimes referred to as the "spirit of northern waters," loons breed in parts of Alaska, Canada and around the Great Lakes, northern New York and New England.
Those fortunate enough to see these rather large adult birds (they can weigh between 6 and 14 pounds, or so) during the breeding season might be captivated by their blood-red eyes, coal black heads and black-and-white patterned plumage.
When their babies are a few weeks old, an even luckier person might see an adult swimming with a chick on its back.
If Adirondackers haven't seen a loon, most have probably heard one. They have distinctive vocalizations, from the long howl-like calls to a fluttering high-pitched distress call, called a tremolo. They even yodel.
Observing the progress
While the population numbers from this summer haven't been crunched just yet, Schoch said the Adirondack Park is starting to reach its carrying capacity — that is the number of loons or organisms an area can support before there's degradation to the environment.
For the Adirondacks, that number is about 1,000 breeding pairs, according to a 2015 loon status report that Schoch and others published.
Lake George has been part of the annual survey since at least 2004, when no loons were spotted. Schoch said in 2017, volunteers counted 13 loons on the lake. 2018 numbers are not yet available.
Kristen Rohne Wilde, director of education at the Lake George Association, leads the local population count every year and said it's always a good time for volunteers. The survey began at 8 a.m. July 21. Groups of people split up and scoured the shoreline and open water, mostly by boat.
Volunteers assigned to Lake George Village were ecstatic to see three loons that morning, Wilde said. Often, people think loons keep to the quieter northern waters, but Wilde said they can appear in any part of the lake.
"I think a lot of people just enjoy seeing them," Wilde added. "I think because they aren't so common that when you do see them, it's just interesting."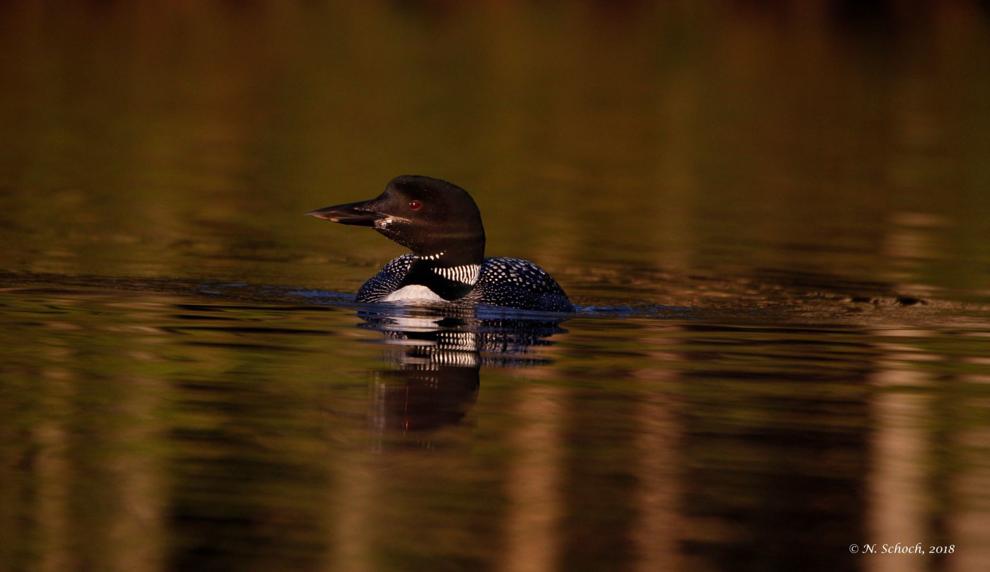 Schoch, who has studied how mercury pollution has impacted loons for the last two decades, is glad to see her birds rebounding.
"One, I enjoy watching the birds, and it's good to know I'm helping the population in different ways," she said. "The other is increasing people's awareness about loons and other wildlife, and what they can do to help wildlife populations and the environment."
Threats still exist, and could worsen
Even though loons are doing well, they still face plenty of threats, and one of the biggest is people.
Wildlife lovers sometimes get too close, disturbing nesting sites and causing undue stress to the birds.
Anglers, Schoch said, also need to be careful with fishing line. In late August, a dead loon was found tangled up in it on Cranberry Lake and had likely drowned, the Adirondack Center for Loon Conservation reported on its Facebook page.
Schoch is also encouraging anglers to stop using lead lures. Loons have been known to die from lead poisoning after accidentally ingesting them.
Mercury poisoning from coal-fired power plants was a problem for years, and the effects continue to linger in the food web. Schoch explained that mercury levels start out low in invertebrates, but as fish eat the invertebrates, the mercury accumulates.
If a loon eats contaminated fish, it ingests higher levels of mercury, a neurotoxin that affects their behavior. High mercury levels are bad for humans as well, and loons are often used as an indicator species to see how the environment is doing for not just wildlife, but also people.
Since the Clean Air Act was passed, mercury emissions have decreased and levels found in loons are much lower, Schoch said. Despite the positive trend, she's concerned about the direction the federal government is going when it comes to environmental regulations.
"I think it's going backwards," Schoch said. "We were going ahead. Pollution is a huge problem throughout the world, and to have pollution regulations decreased means that there's going to be more pollution and health impacts for people and for animals and their habitats."
Aside from human-caused problems, loons, especially youngsters, have to deal with predators, too. Bald eagles are a common threat, as are scavengers, like raccoons, that can prowl around nests.
A somewhat new predator was discovered this year, Schoch said, after capturing black bears on a trail camera eating loon eggs.
"That was pretty unusual," she said.
The birds, however, are resilient. They keep people coming back to the Adirondacks, to the lakes, to hear that almost transcendental call.
Wilde said she had an email from a person who is visiting Lake George for Thanksgiving, asking her where they could see a loon.
"That's what they want to see," Wilde said. "It's very iconic for the Adirondacks. It's just one of those things."