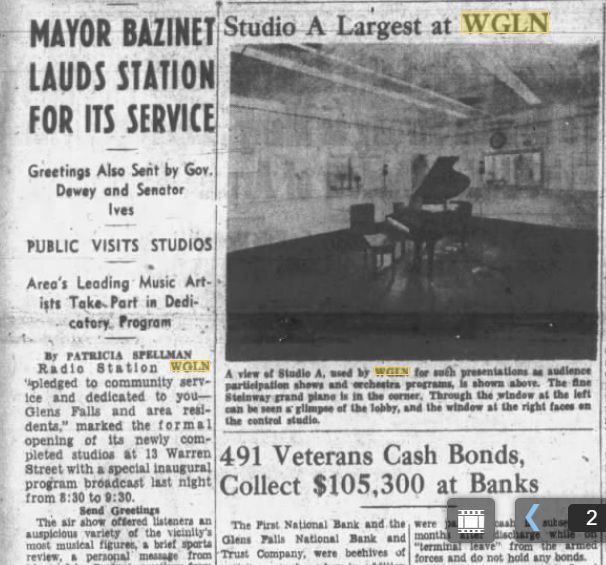 Virtual concerts, which have become common during the COVID-19 pandemic, had a local forerunner in the 19th century via an open telephone party line.
"A party of musicians in the central office of the telephone company at Rutland, Vt., treated various telephone subscribers in Glens Falls to a serenade last evening," The Morning Star of Glens Falls reported on Dec. 12, 1883.
The musicians from Vermont were about 40 years ahead of the Golden Age of Radio, starting in the early-1920s, when cutting-edge technology of the time broadcast the sound component of what are now livestream virtual concerts.
Early on in commercial radio, federal regulators required radio operators to specifically notify listeners if they were programming recorded instead of live music.
When owners of The Post-Star established WGLN radio at 13 Warren St. in Glens Falls in 1947, they equipped the studio with the latest in state-of-the-art broadcasting technology — and a Steinway grand piano.
Among those who took to the local airwaves was trumpeter Paul Lewis and his orchestra, performing live from the studio three times weekly to promote their performances as the house band at Pam and Bill's "famous plank steakhouse" in Lake George, The Post-Star reported on Sept. 2, 1947.
WGLN merged in 1950 with WWSC, which will celebrate its 75th anniversary on the air in December 2021.
Elsewhere in the region, Edgar A. Rice, a young Schenectady musician, conducted the studio orchestra when WGY radio of Schenectady made its first broadcast at 7:47 a.m. on Feb. 20, 1922, according to a station history on file at The Folklife Center at Crandall Public Library.
WGY, one of the nation's first commercial radio stations, broadcast into the Glens Falls area.
WGY and its owner, General Electric Co., were pioneers in virtual concert technology, developing the first condenser microphone used in commercial radio in August 1922.
Even before 1922, virtual concerts were being picked up in the Glens Falls area by amateur radio operators.
On Dec. 19, 1921, The Post-Star reported that at least five local teenagers had built wireless telephone receiving sets, as amateur radio devices were then called.
Family and neighbors would gather at their homes at 8:20 each evening to listen to live concerts broadcast from radio studios in distant cities.
"To listen to a concert in Newark, N.J., or Pittsburgh, Pa., is a novelty being enjoyed these days by numerous Glens Falls folks," The Post-Star reported.
The local teen amateur radio operators included Richard Lawton of Chester Street, Harold Rowe of Bacon Street, Charles McNulty Jr. of Bay Street, Leon Boynton of Thompson Avenue and Ralph Lapham of Grant Avenue.
"The boys made the apparatuses themselves and the clearness with which the concerts are heard testifies to the mechanical skills of the young men."
By the late 1940s, virtual radio concerts — broadcast live from a studio not live from a public assembly space, such as a theater with an audience — were common in Glens Falls, according to Post-Star archive reports.
Among the musicians, the Adirondack Ensemble Singers appeared at least three times on the Griffin Lumber Co. "Blue Coal Hour," broadcast on WBGF, a short-lived local radio station in the early 1930s.
The mixed-voice quartet, comprised of two Glens Falls executives and their wives, had a repertoire of 31 selections that listeners could call in to choose from.
Members of the Adirondack Ensemble Singers were M.H. "Bob" Simmonds on bass, Grace E. Simmonds on soprano, W. R. "Bill" Jones on tenor and Gertrude C. Jones, contralto and accompanist.
Pianist Giovannia de Blasiis, one of the locally famous de Blasiis sisters, performed several selections from the studio for the opening broadcast in 1933 of WGLC, another short-lived local radio station that had its studio at Hudson Falls but identified itself as a Glens Falls station.
In April 1948, Ray Nelson, the stage name for Nelson Ganun, formed an eight-piece orchestra to perform concerts from the studios of WGLN.
Pianist George Flanders, baritone Gene Bigelow, Slim Skellett and his Rocky Mountaineers, Jimmy Miller and the Saddlemates, and pianist Lindsay McPhail were among the studio musicians heard regularly on WWSC in the 1940s and early 1950s.
Maury Thompson was a Post-Star reporter for 21 years before he retired in 2017. He now is a freelance writer and documentary filmmaker specializing in the history of politics, labor organizing and media in the region. He is currently researching and writing a book, "AM Adirondacks: The Golden Age of Radio," expected to be released in fall 2021.
Get local news delivered to your inbox!
Subscribe to our Daily Headlines newsletter.