The Appellate Division of Supreme Court for the region's judicial district ruled last week that daily fantasy sports is illegal gambling, and local Justice Stan Pritzker was the lone dissenter who took issue with the court's decision.
Pritzker, a Supreme Court justice based in Washington County, was the only one of six presiding justices who heard the case of White vs. Cuomo.
The ruling that declared contests like those offered by DraftKings and FanDuel illegal does not mean that New York residents cannot use the sites, however. The companies are still offering contests pending an appeal.
Daily fantasy sports was made legal by a state law that was passed in 2016, but a group of state residents who claimed that it was "gambling" that "harmed" them sued.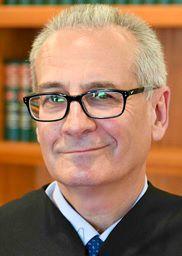 In 2018, Albany County-based Supreme Court Acting Justice Gerald Connolly agreed with part of the lawsuit, holding that the law, to the extent that it allowed daily fantasy sports, violated the state Constitution's ban on gambling.
You have free articles remaining.
The court's majority affirmed the ruling, but Pritzker, who was appointed to the Appellate Division in 2017, wrote he believed the state law was "constitutionally enacted," and he spelled out his reasoning in a seven-page dissent.
He pointed out that the state Legislature had determined that "interactive fantasy contests" such as those offered by DraftKings and FanDuel, were not gambling, since there was skill needed, and there was a high burden to find that the Legislature acted unconstitutionally that the plaintiffs did not reach.
"The record demonstrates with vigor that the lawmakers, without caprice, acted rationally, carefully and with measured consideration," Pritzker wrote.
The Legislature "considered a broad range of evidence concerning the critical issue of the amount of skill and chance that is involved in influencing the outcome of interactive fantasy contests" before passing the 2016 law, he added.
"Supreme Court incorrectly focused on the fact that the participants do not have actual influence over the athletes," Pritzker wrote. "However, this notion was debated by the Legislature and it ultimately concluded that the proper focus is not on the participants' influence over the real world events and a specific athlete's performance, but the participants' unquestionable influence on winning the contest by making skillful choices in assembling a fantasy roster."
DraftKings and Fan Duel are legal in 43 states, including New York.
Don Lehman covers police and court matters, Warren County government and the outdoors. He can be reached at 518-742-3224 or dlehman@poststar.com