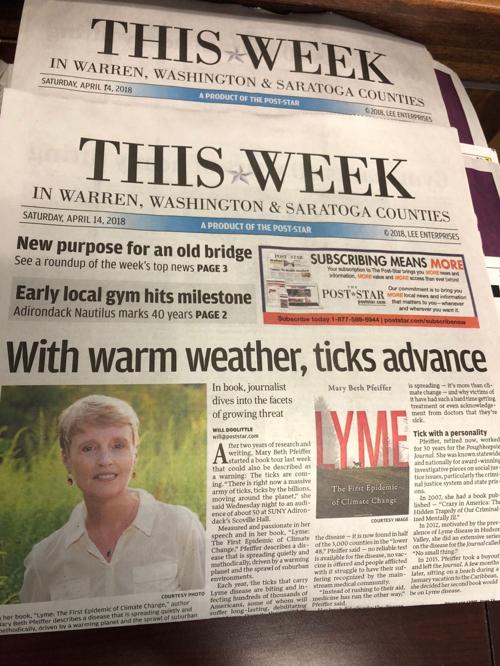 QUEENSBURY — Town Justice Michael Muller has dismissed all seven "littering" charges filed against Post-Star publisher Robert Forcey over delivery of weekly newspapers to Queensbury homes.
In a five-page written decision filed late last week, Muller found that the publication at the center of the charges, "This Week," is a newspaper that is protected by the First Amendment of the U.S. Constitution and cannot legally be considered "refuse, trash or litter."
Muller wrote that his analysis included inspection of several issues of the paper, which The Post-Star began publishing last spring, and found it contained "newsworthy articles of general public interest" as well as advertisements.
Muller cited numerous prior cases regarding infringement of distribution of news publications, and quoted Thomas Jefferson, before finding that the state Vehicle & Traffic Law did not apply in the situation.
"'This Week' and its method of general wide unsolicited distribution by door to door deliveries cannot upon the allegations presented by the complainants be reasonably or fairly characterized as refuse, trash, garbage, rubbish, litter, or a nauseous or offensive matter," Muller wrote.
Muller dismissed the charges based on a motion to dismiss filed by lawyer Michael Grygiel on the paper's behalf. The office of Warren County District Attorney Jason Carusone did not oppose the motion, instead pointing out that there had been more than two dozen cases around the country where courts declined to uphold charges in similar situations and no successful prosecutions.
Carusone's office could appeal Muller's ruling, but he said Tuesday that there were no plans for an appeal.
Forcey said he was happy with Muller's decision.
"We are glad that the courts have agreed with us," Forcey said. "To our organization, this has always been a First Amendment issue and we believe that the courts concurred."
The charges were filed last October after a group of Queensbury Republicans who were unhappy with Post-Star coverage of the race for Queensbury town supervisor solicited via social media complainants who were angry about receiving the newspaper and directed them to file complaints with the Warren County Sheriff's Office.
A patrol officer took statements from five residents perturbed about getting the paper, some of whom claimed they had asked for delivery to be stopped, and police added photos and other documentation of delivery. The Sheriff's Office forwarded the complaints to Muller, who issued summonses to Forcey on charges of "throwing refuse on highways and adjacent lands."
It was unclear why Forcey was named in the complaints in the first place, as he did not physically distribute any of the papers in question.