GLENS FALLS -- Innovation, engineering and artistry are the ingredients in a new holiday tradition at Crandall Public Library.
Library staff were brainstorming about creative ways to store discarded and donated books that were stacking up to be sorted for the next Friends of Crandall Public Library book sale.
"Somebody came up with the idea of creating a Christmas tree," said Steve Ray, the library's information technology specialist.
In the process of construction — involving carefully stacking books together — the tree evolved into the 5-foot-tall, 88-inches-in-diameter Crandall Public Library holiday bell, on display in library's new books area, just inside the Glen Street entrance.
The number of books is a closely guarded secret, for now.
The library is holding a contest to guess how many books were used in the bell itself.
The contest will continue through the holidays, and people can submit their guesses in a box by the sculpture any time the library is open.
Ray said he's been keeping tabs on guesses as they come in.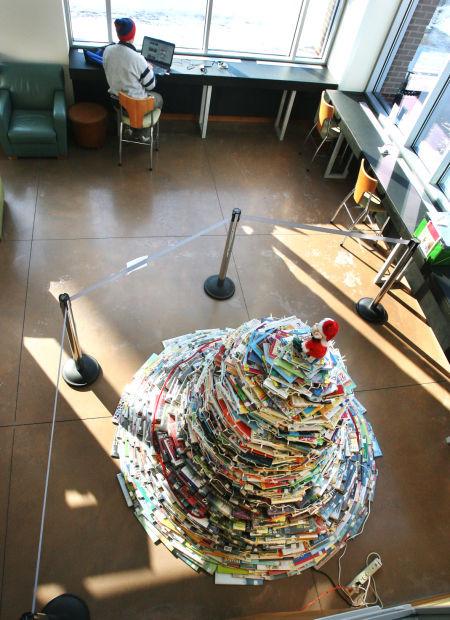 "I do know who's close and who's not," he said.
When guessing, people should only include the number of books in the bell itself, not the number of books stacked inside it.
The books stacked inside the bell are the key to its stability, as the stacks of books support the main structure to keep it from tumbling.
No glue or bonding element was used.
After the holidays, the bell will be disassembled, and the books put in the next book sale Feb. 7-9 in the library basement.
Ray said it took him about seven hours over a span of four days to construct the sculpture.
"It was a couple of hours one morning and lunch hours," he said.
He started working from a couple of Christmas tree designs library staff had found on the internet.
"It got to a point to where I couldn't change it or do anything with it," he said. "So I just continued on with where it was going, and it turned into a bell."
Now that he has mastered the process, Ray plans to construct the bell every year, as long as their are discarded and donated books available.