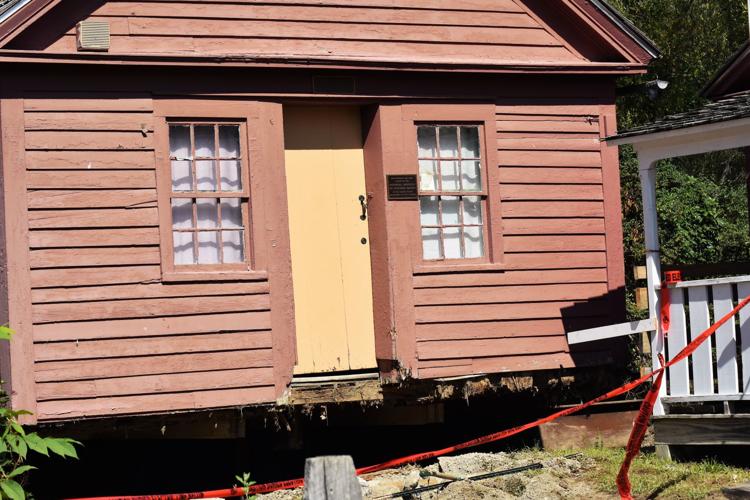 HARTFORD — Raising a centuries-old building several feet off its foundation happens slowly, in delicate increments, one inch at a time.
And this week, New York's last remaining Civil War Enlistment Center, on Hartford's Main Street, rose from its crumbling foundation on carefully placed iron grids in a process called cribbing.
"I have 20-ton air hydraulic jacks with a hose coming out of each," said Ray Richards, owner of RJR Construction in Shushan. "I would lift the front up one inch and then I'd come back over here and I'd lift this up two inches, then I'd go back to that side. I'd go two inches and two inches and I worked it that way just a little bit at a time."
The Civil War Enlistment Center, built in 1835, was probably a shop of some sort, Hartford Historical Society President Peter Swano said.
"One hundred and thirty four veterans enlisted in that building," he said. "At that time it was maybe a hat shop or some kind of craftsman, perhaps. We have never been able to determine what was in there."
And over the years, the small building's foundation began to crumble, but because of its historical significance, Hartford Supervisor Dana Haff said the town wanted to preserve the center.
"We've been putting money aside each year to do the work," Haff said.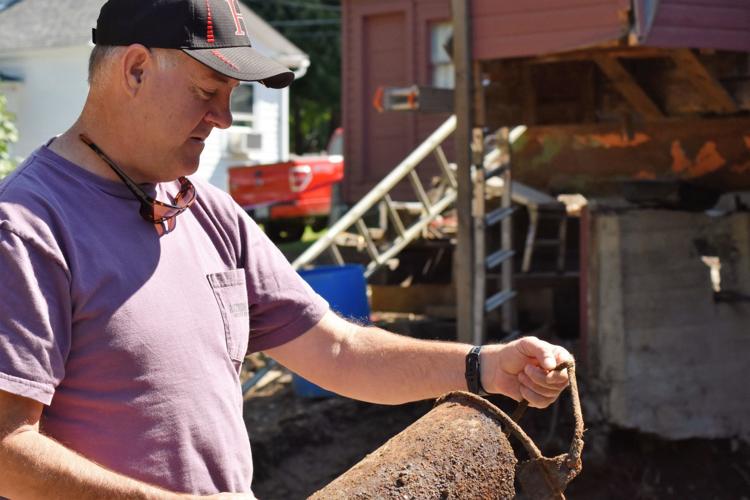 Nonetheless, Haff said officials worried the building's condition would continue to deteriorate before they had the necessary funds.
But with the help of Assemblywoman Carrie Woerner, D-Round Lake, they were able to secure a $125,000 state grant.
"Now, with the grant and the $25,000 we put aside, we have enough money to complete the project," Haff said, adding that the town owns the property and structures — the Enlistment Center and the Civil War Museum — and the Hartford Historical Society manages it.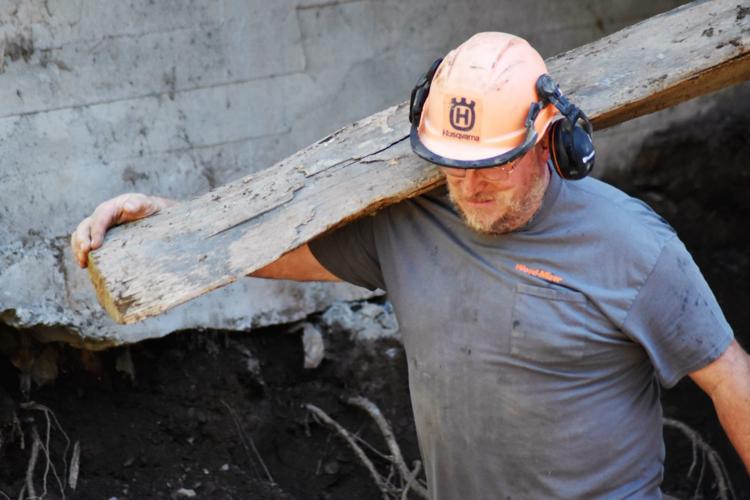 The way the story goes, during the Civil War, President Abraham Lincoln called for more troops from each state. And on a Sunday in August 1862, after a fiery sermon at the Baptist Church across the street from the center, all the men came out and enlisted.
"The town clerk was there at a desk and signing them up," Swano said.
And they became known as Company E of 123rd New York Volunteers, comprised of men from Hartford and Hebron.
According to Swano, enlistees had to be 18 or their mother had to sign their enlistment papers.
You have free articles remaining.
"Some of the kids couldn't write so there is an X for the signature," Swano said. "And then the mother is countersigning and she signs with an X."
Haff said the volunteers had to go to Salem for the train.
"They walked or rode horse all the way to Salem," he said.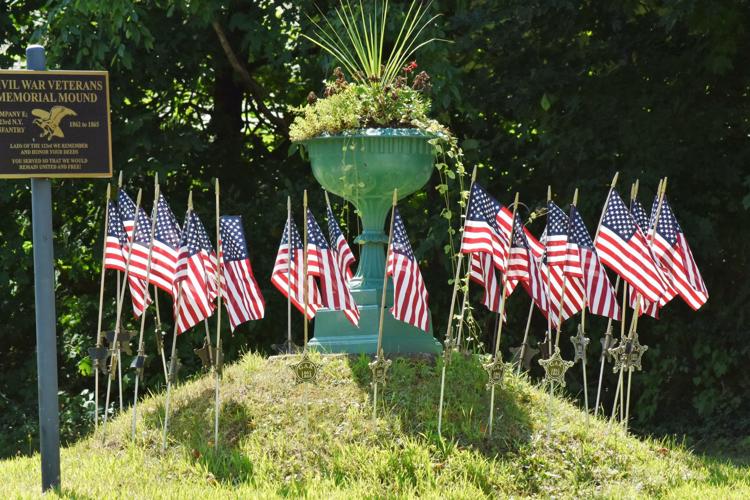 Once in Salem, the enlistees got their uniforms, weapons and a physical exam.
"They want to know two things, are you drunk? And do you have your front teeth?" said Swano, explaining that they needed their front teeth to bite the tip of a bullet to pour the powder down the barrel of the gun. "If you didn't have any teeth, you couldn't shoot. That was the physical: teeth and they didn't want any drunks."
According to Haff, after the war, when other towns were building elaborate monuments to the Civil War dead, Hartford could only afford a mound of dirt as a memorial to the 23 men from Hartford who died.
"This town was so poor the only thing they could afford was a pile of dirt, yet this town, out of every town in New York state, kept the enlistment center," Haff said. "This is the only one left in New York state. All the other ones are gone."
Once contractors got underneath the structure, they saw that the beams were rotting.
On Thursday morning, Haff pointed to the beams.
"See, the beams did not go across the whole building," he said. "I want to put out a call to the citizens of the town: If they have (beams) in some old barn, maybe we can get more that are 16 feet and we can go all the way across.
"I want period beams," Haff continued. "We don't want to put new ones here. We want to see if we can find at least three 8-inch by 8-inch 16-footers.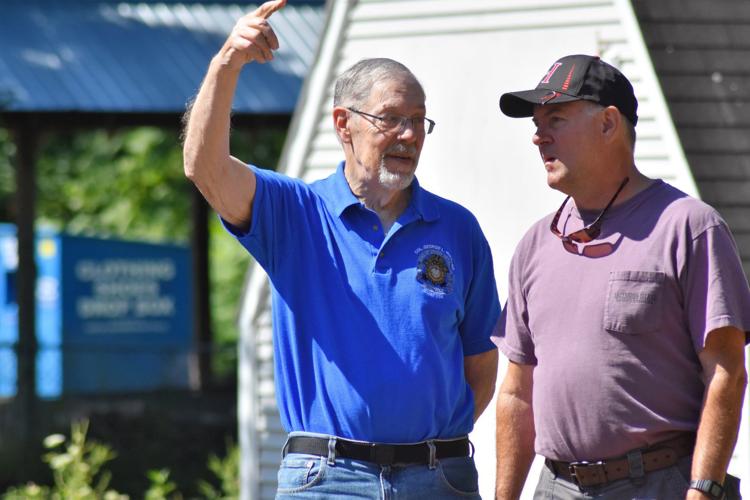 When finished, the Civil War Enlistment Center will have a whole new concrete foundation, and contractors are putting stones, which were excavated from underneath, on the outside.
Richards said it should take him about a month and a half to finish. But lowering the building back down onto its new foundation will be much easier than raising it up.
"It took a day and a half to bring it up because I was real nervous," said Richards. "But coming down will be a lot easier. When it comes down, it's going to come down quick. I can get it down in about four or five hours."
There will be a public ribbon-cutting ceremony when the center is securely back on the ground, Haff said.