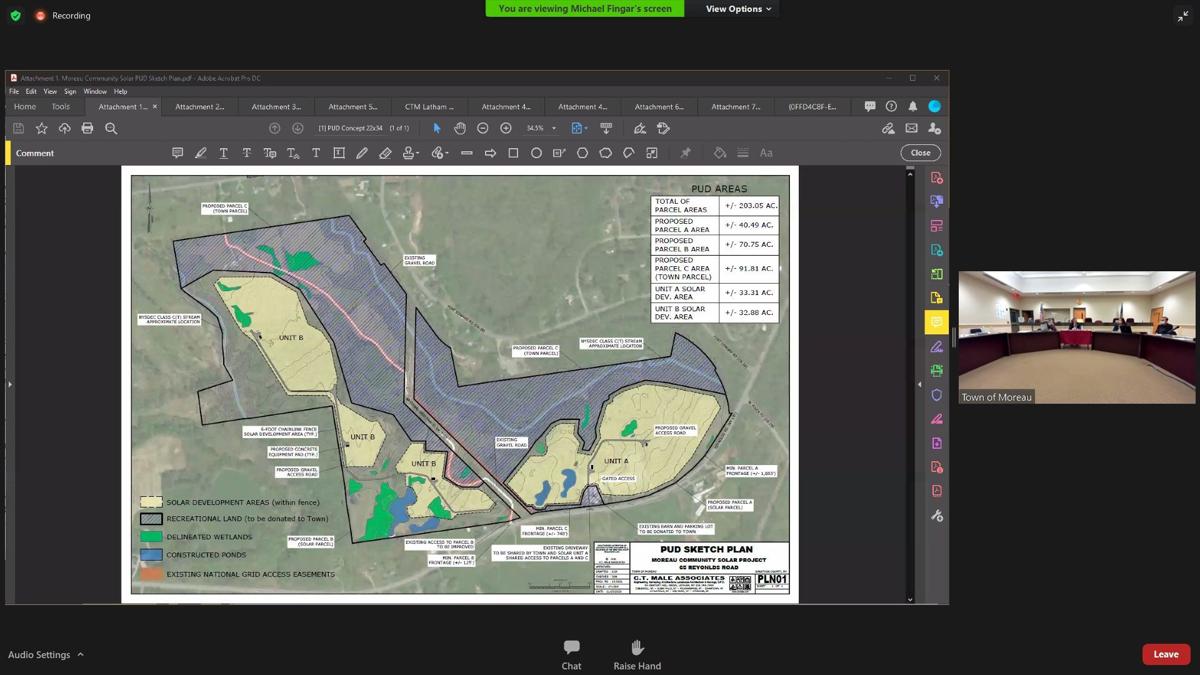 MOREAU — Although the Town Board decided last month that commercial solar installations shouldn't be installed in residential areas, a developer has submitted an application to do exactly that.
US Light Energy wants to build two 5-megawatt community solar projects at 65 Reynolds Road, the former Tee Bird South Golf Course. The lot is zoned R-3 and is surrounded by houses on large lots.
Since large solar arrays aren't allowed in R-3, US Light Energy has proposed a Planned Unit Development, in which solar can be approved.
Usually, a PUD is a complicated project with multiple items that don't all fit in the zone, but fit together, such as a development with new apartments and houses and some retail establishments.
In this case, US Light Energy is proposing that it build the two 5-megawatt solar arrays and give the rest of the land to the town for recreational uses.
The company would give the town 91.81 acres, the northern 45% of the property, and place solar arrays on about 66 acres. They would produce a total of 10 megawatts, which can power about 1,300 homes. The power goes directly to the grid, allowing National Grid to increase the amount of power it uses from renewable sources.
The Planning Board will hold a public hearing and decide whether to recommend the project. The Town Board has the final vote on all planned unit developments and will hold a public hearing before making a decision.
The Town Board sent the project to the Planning Board in a pro forma vote Tuesday. But Supervisor Todd Kusnierz warned that no one should interpret that to mean the board will later approve the project.
"When it comes back to the board, this will be highly discussed. At that time we will do the necessary vetting that our residents expect us to do," he said. "I don't want there to be a misperception that we rubber-stamped it tonight."
If the PUD application is denied, US Light Energy could also go to the Zoning Board to try to get a variance for the solar arrays.
Neighbor Jim Hooper, who owns a horse farm near the proposed site, has been staunchly opposed to the project.
"How convenient that now they want to give the town some land," he said the day after the presentation. "I guess that's how they are going to try to ram it through."
The project would also use all of the National Grid capacity for solar power in that area, which could impact other people's plans to put solar panels on their land when the Town Board finalizes its draft solar law.
However, the National Grid substation near the town's closed landfill would still have capacity, which means the town could continue forward with a proposal for solar panels there.
National Grid could also upgrade its equipment to add capacity for more solar arrays.