CAMBRIDGE — Jared Woodcock had a mile-long walk to the bus stop, and on his first day of third grade, he made some friends along that mile — snakes and frogs, to be specific.
He collected them in his backpack, zippered it up, and on the bus ride to school looked forward to impressing his classmates.
When he got to class, Woodcock's teacher opened his backpack, closed it and sent him down to Mr. Romack's seventh grade classroom.
Howard Romack, a longtime science teacher at Cambridge school, helped foster Woodcock's innate love of nature ever since, with the help of school trips to White Creek.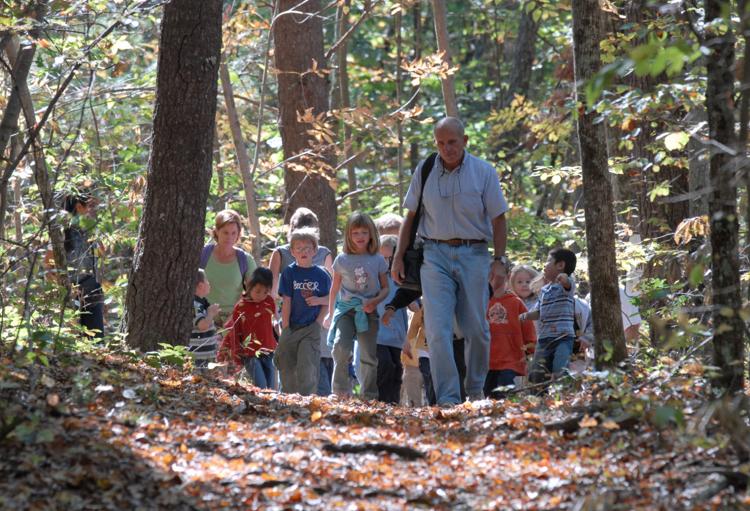 Romack had an agreement with landowners nearby where the creek ran through, and he took generations of science students to those banks, scouting the water for creatures among the rocks.
When the land went up for sale, Woodcock, now a grown man with a family and business, wanted to make sure future generations could enjoy the place as much as he did. He contacted the Agricultural Stewardship Association, and with help from multiple partners, the association closed on the approximately 145 acres at the end of June, its first land purchase ever.
The association, the village of Cambridge and the town of White Creek are calling the land the Cambridge Community Forest. It was bought for $110,000, through community donations and an $80,000 grant from the Open Space Institute. The association hopes to turn it into a place for walking, hiking and mountain-biking and for hosting educational workshops and demonstrations on forestry management.
"This is an exciting project for us," said Teri Ptacek, director of the association. "It's something new, but still keeping in our mission."
The Agricultural Stewardship Association helps protect working land in Washington and Rensselaer counties, predominantly through easements. To date, it has helped about 130 families conserve more than 22,000 acres.
Now, it has its own land to continue its mission, and it's close to the school, the village's downtown, local day care and youth programs.
"The conservation of Cambridge Community Forest creates a priceless inheritance that will connect young children and families to this richly forested landscape," said Kim Elliman, president and CEO of the Open Space Institute, in a news release.
"This is wonderful to have a large, green space for our residents to go and use," said Mayor Carmen Bogle. "We're very excited and very happy ASA (the Agricultural Stewardship Association) was able to take on this project."
Ptacek said now that the association has the land, her organization is raising funds for phase two. That involves making trails, building signs and getting the bridge over White Creek inspected and refurbished, among other things. She's hoping to raise $75,000 and have the forest ready for the public by next summer.
Wednesday, Ptacek, Woodcock and the association's intern, Elliott Norman, walked part of the property.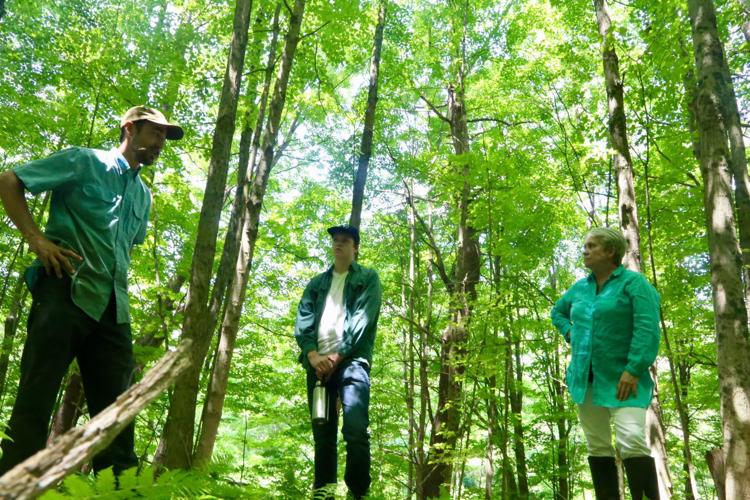 The bridge at the entrance is overgrown with weeds, and some of the boards are worn away. Some old logging roads are still visible, but stands of white pine, red and white oak, hemlock, sycamore, white birch and chestnut oak reach toward the sky.
The forest's wild magic is present, but there's work to be done. Norman said they'll be looking for community volunteers to help soon.
Like Woodcock, Norman grew up in Cambridge.
He remembers raising crayfish in fourth grade and releasing them into White Creek. Now a student at SUNY College of Environmental Science and Forestry, he is back for the summer, helping to preserve a place that inspired his future.
"That's the beauty of the whole project," Ptacek said. "The community came to us and said, 'We need this,' and the community is involved in stewarding it."
Get local news delivered to your inbox!
Subscribe to our Daily Headlines newsletter.