GLENS FALLS — A registered sex offender who police said threatened to shoot a woman when pointing a loaded shotgun at her chest was jailed Monday, nearly three months after a violent confrontation at a Glens Falls home that ended with a self-inflicted gunshot wound.
Shawn P. Cheney was not arrested earlier because he had been hospitalized for a self-inflicted gunshot wound to the face since the Nov. 19 attack at a Henry Street home, authorities said.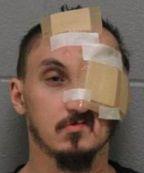 Cheney, 30, faces a host of charges for a violent attack on a woman he knows, which included him choking her with a loaded shotgun, hitting her in the face with the butt of the gun and repeatedly telling her he would shoot her, Glens Falls Police Capt. Michelle Arnold said.

Arnold said the attack began with a verbal dispute, and when the victim told Cheney to get out, he slapped her, then grabbed a shotgun and loaded it. She tried to leave but he pointed the gun at her and followed her, with the woman at one point smacking the barrel of the gun away as it was pointed at her chest.
She said she was going to run to a neighbor's home, which resulted in an additional gun threat.
"He told her before she could get to the neighbor's that he would shoot her," Arnold said.
The woman went back into the home, with a young child witnessing the violence, and Cheney threatened to shoot the child as well. The child ran and hid at the mother's direction, and Cheney then hit the woman with the gun before going out on a porch, police said.
The woman was able to retrieve a phone that Cheney had thrown, and called 911. But as police arrived, Cheney fled into the backyard with the gun and hid behind a shed. Before police could locate him, a gunshot rang out and Cheney was found to have shot himself, officials said.
Cheney was taken to Glens Falls Hospital for serious but non life-threatening injuries to his face, where he remained for treatment until he was arrested when he was released Monday. Glens Falls Police Officer Desmond Lyons investigated the case, and Detective Sgt. Seth French made the arrest.
He was charged with felony counts of strangulation, aggravated family offense, unlawful imprisonment criminal possession of a weapon and misdemeanor charges of endangering the welfare of a child and criminal mischief. He was arraigned Monday and sent to Warren County jail for lack of bail.
Cheney has a lengthy criminal record that includes a 2009 conviction for sexual misconduct that resulted in him being deemed a Level 2 sex offender, as well as arrests for threatening a woman with a knife, threatening a man with a knife and numerous theft-related charges, according to state records and prior media reports.
He served a prison term starting in 2011 for attempted strangulation and failure to register as a sex offender.
Don Lehman covers police and court matters, Warren County government and the outdoors. He can be reached at 518-742-3224 or dlehman@poststar.com
Get local news delivered to your inbox!
Subscribe to our Daily Headlines newsletter.