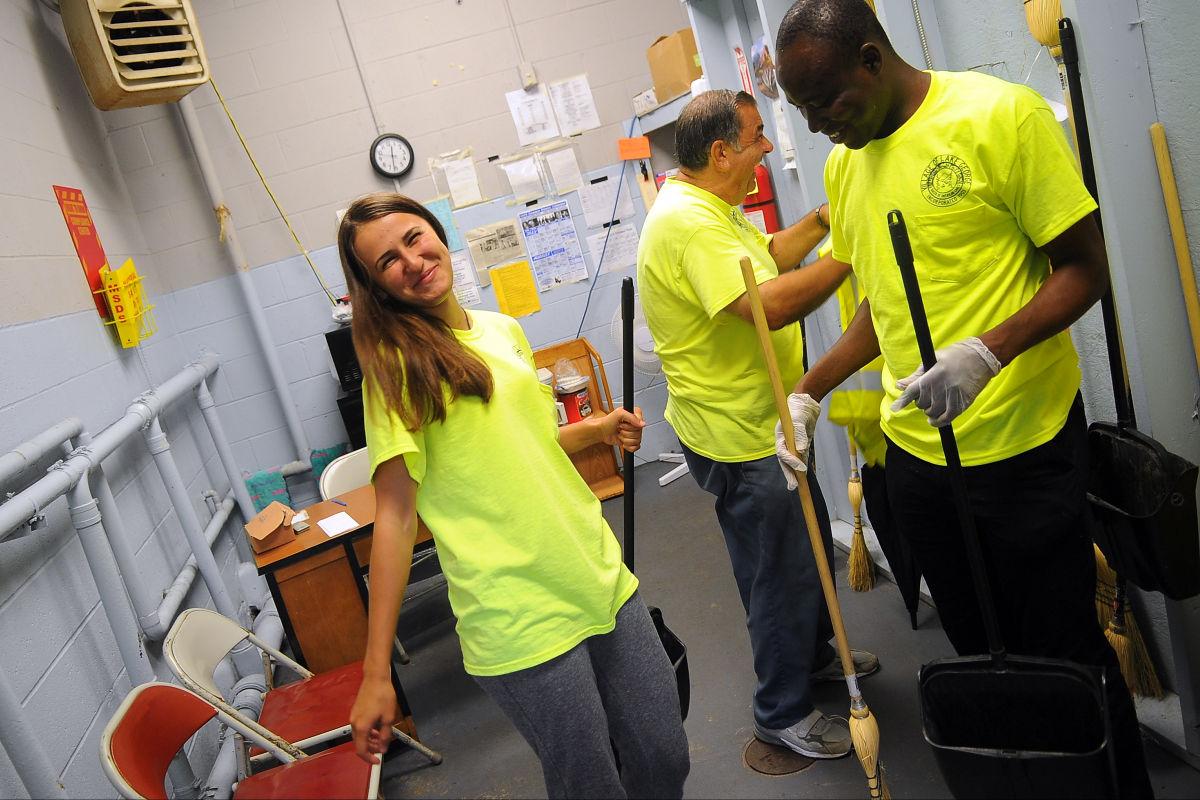 In 2008, Sayuti Sulemana uncovered more than he expected as he swept cigarette butts and used food containers from the village sidewalks.
It was Sulemana's first time out of Africa, an opportunity he had seized along with the hundreds of other international students who every year choose to spend their school breaks working in the U.S. and are placed in Lake George.
At 28, he was studying to be a teacher. Sulemana grew up in Tamale, the capital of the Northern Region of Ghana, and poverty was no stranger. At 18, he lost his father.
He saw education as the key to breaking the cycle of struggle and giving the next generation of his family a better life.
Now 33, the multilingual Sulemana has gone from scrubbing toilets in the public restrooms of Lake George parks to working as social secretary in the Embassy of the Republic of Ghana in Turkey. The social secretary has various duties, including organizing embassy events and traveling with the ambassador.
But this year, Sulemana returned to Lake George, a short but poignant stop along his journey.
As a foreign student traveling on a J-1 visa, the lakeside retreat was more regimen than respite for him in 2008, but the experience "transformed my life," he said during a recent interview by the fountain in Shepard Park.
"Growing up, I wanted to be a politician, to serve a community. So I have to practice the behavior of leadership," he said.
That is why Sulemana traded in his suit and tie for a neon T-shirt and returned to Lake George for about 30 days again this summer to volunteer to clean the village's parks and restrooms. He paid his own round-trip airfare from Turkey to New York — about $1,500 — and $75-a-week rent.
Pete Trotta, the village' parks attendants supervisor, said he thinks of Sulemana as a son. "He's going from a teacher to a diplomat to a politician," Trotta said.
In addition to his work for the village in 2008, Sulemana took a second job at Nina's Sweet Shoppe. During his stay this summer, he wanted to work for Nina's owner Patty Kirkpatrick again.
"Talk about a success story," Kirkpatrick said. "He is just humble, smart, friendly and he's got the greatest smile ever."
It's ironic to think a man sweeping the streets of Lake George will be greeted with a car and driver upon his return to Ankara, the capital of Turkey, she said.
"He was like the celebrity guest helper because he's a big shot back in Turkey in the embassy," she said.
Gerri Sullivan was director for the village's Student Connection office, which helped coordinate the student worker program before it closed in 2009. She still works as the local liaison for InterExchange, one of the agencies designated to sponsor the J-1 visa exchange program.
Sullivan helps get students jobs and rooms and acts as an advocate for them throughout their stay. She used to get a stipend from the village for her efforts, and the Student Connection provided a place for students to go for help, but now she works out of her home.
She remembered Sulemana from six years ago.
"He does stand out," she said.
He is also an example of something she tells students who are studying for careers at home but are doing more humbling jobs here.
"When somebody realizes what job they have to do, and they just need encouragement, for them I say, 'It's not your career. This is just a stepping stone,' " Sullivan said.
According to the State Department's website, 7,938 students participated in the Summer Work Travel program in 2012 in New York, the most recent data available.
Students from around the globe pay up to $3,000 for agencies to sponsor temporary work and travel visas and set them up with housing and jobs in communities that rely on tourism as major industry.
During any given month, 170,000 foreign students are in the U.S. on one of the many J-1 visa programs, according to the website.
"The foreign students are a very vital part of our economy. They provide a tremendous amount of services. They don't take jobs away from local students, as some people have expressed," said Lake George Mayor Robert Blais. "They do jobs our students would never apply for."
Trotta said every spring the village advertises for help with garbage removal and toilet-cleaning in the parks. No one applies, and the village hires half a dozen international students to take those jobs. They also work for the village as lifeguards and in other spots.
"It's a tough job, cleaning the restrooms in the village for the amount of people we get here," Trotta said. "If it wasn't for the foreign students, I don't know what we'd do."
It's a job Sulemana doesn't mind. He's happy to spend time in what he called a "crime-free" community by a lake that is "a cure for emotional stress."
"I'm not here only to sweep the streets, but to inquire about how this community got to be this way," Sulemana said.
Sulemana is well on his way to his next goal, opening Lake George International School, a private elementary school in Tamale next year as a testament to what Lake George gave him.
"I can close the chapter of poverty," he said.
He also plans to bring his wife to Lake George for a honeymoon and return again next summer to volunteer for the village.
"This is the most beautiful city in the United States," said Sulemana, who before he left presented Blais with a traditional handmade smock from Ghana, worn for special occasions such as weddings or ushering in a new leader or king.
Blais has been one of the most influential people in his life, especially since he hopes to run for office some day, Sulemana said.
Many students work multiple jobs to earn back the money they spend on the program, and buy things here, where they are less expensive than in their home countries.
"They ride the trollies. They buy their clothing here. I know of one boy who bought a TV set and wanted to send it home to his family in Russia. They spend tons of money here and they make in one week what it takes to make in four months (where they're from)," Blais said.
Marija Janjusevic, a 22-year-old student from the Southeastern European country of Montenegro, works about 75 hours a week between her two jobs as a village park attendant and dishwasher.
"I came here because a lot of people from my country told me it's a good experience," Janjusevic said.
For now, she is working to make back the money — roughly $2,000 — spent on her visa, airfare and other expenses. She pays $85 a week for a room. She said she lives with 11 friends in an apartment in the village, but is happy and has her own room.
"Yeah, it's OK. I have my own room. Sometimes someone wants to sleep because we have all different schedules," she said.
She has Tuesdays off, but the rest of the week follows a grueling schedule, starting with the village shift from
>>6 a.m. to 3:30 p.m., s needed.>>s needed.>>then washing dishes late into the night or as long as she's needed.
Trotta, the other village employees, and their co-workers are like extended family.
"He is first our friend and then our boss," Janjusevic said.
Many of the area's largest employers rely on foreign students to fill out their seasonal needs. Students from different countries come in staggered waves, from Americade the first week of June to the Adirondack Nationals car show the first weekend in September.
Local students get hired, too, but academic schedules in the U.S. call most of them back to school in August before the season ends.
The Fort William Henry Hotel and Conference Center begins looking in winter to fill its summer positions. Human Resources Manager Mike Irish said they contracted an initial 50 international students this year through five different agencies, including InterExchange, Intrax and Council on International Educational Exchange, CSB International and CCI Greenheart, which are based throughout the U.S.
"By the time we get through the season, there could be 60 to 80 students that work here," Irish said.
The hotel and conference center supports about 300 jobs during the height of the season and pays above the minimum wage, starting at $8.50 an hour.
"There aren't enough people in the area to fill all the jobs we need," Irish said.
"They're like anybody else," Irish said of the foreign workers. "If there's an issue with their job, you have to deal with it as a one-to-one basis."
The Great Escape hires up to 1,500 seasonal employees, about 180 of them students in the J-1 visa program. Most are housed on Great Escape property, said spokeswoman Rebecca Close.
"Our sponsor organizations do an outstanding job of preparing our students for work — and life — in the United States. When they arrive, we assist them with Social Security, banking and telephone needs as well," she said.
The program has run into some problems in the U.S., including in Lake George.
In 2007, a state Labor Department investigation found several local employers had violated labor laws by cheating workers out of wages, violating child labor rules, refusing to pay required overtime, and deducting rent from wages.
The violations were found after Blais reported the businesses to the state, following complaints to the now defunct Student Connection office.
Blais said there is still an occasional complaint. Trotta said the problems don't seem as drastic as in previous years.
According to the Department of Labor, no recent complaints have been filed, relating to J-1 students in the area.
The U.S. Department of State updates regulations for the program, including restricting the types of jobs foreign students can work. A number of new regulations were put into place after problems in 2012. Jobs in factories and warehouses were banned, and the prohibition on working in any way in the adult entertainment industry was emphasized.
In 2010, dozens of students from Kazakhstan came to Lake George without jobs or housing, and employers complained that forms often misrepresented students' English language skills.
The Post-Star in 2010 published a series of stories, detailing the plight of students who had inadequate housing or problems with employers, and InterExchange held a local forum after the stories ran.
Interexchange spokesman Ron Hernandez said the program continues to evolve, and is now more involved in making sure employers are vetted.
"That process has changed quite a bit," he said.
Students have a 24-hour hotline available to them as well.
"We've had some unscrupulous people rent to them, and sometimes the kids themselves aren't doing what they're supposed to do," Blais said.
In the past, the village has dealt with complaints about prostitution, Blais said. Years ago, there were instances of foreign students sleeping in Shepard Park, and students who took a bus up from New York City at night but weren't met by their employer.
"That hasn't happened in ages. As soon as they get off the bus they have help. They have a job and a place to stay, but there are students who may come from another community or agency and get off the bus because they heard Lake George was a nice place to work, so they have to make a contact somehow," Sullivan said.
Sullivan said she tries to help any foreign students in the area who have complaints, not only the ones there through InterExchange.
"If they have a problem, they know they can call me any time," Sullivan said. "Sometimes their friends are from other agencies or other countries, and they'll call me too, and I try to help them."
Sullivan said most of them come for one summer, but usually about 20 or 30 return the next year.
"I admire them, sure I do. Could you imagine traveling thousands of miles away from home, away from friends and family to take on a new culture, new language, get a job, deal with people who may or may not like them for a bit because that's going to happen wherever you are, and they do it. They do it with persistence. There's a lot to be inspired by," Sullivan said.