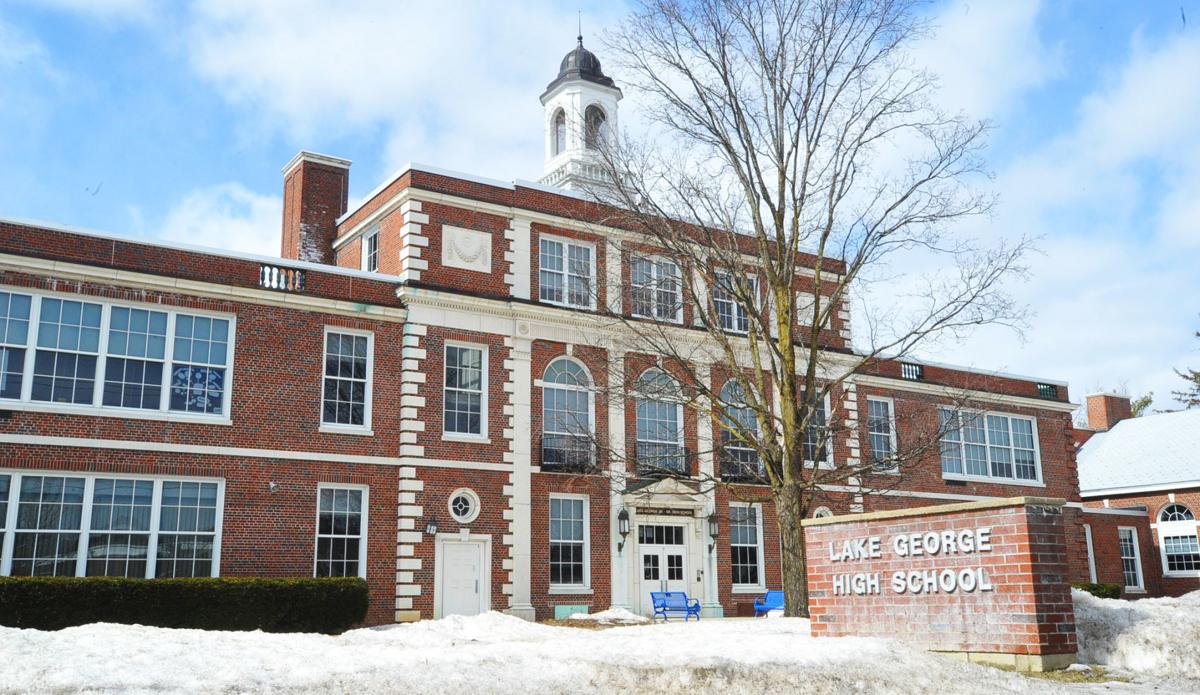 LAKE GEORGE — Lake George Central School District received the results of a comparative study on Tuesday night that school officials say will help them maintain opportunities for students in a time of declining enrollment.
The results found that Lake George offers more programs, clubs and activities than most other schools its size and has very high achievement scores compared to state averages.
The study also found Lake George's enrollment is expected to continue to decline for another five years before eventually leveling off after an approximately 23 percent drop.
Lake George Central School District Superintendent Lynne Rutnik said in an email she was not surprised by the findings, and the purpose of the study was aimed at gathering data that can help the district maintain its high standards.
"If we are to continue our efforts that support excellence, innovation, and personalization, we needed to have the facts in order to engage in meaningful and informed discussions," Rutnik said.
The study was done by the Capital Area School Development Association, a council at the University at Albany School of Education. Gregory Aidala, Ph.D. and Susan Tangorre were in charge of the research and presented the findings at the Lake George Board of Education meeting.
Aidala said the study took about three to four months to complete, and he and Tangorre held multiple focus groups and interviews with district personnel in addition to evaluating state-level data.
The study found Lake George has lost 25 percent of its student population in the last 10 years, and the authors of the study predict that trend will continue for another five years before eventually stabilizing. Aidala said their model is limited and cannot predict factors such as a large corporation moving to the area and bringing in new people.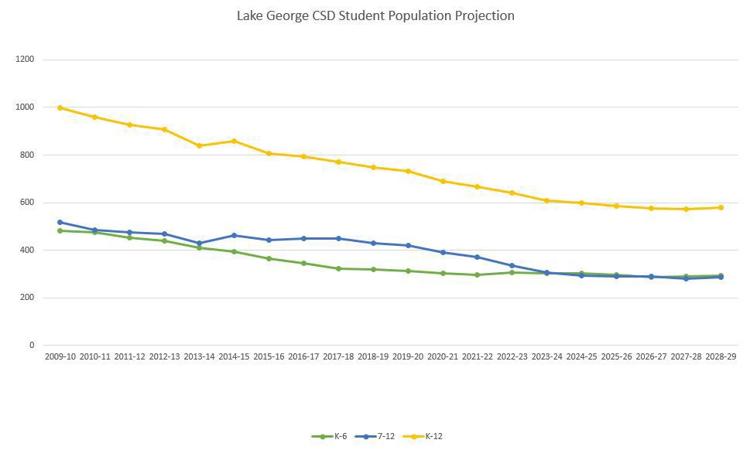 Districts receive state funding on a per-student basis, which means declining enrollment decreases a district's funding. However, Lake George has a high wealth ratio, and only 10 percent of its overall budget comes from state aid, insulating it from fluctuations more so than most other districts.
Even still, maintaining all of the opportunities available to students will be a challenge and the report outlined many options for the district to consider to both plan for and mitigate the decline.
One specific option Aidala mentioned at the meeting was opening up a pre-kindergarten program at the elementary school. Aidala said a program like that can go a long way in attracting young families looking for a place to start and raise a family.
Aidala and Tangorre also suggested maintaining regular communication with officials in the Lake Placid Central School District because of its similarities to Lake George. They said the Lake Placid is also a region that relies on seasonal tourism to maintain its economy and has a similar number of students.
"I think Lake Placid could be what Lake George looks like in four to five years," Aidala said at the meeting.
Aidala and Tangorre said a relationship between the districts could help Lake George learn what to expect as numbers decline.
Aidala said at the end of the day, though, his organization is not in the position of recommending specific options, and only the district knows the best path forward for itself.
Rutnik said the district is still digesting all of the information they were presented at the Board of Education meeting, but one of their top priorities will be gathering more information on establishing a tuition rate for non-district residents.
Because the district receives so little state aid, the full cost for non-resident students to attend Lake George Elementary and Lake George Junior and Senior High School would be around $17,000 and $24,000 respectively. The district does not have to charge this full amount, but it is the measure for what complete coverage of cost to the district would run, according to a formula from the New York Stated Education Department.
Lowering that cost could attract students from other areas, as Lake George offers more programs and clubs than most schools its size in the state.
"We recognize that this will not solve our declining enrollment challenge, but it may help those who want their children to benefit from the opportunities afforded to LGCSD students while realizing a slight increase in enrollment," Rutnik said.
Although final decisions are left to the district, Aidala commended Lake George for being proactive in its efforts to deal with upcoming challenges.
"They are an excellent school district and to their credit, they're continuing to try and improve," Aidala said.
Get local news delivered to your inbox!
Subscribe to our Daily Headlines newsletter.