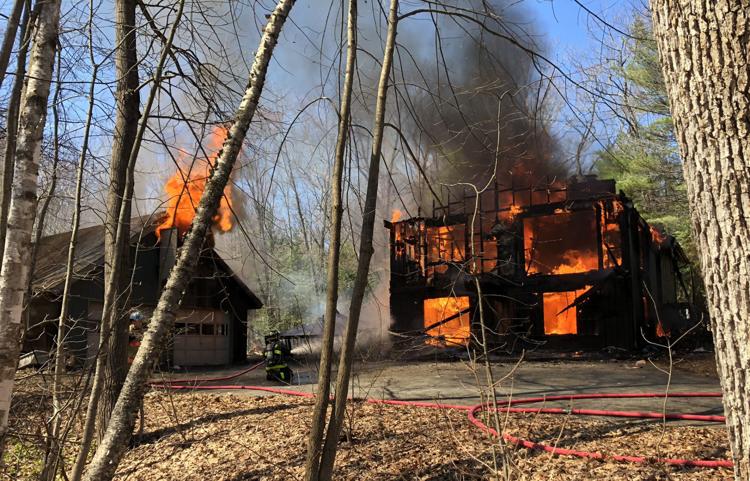 LAKE GEORGE — A home on Konci Terrace was destroyed by a fast-moving fire Monday afternoon, but no injuries were reported despite the explosion of at least one large propane tank that was attached to the home.
The blaze that gutted the two-story home at 193 Konci Terrace started shortly after 1 p.m. No one was home at the time, and police were unable to locate the resident at first. His truck was not at the home, which led them to believe he wasn't there, but they later reached him by phone to confirm his whereabouts.
Neighbor Jane Dupper spotted the fire and called 911. She said she was in her home across the street when she saw something orange across the road that drew her attention.
She looked out the window and saw flames leaping from the first floor of the south end of the home.
"I ran down the driveway and saw that his (the resident's) truck was not there. If his truck's not there, he's usually not home," she said.
She said two cats lived in the home with the sole male resident. The cats' fate was unclear later Monday afternoon.
Warren County sheriff's Patrol Officer Jesse Pound was the first officer on the scene, and he said the fire had broken through the front of the home's first floor as well when he arrived.
Propane tanks that were behind the home exploded as the fire spread, which could be heard at least a half-mile away. Warren County Fire Coordinator Brian LaFlure said the raised ranch style home also allowed fire to spread quickly through the structure.
There are no fire hydrants in the development, so volunteer fire departments from around Warren and Washington counties trucked water up to the hillside neighborhood in the southeast corner of Lake George.
A detached two-bay garage was heavily damaged by the fire as well, and flying embers started a number of small brush fires in the neighborhood.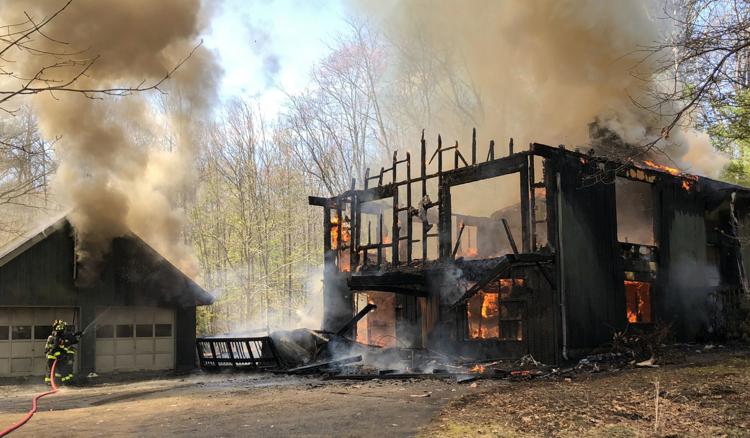 There was no word on what caused the fire as of Monday afternoon. LaFlure said the county's fire cause and origin team from the Glens Falls Fire Department was on scene.
According to Warren County property records, the single family home is owned by Richard Feathers. Authorities said he had left the home to go to work Monday morning.
Fire departments on scene included Lake George, Bolton, Bay Ridge, Chestertown, South Queensbury, North Queensbury, Queensbury Central, West Glens Falls, Pilot Knob and Luzerne-Hadley.