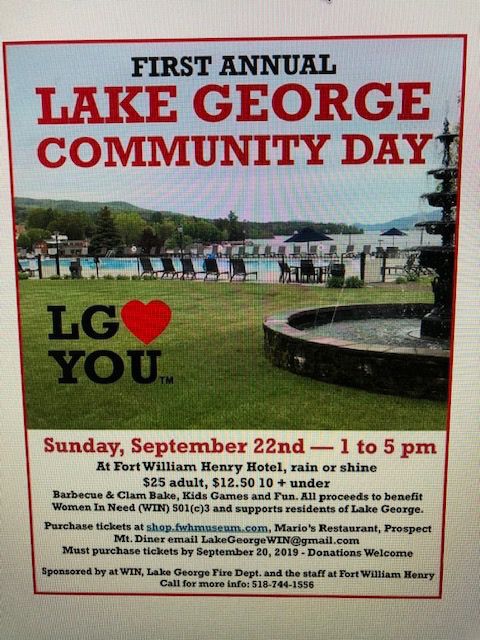 LAKE GEORGE — For years, Lake George business people and residents celebrated the end of a successful summer with a festive clambake and barbecue.
The tradition petered out over the years, but a group of Lake George residents has decided to revive it this year and raise money for charity in the process.
The reincarnated clambake/barbecue will be held from 1 to 5 p.m. Sunday, rain or shine, at the Fort William Henry Hotel, with proceeds to benefit Lake George Women in Need, a nonprofit organization that helps families.
The clambake was begun in the 1970s and continued for 30 years. It has been dubbed Lake George Community Day.
"The announcement of the revival of this great Lake George tradition brings many happy memories of hard work by every community member, wonderful food, lots of laughs and just plain great times," Lake George Mayor Bob Blais said.
Bobby Dick and Suzie Q will provide entertainment, with Lake George firefighters and Lake George Women in Need board members helping cook hot dogs, hamburgers, clams and clam chowder, among other offerings.
Lake George Women in Need formed to help women and families living in Warren, Washington, Saratoga and Essex counties who are in need of food, clothing, medical services, home fuel, transportation assistance and shelter. It provides both financial help and guidance in obtaining much-needed items. Funds raised at the clambake/barbecue will be earmarked for a hygiene bag program, the Lake George Teen Center, and a weekend backpack food program for kids.
Organizers ask that tickets be purchased in advance, and they can be bought on-line at shop.fwhmuseum.com or by emailing lakegeorgewin@gmail.com. Tickets are also available at Mario's Restaurant and at the Prospect Mountain Diner. Tickets prices are adults, $25; children 10 and under, $12.50, and children 3 and under, free. Everyone is welcome. Reduced-price tickets are available for individuals or families who have difficulty affording a ticket. Call 518-744-1556.
Get local news delivered to your inbox!
Subscribe to our Daily Headlines newsletter.