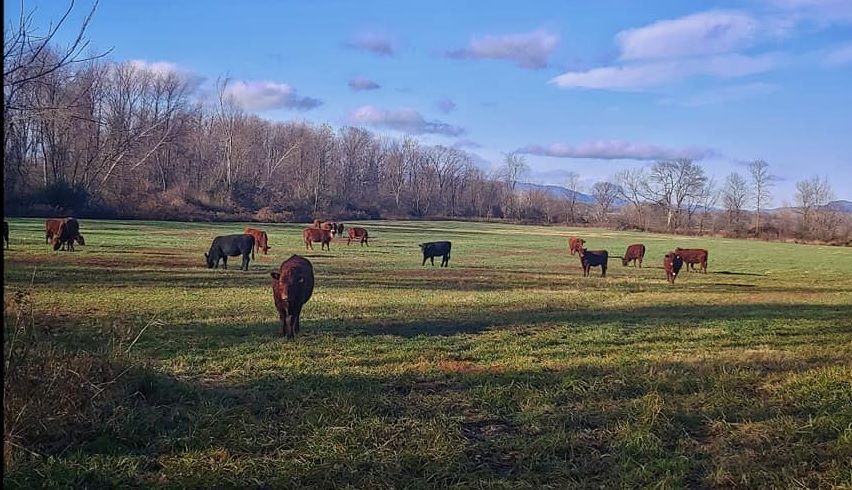 KINGSBURY — A Hudson Falls farm wants to build a beef and pork processing plant at the Airport Industrial Park.
Kilcoyne Farms has filed an application with the Warren-Washington Industrial Development Agency to build a 25,000 to 30,000-square-foot building on a 21-acre vacant parcel on Ferguson Lane.
The Kilcoyne Farm is located at 348 New Swamp Road. The new plant would butcher animals for that farm and other local farms. The slaughterhouse would also serve as an educational center to develop skilled labor, according to the application documents.
The project would cost around $8 million, which includes $6.125 million for building construction, $1.5 million in equipment and $200,000 in land acquisition.
Cody Kilcoyne, the farm manager, said the family looked at the old dewatering plant in Fort Edward, but it didn't have public sewer, and a meat processing facility requires a lot of water.
The site at the Airport Industrial Park is a great fit, he said.
"It's got public utilities that we can tap into, and it's 15 minutes from our farm," he said.
The farm currently uses a third-party slaughterhouse about 3 1/2 hours away.
"It would be a huge improvement for the entire area, because there's not many processors that can handle large volumes for local farms, so we're kind of tapping into a problem in the agriculture community that we can help fix," he said.
The project would include space to train meat-cutters, he said.
"We're really trying to bring back the skill of meat-cutting, whole animal butchery. A lot of people know how to cut meat, but they don't know how to break down a whole animal. We're trying to educate as many people as we can and create more jobs even if they don't want to stay in our facility," he said.
Kilcoyne and his father, Pat, are the company's only employees currently, but he expects to hire 15 to 20 people to start, he said, and that number could grow.
Construction would start this fall, with the slaughterhouse open by spring. The timeline will depend on securing bank financing, he said.
Kilcoyne and his brother-in-law, John McLaughlin, and sister, Alicia McLaughlin, will jointly operate the facility.
They also plan to open a retail butcher shop in Saratoga Springs and are currently looking for space.
The business was founded 15 to 20 years ago and supplies products to restaurants, schools, hospitals and individuals, Kilcoyne said.
"We started out just selling to friends and family, and then we started selling up in Lake Placid to a couple of restaurants and it took off from there," he said.
They distribute meat products as far north as Lake Placid, south to Cold Spring in Putnam County and west to about Ithaca.
The slaughterhouse would fill a local need, he said.
"It's definitely needed. There's not a lot of processors that have open availability, so we should be able to take care of quite a few clients along with ourselves," he said.
The company is not seeking a payment in lieu of taxes agreement or mortgage tax exemption. It is requesting a sales tax exemption for the construction costs.
The IDA's Executive Committee will meet on June 2 at 9 a.m. to review the application.
Michael Goot covers politics, crime and courts, Warren County, education and business. Reach him at 518-742-3320 or mgoot@poststar.com.