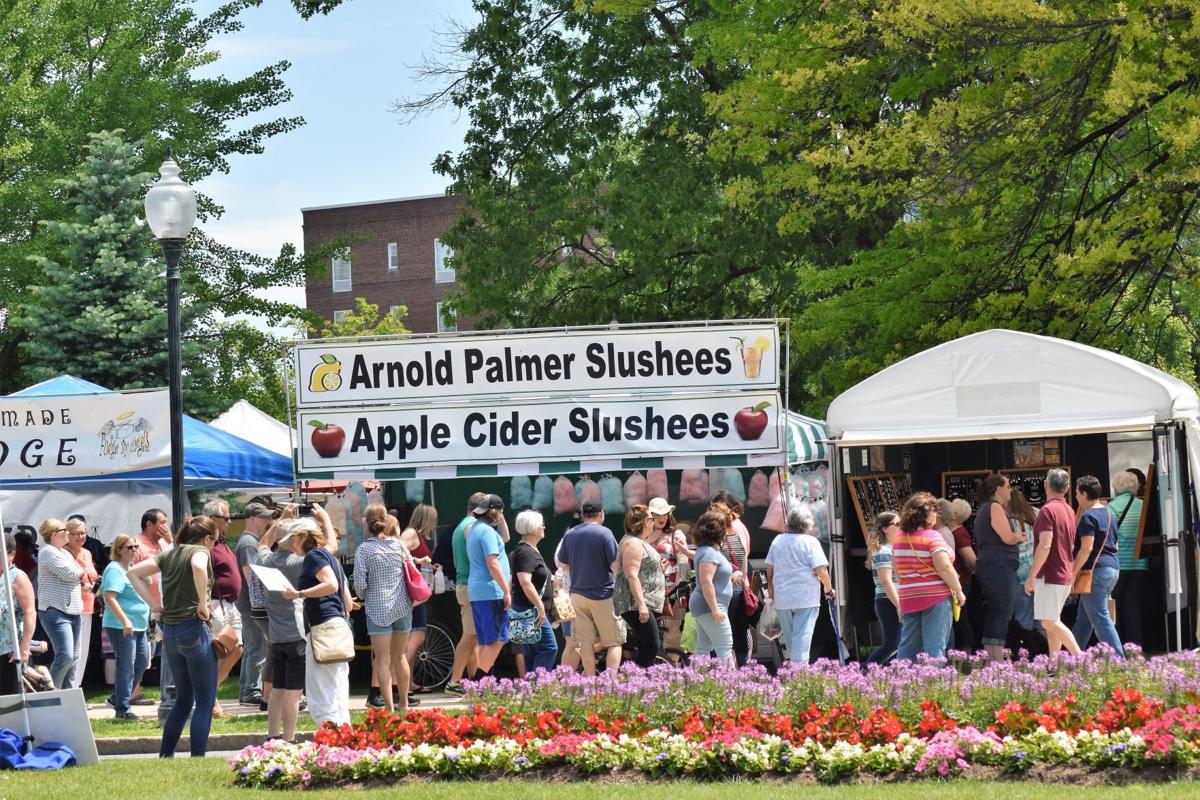 GLENS FALLS — Light rain didn't stop crowds from making their way through the LARAC Arts Festival Sunday afternoon at the 48th edition of the event.
Vendors from all over the upstate region brought their art, food, jewelry and more to City Park in Glens Falls with thousands in attendance over the weekend. 
Keeping things local was a theme from many of the vendors at this years festival as many boasted ingredients, materials and processes that were based in the upstate and Adirondack regions.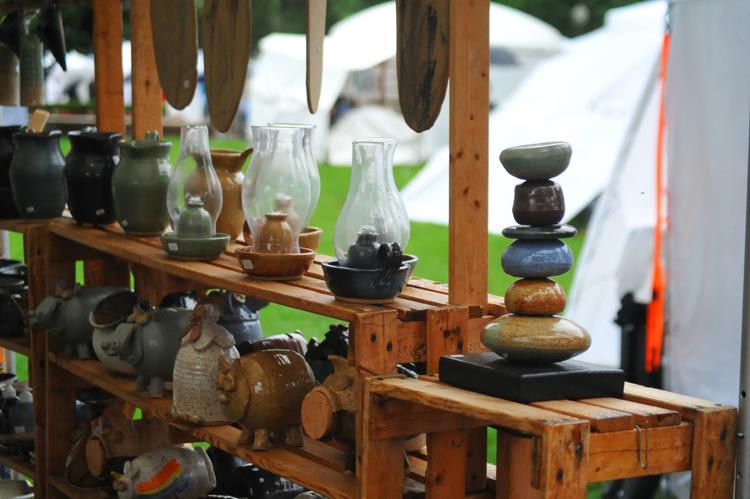 Pottery for everything
Barbara Mitchell of Earth and Fire brought hundreds of pieces of hand-crafted pottery ranging from functional cups, bowls and oil lamps to decorative pieces such as Cairns, which were once used to mark trails and property lines. 
Mitchell works primarily out her home of Guilderland and has been coming to the festival for many years.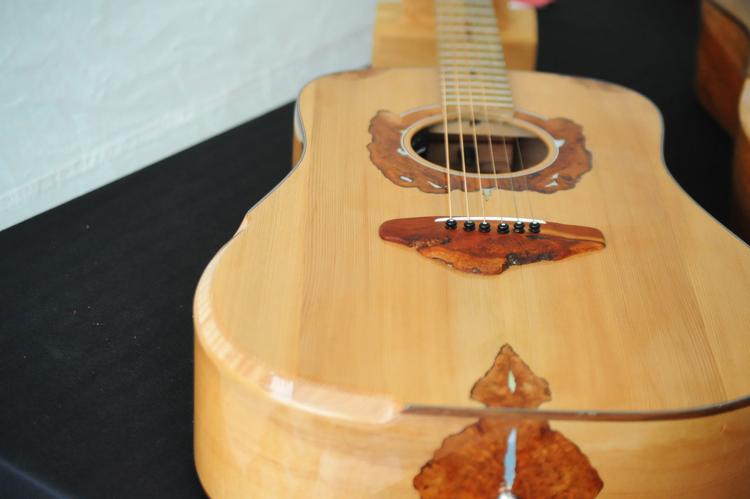 Sunken guitars
Guitars crafted from logs that sank decades ago in Schroon Lake have been reclaimed and repurposed into handmade guitars by Eric Bright of BassRock Guitars. 
Several of his guitars are made from highly sought after Adirondack Red Spruce that sank on its way to sawmills further down the Hudson. The many years underwater allowed its resin to seep, giving it an antique look and feel. 
Bright said he's spent about 12 years working on guitars with his daughter who dives with him to retrieve the sunken logs.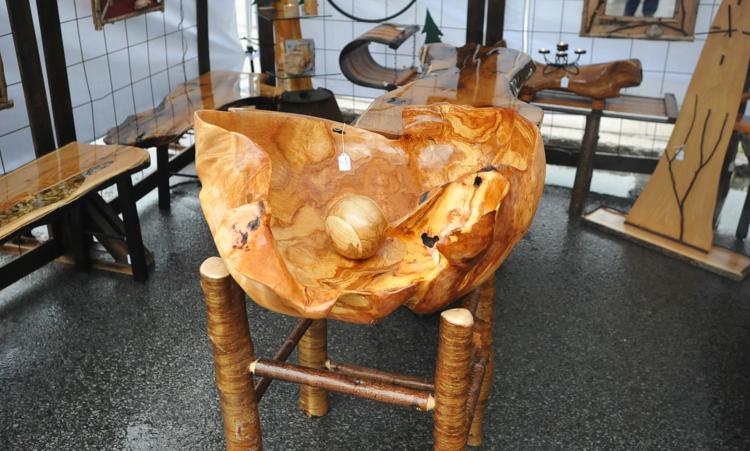 You have free articles remaining.
An oyster's burl
ADK Rustique's Owner Larry Jenne said his enormous burl project has been nearly 20 years in the making. The virgin yellow birch burl was found by members of his hunting club in Clare, NY and Jenne said he saved it for almost eight years before getting started. 
Jenne said since then he has more than 1000 hours in the piece, done completely by hand and designed to resemble an oyster shell to match a wooden sphere carved by one of his students. 
"I'm a principal at a tech center and a kid made this ball actually and that's what inspired me to finally finish it," Jenne said. "He made this ball so I said 'I have to finish this burl to make it look like an oyster shell.'"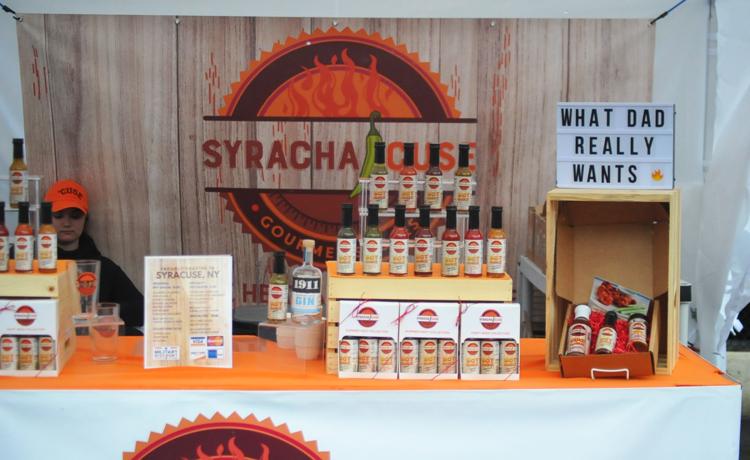 The sauce is boss
LARAC's festival coincided with another event in town, the 59th Zonta Country Faire, which also hosted several vendors in Glens Falls adjacent to City Park.
One of these vendors, Co-founder of Syracha'Cuse Marissa Sharlow, said the business began with her and her father and co-founder Michael making hot sauces as a hobby. Pretty soon, demand was high enough to devote more time to it and the business officially launched in 2015.
Since then, Marissa said she has had the opportunity to collaborate with many other local businesses, such as Ommegang Brewery in Cooperstown, NY, on recipes that incorporate local flavors and ingredients. 
She said her focus is to have heat, but not at the expense of flavor and to keep using all New York grown peppers.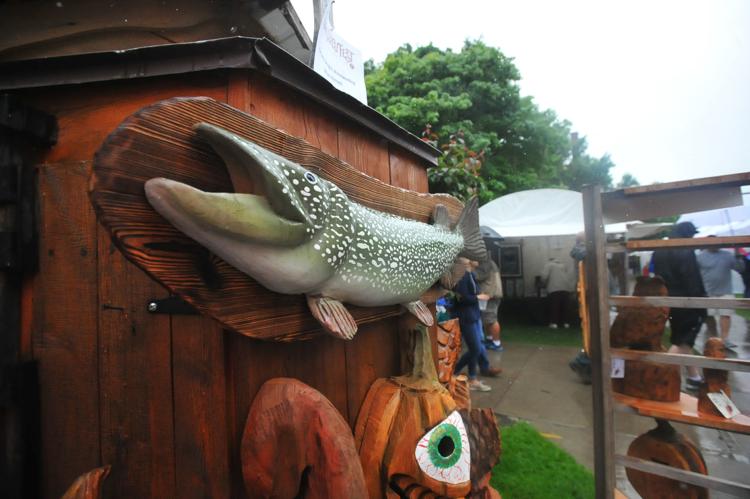 Chainsaw 
Brian Harnett started making chainsaw art in 2007 after many years as furniture designer. His creations have high levels of detail despite the tool and the wood comes from a local arborist near his home in Grahamsville, NY. 
Bird houses, bears, fish and furniture are all in Harnett's repertoires and he also made the trailer he carries his work in.