A car in the Capital District recently picked up an unwanted hitchhiker — the spotted lanternfly.
The invasive bug noshes on hops, grapevines, apple trees and other plants, leaving behind a gooey, sugary excrement with the lovely name "honeydew."
Its good taste for fruit-bearing plants does not soften the annual combined $358.4 million blow it could cause to apple farms and vineyards in New York state.
"It's critical that we monitor for and control this invasive species, which can weaken plants and have a devastating impact on our farm crops and agriculture production, especially apples, grapes and hops," said New York State Agriculture Commissioner Richard Ball in a news release. "Since our farmers are among those facing the greatest potential impact, we ask them to join us in helping to watch for the spotted lanternfly and signs of infestation, and report any sightings immediately."
The latest discovery in Albany County is likely the first live spotted lanternfly found in New York. Another was spotted west in the Finger Lakes region around the same time. The jumping butterfly-looking insect originally cropped up in Pennsylvania in 2014. Its native home is China and other south-Asian countries.
Jess Holmes, master gardener coordinator with Cornell Cooperative Extension in Warren County and a horticulture educator for the Cooperative Extension in Saratoga County, said she thinks it's only a matter of time before the bug shows up locally.
"I definitely think they're going to migrate up this way more because of the weather changes, and just, they're getting used to this climate," she said.
Spencer Barrett, terrestrial invasive species coordinator with the Capital-Mohawk Partnership for Regional Invasive Species Management, said the one insect found may not be concerning by itself, but how it got to New York is.
"I think the finding itself kind of shows that this is a pest that can jump large distances through human-spread means," he said.
Adults lay their eggs in masses on flat surfaces including trees, firewood, cars and outdoor furniture. New York state agencies, including the Department of Agriculture and Markets, the Department of Environmental Conservation and the Department of Parks, Recreation and Historic Preservation, recommend checking all equipment and scraping off any egg masses if visiting Pennsylvania.
Another thing homeowners can do, Barrett said, is get rid of any trees of heaven they may have in their backyards. The tree of heaven is also an invasive species and looks like a cross between a walnut tree and poison sumac.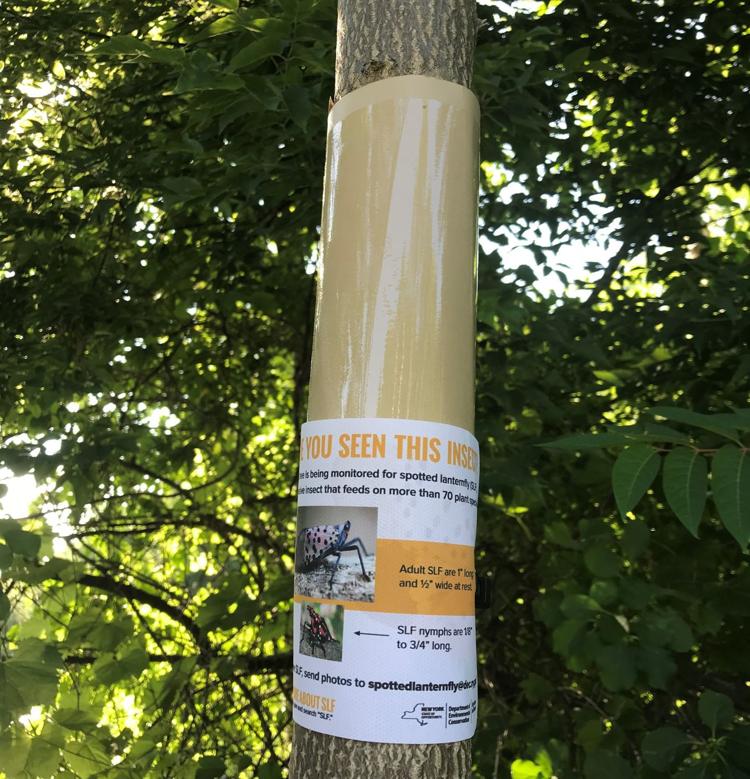 Spotted lanternflies love trees of heaven, and agencies are using that to their advantage. Barrett said his organization and the DEC have placed sticky traps around the trees to monitor and collect the invasive bugs. There are 10 traps set up in the Capital Region, he said.
"Right now, there's not a current, sustained population in New York, so we are still in a stage where we can act to prevent and slow the insect from really infiltrating, and the more we learn about the insect, the better chance we have to do something about it," Barrett added.
Spotted lanternflies typically lay eggs in October, hatch in April and May and are most active in July through December. Juveniles don't have their fully developed wings and look more like black, white and sometimes red spotted insects. When they mature into adults, their wing sections are divided into gray with black spots, a black and white stripe and a red with black spots pattern.
The bugs suck sap out of plants. Holmes added that they've been known to lay eggs in berries, too.
The "honeydew" from the bugs is also worse than it sounds. Its excrement can encourage mold and disease on trees and is so thick, it can block light and keep a plant from photosynthesizing. If that weren't bad enough, reports have indicated some Pennsylvanian residents can't leave the house without encountering the sticky substance in their hair or on their hands.
The state said it's focusing on monitoring travel corridors and high-risk areas for the fly. In the meantime, the state is encouraging anyone who suspects they've found a spotted lanternfly to send a photo to spottedlanternfly@dec.ny.gov.