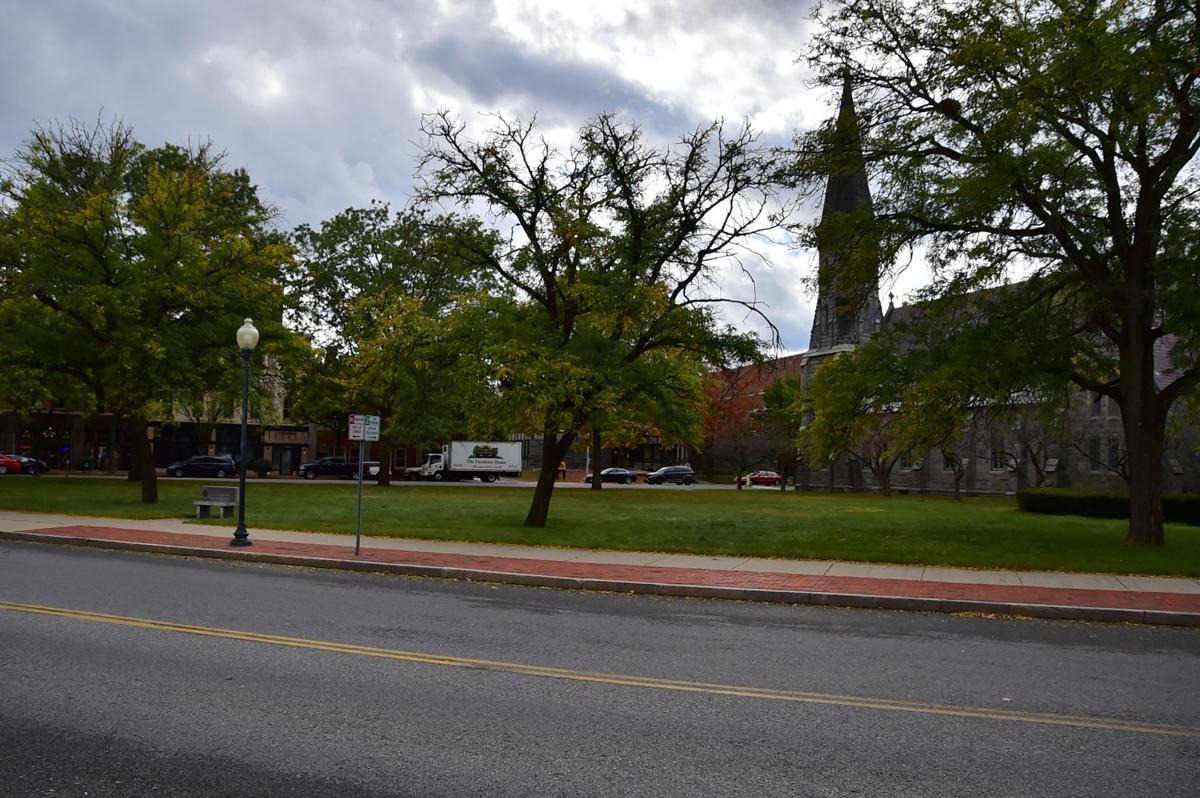 GLENS FALLS — Days after the Planning Board tabled a proposal to build a four-story apartment complex in the heart of downtown, some members of the city's Common Council said they would rather see the property preserved as green space, but were divided on the city's potential use of eminent domain to acquire the parcel.
Developer Chris Patten is seeking to build the mixed-use complex on an undeveloped plot of green space on the corner of Glen and Bay streets, which sits in a commercially zoned district next to the historic Episcopal Church of the Messiah.
But his plans have sparked a debate among some city residents, with some welcoming the potential new development while others have called on the city to acquire the property so it can be preserved as a park.
The property — which is currently owned by 333 Glen Street Associates, the owners of Monument Square and the adjacent parking garage — sits directly across the street from City Park and the Civil War Monument.
The city has since expressed interest in acquiring the property, and has reached out to the state to inquire about using funds associated with the Downtown Revitalization Initiative to purchase the property.
But Patten currently has a contract to purchase the parcel from 333 Glen Street Associates, and has so far been unwilling to move his project to another part of the city. He has since offered to donate 44% of the property to the city to create a pocket park.
Mayor Dan Hall has said he believes the property would be better suited as green space and has not ruled out the use of eminent domain in acquiring the property.
Patten, who restored the adjacent 276 Glen St., did not return a phone call seeking comment.
Common Council members on Friday were divided on the potential use of eminent domain, with some saying it's too early in the planning process to discuss acquiring the property.
Others said they would like the parcel preserved as green space, and pointed to other parts of the city where Patten can build his project, including the South Street corridor and along Warren Street.
First Ward Councilman Jim Campinell and Fourth Ward Councilman Scott Endieveri did not return phone calls seeking comment.
But Councilwoman-at-Large Jane Reid said she supports preserving the area as green space.
She added she's not against development, and noted that funds aimed at attracting new developers to restore the South Street area are included in the city's DRI grant.
Green space, she said, is finite and will be needed as the city continues to meet its redevelopment goals and attract new residents.
"If we're going to have this many more people living downtown, which all this development is aimed at, then we're going to need that much more green space to accommodate those urban dwellers' needs," Reid said.
Reid said she hopes that Patten will relocate his project so the city can purchase the parcel, but did not rule out the potential use of eminent domain if all other options are exhausted.
"I think it's important enough to the city that I would certainly support whatever action is necessary to fulfill acquiring it," she said. "They don't make green space every day."
Fifth Ward Councilman Jim Clark said he's waiting for the planning process to play out, and noted he believes there may be a potential compromise between Patten and the city that satisfy both parties' goals.
"It's important for the Planning Board to work through this process," he said. "That's what they're appointed to do, and to insert our political views on them, I don't think is appropriate."
Asked whether he supports the potential use of eminent domain, Clark said it's too early to have that conversation, but said he would be open to discussing the idea is all else fails.
"I wouldn't want to discuss eminent domain until we come to that, and I would hope we wouldn't have to," he said. "I would hope we could come up with a solution before we get to that point, but if it does come to that, I'm open for discussions."
Bill Collins, the Second Ward councilman, said he's "not a big fan" of Patten's plan, but said it's not for him to decide whether the project gets approved.
He added that he appreciates the work Patten has done throughout the city in recent years, and is hopeful that he will continue work with the city going forward.
"I'm not a big fan of the plan, but I think what we need to do is let … him finish the details and then present it to the Planning Board. Then we need to let the Planning Board do their jobs, which is to take the input from the community, take any concerns they have and any changes that are needed, and let that process play out," he said.
Collins said he would like to see other parcels in the city along South and Warren streets be developed before the green space in the heart of downtown is, but added he is against the use of eminent domain and will support whatever decision the Planning Board arrives at.
"I support the Planning Board," he said.
Third Ward Councilwoman Diana Palmer said she's reserving judgment until more details for the project are presented and the Planning Board has an opportunity to review the proposal.
She added that there's value in preserving the green space, but noted she's not against developing the parcel and again reiterated the process needs play out in front of the Planning Board.
"I think having it as green space — I can see the value in that. Green space is limited and as we develop more, what little green space we have left, I can see the value in preserving that," Palmer said.
She added: "However, I'm not against any development in that spot. I think that I would need to see more detailed plans before I, personally, come down on a clear decision."
Asked about the use of eminent domain, Palmer said it's too early to discuss.
"That's not something I'm thinking about at this point," she said. "For me, it's too early to consider that."
Chad Arnold is a reporter for The Post-Star covering the city of Glens Falls and the town and village of Lake George and Washington County government. Follow him on Twitter @ChadGArnold.