Hudson Falls Police Chief Scott Gillis recognized three officers Monday night for their work in defusing a stressful and potentially deadly situation last month.
Patrol Sgts. Ryan Woodward and Rich Arnold, along with Patrol Officer Joseph McKeever, responded on May 26 to Union Street in the village. A suicidal man in possession of a high-powered rifle was in distress.
"After several hours of negotiating with this man, he finally gave himself up without incident," said Gillis, before the Village Board. "This was a textbook example of law enforcement agencies and officers working together for a common cause."
HUDSON FALLS — A decision by someone to light off fireworks while police were involved in a standoff with an armed man at a Union Street home …
Woodward, Arnold and McKeever were instrumental in that process, and Gillis presented them with the "Meritorious Duty" award "for a job well done."
Deputy Mayor Bob Cook said he lived nearby to where the incident occurred and thought the police did a wonderful job.
Hudson Falls public hearings
The village will hold a public hearing on ideas for community development at 4 p.m. Monday, July 8 in Village Hall.
The village is looking to submit one or more community development block grants, which are administered by the state Office of Community Renewal.
A second hearing will be held at the same meeting for John Street East Waterline Replacement Project.
Children can't play in the street
Jeanette Kamburelis thought it was fine for her children to play basketball outside of her home on a quiet side street in the village, but police have asked her twice now to move the hoop.
Kamburelis spoke before the Village Board on June 3, to ask why it was a problem. She said she would rather have her children playing basketball on her quiet side street than at Mullen Park, where she has heard drug deals happen.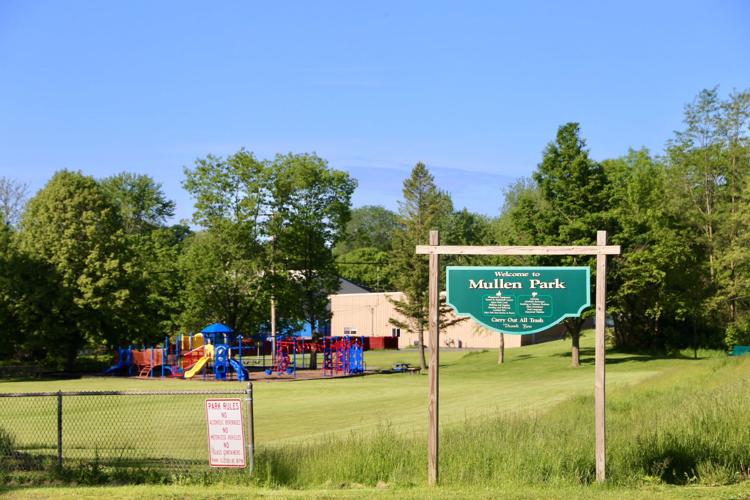 Village Attorney Matthew Fuller said it's part of the village's laws not to have obstructions in the road. Deputy Mayor Peter Williams added that it's a liability issue, too, for the village, if children are playing in the street.
Police Chief Justin Derway said the Police Department has a list of all the hoops in the village, and will canvas the neighborhoods during summer and fall to make sure they're not in the street or facing in a way that puts games in the street.
Trustee John Boucher said he has heard from his children that there is "blatant drug use" at Mullen Park.
"We do need a better presence," he said. "We have to try to keep it up."
Derway said bike patrols are out, now that the weather is nice, and they will make sure to check out the area more often. Fuller added that once the summer recreational program is up and running, more people will be there.
You have free articles remaining.
Case Street could be one-way
The Fort Edward Village Board will hold a public hearing on turning Case Street into a one-way street.
The street is part of a problem area for pickup and drop-off of students at the Fort Edward school.
Superintendent Daniel Ward was at the Village Board meeting on June 3. He said he expects a few people to oppose a switch to one-way, but generally, residents have understood the concerns.
"It's been a long time coming," Ward said.
Village Board members will also discuss parking on Marion Street.
The hearing has been scheduled for 6:15 p.m. Monday, July 1 at the Village Hall.
New Fort Edward police car
The Village Board authorized the purchase of a new Ford police utility interceptor at its meeting on June 3.
The vehicle costs about $49,000 and the village will bond for it.
Fort Ann trail moving forward
The Empire State Trail will head over Clay Hill Road, after some deliberation and investigation into alternative routes.
Town and county officials had been working with a private property owner in hopes of taking the trail a way that wasn't as steep and winding, but Supervisor Richard Moore said ultimately state grant funding cannot be used on private property.
Eventually, all trails will merge into one and bicycles will run through them.
For now, the local section of the state trail will run into the village, turn right and head up Clay Hill Road, run through South and North Quarry roads, onto the state prison property before getting back onto Route 22 into Comstock.
Moore said he and others are still looking at other grant funding opportunities to move the trail off of Clay Hill Road in the future.
The Town Board voted unanimously Monday night to enter into an agreement with the state Office of Parks, Recreation & Historic Preservation as well as the Department of Transportation "for the upkeep and maintenance of the Empire State Trail located within the boundaries of the Town," according to the resolution.
The state is planning a groundbreaking ceremony for the Kingsbury to Comstock stretch of the Empire State Trail. It's slated to happen at 11 a.m. Thursday, June 20 at Lock C-9 in Fort Ann.