Hubbard Hall opens yoga studio in historic Freight Depot building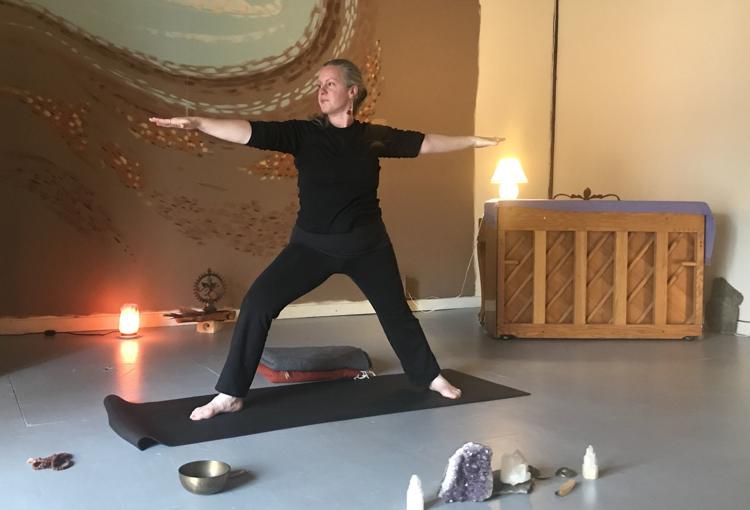 CAMBRIDGE — Yoga teacher Elizabeth Dunn balanced on her left knee and stretched her left arm and right leg out.
Around her, white twinkle lights wrap the original wood beams inside the historic Freight Depot building on Hubbard Hall's campus in Cambridge.
Lamps illuminate the corners of the sparsely decorated studio. A few crystals sit on the floor in front of Dunn as she moves slowly into downward dog.
Dunn is one of two yoga instructors enjoying the new Healing Arts Studio at the Hubbard Hall Center for the Arts and Education in Cambridge. The nonprofit community arts center contains four historic buildings, including the Freight Depot Theater, which has been turned into a yoga and meditation space.
"There's so much going on in the world and in news cycles and things like that," Dunn said. "So that when you come in here and when we close down and go into practice and put on the music, you feel as though you have literally entered into a whole new thing."
The new radiant and relaxing studio, furnished with only twinkle lights, lamps and a piano, allows people to gather to do yoga, meditate, exercise and center themselves. The building, once used to ship freight around the world, still has its original wood beams and sliding barn doors.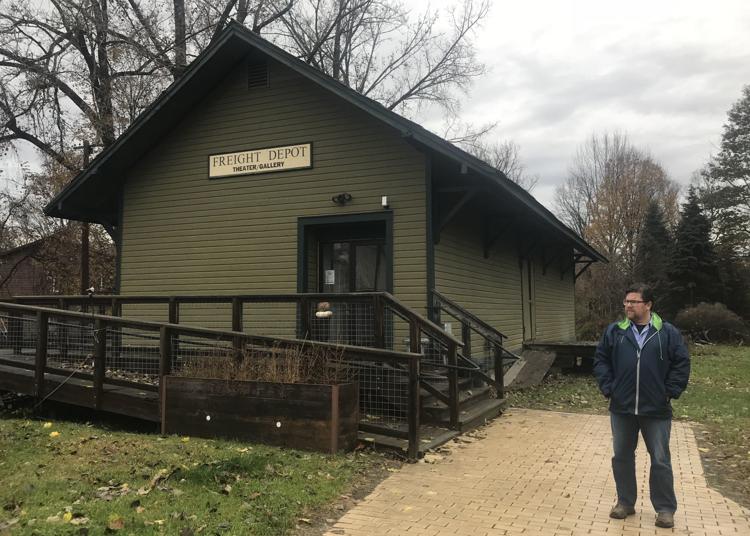 The Freight Depot Theater is located next to a still-active railroad track in Hubbard Hall's Freight Yard campus at the intersection of East Main and Washington streets in the quaint village of Cambridge.
Cambridge hosts a unique mix of artistic and agricultural residents, said Colleen Viera, program associate at Hubbard Hall.
"It's a very hard-working community," Viera said. "So there's people that by day they're farmers, then they go to their studios in the winter and create masterpieces."
The freight building sits in the backyard of Hubbard Hall's 1878 rural opera house designed by the same renowned architect who designed Troy Music Hall.
In more recent years, the freight building was used for community dances, theater and other community events. But the building wasn't entirely activated, said David Snider, the executive and artistic director.
"There were times when we weren't using it throughout the year," he said. "And as the yoga program has grown and grown and grown, it seemed like a golden opportunity to expand classes into its own space, give it more of its own home and nest for yoga classes."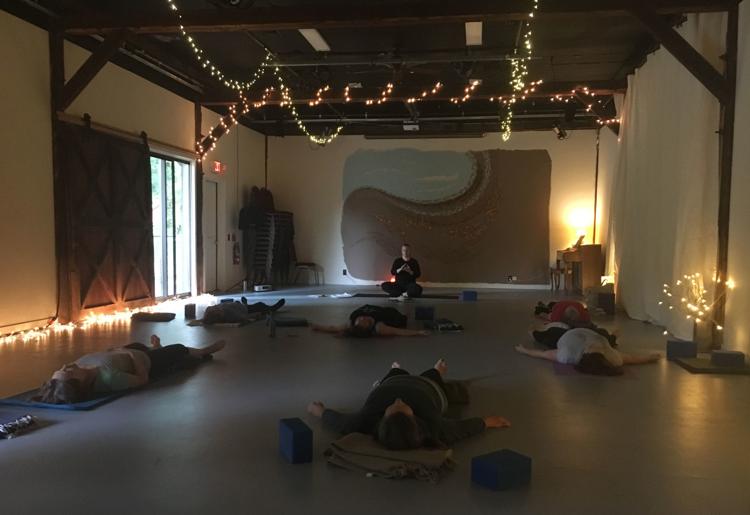 Hubbard Hall offers a variety of yoga classes and plans to offer Qi Gong, Vinyasa Flow and meditation classes. The class schedule and prices can be found at www.hubbardhall.org.
Dunn said her classes are open to everyone and often contain a variety of participants, from sheep farmers to professors at Skidmore College.
"It just flows together," she said. "It's just awesome, and we're really grateful to have it, for sure."
Hubbard Hall recently hosted 80 students from Hoosick Falls who cycled through the different studios doing yoga, Tai Chi, African dance and improv.
"It was really nice to activate all the different spaces we have here at Hubbard Hall," Viera said. "It shows not only the potential but the future and how much more we can keep building on here and how much more of the community we can access in different ways."
Adding the new Healing Arts studio space has also left room in the dance studio to add more classes and students.
"It's been an amazing center of growth for Hubbard Hall," Viera said.