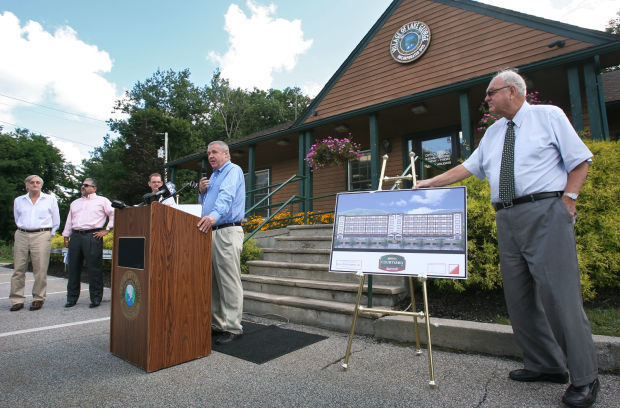 The developer who owns numerous local hotels and outlet centers weighed in this week on the debate over the health of Warren County's tourism industry, echoing concerns voiced in recent years by some of his fellow hotel and motel owners.
David Kenny, who is co-owner of the Courtyard Marriott in Lake George and whose family runs the Inn at Erlowest, Adirondack Outlet Mall and numerous other businesses in the Lake George area, voiced concerns about the region's lodging market as he spoke to the Warren County Board of Supervisors Tourism Committee on Tuesday.
His comments came after county tourism leaders presented data from consultants that showed hotel demand in Warren County up nearly 2 percent for the year through April. Treasurer Michael Swan told supervisors that occupancy tax receipts were up nearly 9 percent so far this year.
Owners of Lake George lodging businesses have been saying for years that the increase in room rentals and bed tax revenue is not the result of a robust tourist market, but increased prices and an increase in the number of rooms, because of new hotels being built. Some county leaders have disagreed, saying the available metrics show increases in visitors.
The debate has been going on for several years, and another spirited round took place Tuesday before the Tourism Committee.
Kenny made clear he believes more work needs to be done. He said Americade, in town this week, is not bringing in the crowds it used to, and many businesses with smaller properties are suffering.
The increase in the county's occupancy tax receipts are not necessarily the result of more visitors, but rather higher rates at bigger hotels, the opening of additional hotels and a rejuvenation of The Queensbury Hotel in Glens Falls, he said.
"I think it (occupancy tax) is going up because of certain properties," he said. "Rates are dropping at small mom and pop's."
Much of the business at the Marriott, which opened in 2016 on Canada Street in the village of Lake George, comes from customers who use the company's "rewards" program, and the impact of those lodgings on bed tax receipts is unclear.
Some attendees at Tuesday's meeting suggested a new business group is needed to work with the county board to help guide promotion.
Queensbury at-Large Supervisor Michael Wild made a pitch for the county Tourism Department to supply more metrics to determine how to spend occupancy tax promotional money.
Occupancy tax receipts come from a 4 percent room tax on hotel, motel and bed-and-breakfast rooms. It is used to promote tourism, including funding the budget of the county Tourism Department.
It has risen every year, with receipts topping $4 million each year, while the county's sales tax receipts have also been going up annually.
A company that tracks hotel stays reported that Warren County's hotels had 3.9 percent more visitors in 2018, the first year since 2008 that the company logged more than 1 million guests in participating Warren County hotels, motels and lodges.
Get local news delivered to your inbox!
Subscribe to our Daily Headlines newsletter.