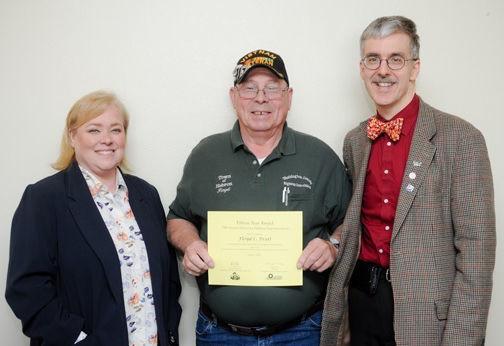 Pratt attends 15th Highway School
HEBRON — Town of Hebron Highway Superintendent Floyd Pratt was recognized for his outstanding commitment to training and education following 15 years of dedicated attendance at the Annual School for Highway Superintendents (Highway School) held June 6 at Ithaca College.
The Highway School is a training conference hosted jointly by the Cornell Local Roads Program and the Association of Towns of the State of New York. More than 700 highway and public works officials from across the state attend each year for training, education, and to share ideas on transportation topics aimed at making New York State's local roads safer and more cost efficient.
The Cornell Local Roads Program provides training, technical assistance, and information to municipal officials and employees responsible for the maintenance, construction, and management of local highways and bridges in New York State. It is one of 52 centers established under the Local Technical Assistance Program of the Federal Highway Administration.
Loveland receives $2,500 scholarship
SALEM — The 72nd annual Belle C. Burnett Scholarship, sponsored by the Salem Area Woman's Club, was awarded to Alyssa Loveland on June 28. Salem Central School's 2019 Valedictorian, Alyssa is the daughter of Christopher Scott of Whitehall and the late Jessica Bullock of Salem. Alyssa graduated with an Advanced Regents Diploma with honors and mastery in science and math. She is planning a course of studies in biomedical engineering at Worcester Polytechnic Institute of Technology this fall.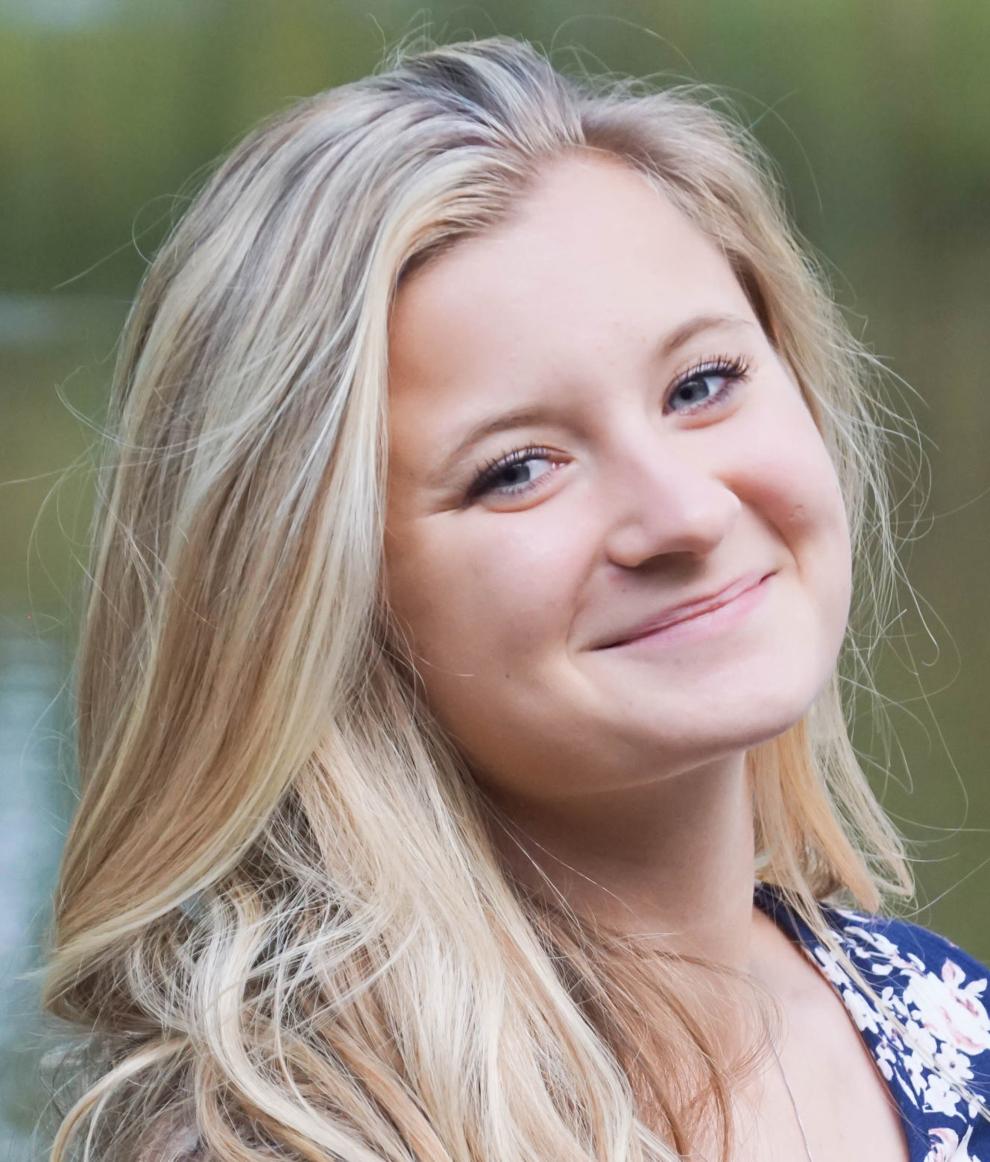 Alyssa was chosen as Salem Central School's top student and recognized at the annual Scholar's Recognition Program. A member of the National Honor Society as well as its treasurer, Alyssa received the President's Education Award, the Student Sage Award and a New York State Scholarship for Academic Excellence. She also participated in after-school activities including soccer, chorus, band and the student council, where she served as president.
Awarded each year, the 2019 Belle C. Burnett Scholarship amount is $1,000. However, growth in this year's investment portfolio enabled the foundation to award an additional $1,500, bringing this year's award to $2,500.
Historical Society to feature singers
QUEENSBURY — The Warren County Historical Society will present Lost Radio Rounders singing "Songs of Our Empire State" at 7 p.m. Wednesday at Queensbury Masonic Historical Society, 15 Burke Drive.
In the early days of radio, families would gather in their living room on Saturday nights and tune in to live music shows. Lost Radio Rounders brings that 20th century experience into the present day by performing songs of a by-gone era. "Songs of Our Empire State" lays the focus on folk and Americana songs specifically about New York.
This event, part of the bimonthly local history series presented by the Warren County Historical Society, is free and open to the public. Light refreshments will be served following the concert.
For more information, contact the society at 518-743-0734 or mail@wcnyhs.org.
ARCC leadership program is back
GLENS FALLS —The Adirondack Regional Chamber of Commerce will offer its Leadership Adirondack program for 2019-20.
Leadership Adirondack provides skill development and community immersion experiences that enable participants to grow personally and professionally as they explore issues and opportunities in Warren and Washington counties.
This community leadership program is designed for individuals who have demonstrated leadership traits in their organizations and have a strong desire to be better informed and involved in their communities. These "rising stars" will leave the program with a better understanding of the growing region and be motivated to make a difference in their organization and greater business community.
The program is open to employees of ARCC member businesses. Applications are due to the ARCC by July 31. Applications will be reviewed by an advisory committee made up of Leadership Adirondack program alumni.
Artist reception planned in LG
LAKE GEORGE — An artist reception will be held from 6 to 7 p.m. Thursday for the American Cancer Society Hope Club of the Capital Region, which will be on display during the month of July at The Caldwell-Lake George Library, 336 Canada St. This event is free and open to the public.
American Cancer Society Hope Club, located in Latham, provides support, education and wellness programs for anyone whose lives have been touched by cancer — including programs for patients, families, kids and teens. The red, white and blue-themed art on display during the July exhibit will be available for purchase at special art show rates. Proceeds will be used to purchase art supplies for continuing Hope Club art classes.
For information about Paint-It-Forward or the many other programs and services provided by Hope Club for cancer survivors and their families, call 518-220-6960 or visit www.cancer.org/hopeclub.
Free lunches for youths available
GLENS FALLS — The Warren-Hamilton Counties Community Action Agency, in conjunction with the Glens Falls Recreation Department, Southern Adirondack Educational Center and Warren County Employment and Training, will once again be offering free lunches to Glens Falls area children.
Lunches will be served at 11:45 a.m. Monday through Friday at the East Field Recreation Site until Aug. 16. Lunches usually consist of a sandwich, 8-ounce milk, a piece of fruit and a vegetable. Hot lunches, such as hot dogs will also be served. All children, 18 years old or younger, are welcome for lunch.
All children at the site will be served the same lunch at no charge, regardless of race, color, sex, age, disability, political beliefs, marital status, familial or parental status, sexual orientation or national origin.
For more information on the lunch program, call Community Action at 518-793-0636.
Fort Edward prom thanks its donors
The Fort Edward Class of 2020 along with the after-prom committee would like to thank the following businesses, organizations, and people for all the support and donations that helped make the prom and after-prom party a success: Class of 2020 parents; Fort Edward Animal Hospital; Steven Alexander DDS MSD PC; Fort Edward Idle Hour Club; Hillbilly Fun Park; MB Kilmer Funeral Home; Glens Falls National; Pirate's Cove Adventure Golf; Glens Falls Tae Kwon Do; NYSCOPBA; Lake George Steamboat Co.; Parker Machine Co. Inc.; Miller Mechanical Services Inc.; American Legion Post No. 1133; The Fun Spot; The Learning Express Family Daycare; Fort Edward Police; Sky Zone; Clean Earth of Fort Edward; Monahan Metals Inc.; Phoebe and Jim Gannon; Nelson Chase; and Fort Edward custodial staff.
Christ Church to host Bible camp
GLENS FALLS — Christ Church United Methodist invites children to Roar Vacation Bible Camp: Life is wild, God is good from 8:45 a.m. to noon Aug. 19-23 at 54 Bay St.
Kids will participate in memorable Bible-learning activities, sing catchy songs, play teamwork-building games, make and devour yummy treats, experience one-of-a-kind wild Bible adventures, and collect Bible Memory Buddies. Kids will learn to look for evidence of God all around them through something called "God Sightings." Each day concludes with the Safari Celebration that gets everyone involved in living what they've learned. Family members and friends are encouraged to join in daily for this special time at 11:30 a.m.
Outdoor summer fun program set
HARTFORD — The Hartford Central School District library will host an outdoor summer fun program from 9 to 11 a.m. and from 5 to 7 p.m. Wednesdays through August. The program is free to Hartford residents, and families are encouraged to attend. The theme on Wednesday is "hiking."
Pottersville church to host fish fry
POTTERSVILLE — The Pottersville United Methodist Church will serve Moby Dick's Fish Fry from 11 a.m. to 3 p.m. Saturday at 7099 State Route 9. There will also be a bake sale and flea market.
Annual tasting to be held Saturday
SCHUYLERVILLE — The Schuylerville Lions Club is sponsoring the 13th annual Tasting on the Hudson from 4 to 7 p.m. Saturday at The Schuyler Yacht Basin. Tickets are $30; must be 21 and older to enter.
Local restaurants, breweries, wineries and hard cider vendors will provide a tasting of their wares.
This is a nonprofit organization. All proceeds support Albany Eye Bank, local families in need of eye glasses and hearing aids, plus many community endeavors.
Group to look at slave burials
SCHUYLERVILLE — The Heritage Hunters of Saratoga County will meet at 1 p.m. Saturday at the Town of Saratoga Town Hall, corner of routes 4 and 29.
Filmmaker Barbara Reina will tell the story of hundreds of slave burials from the early 1800s that were discovered in a weed-infested cemetery. View the documentary, "Brought to Light: Unearthing the History of an African-American Cemetery in Kinderhook, N.Y.," which includes coverage of an archaeological dig, a ground penetrating radar survey, a re-dedication ceremony and an oral history dramatization about the Underground Railroad that existed in the area. Public is welcome.
For information, call Ginny at 518-885-9309.
Speaker to explore Greatest Generation
LAKE LUZERNE — The Hadley-Lake Luzerne Historical Society will present "We Were There — Stories from the Adirondacks' Greatest Generation" at 7 p.m. Thursday at the Hadley-Luzerne Public Library, 19 Main St.
Dr. Daniel Way, a retired physician, author and photographer will be the guest speaker with stories of Adirondackers who served at the Battle of Iwo Jima and the war front. During the doctor's year of practicing locally, he encountered countless WWII vets who witnessed close-up and personal the battles of war, the destruction, and the many stories that must be told and remembered.
Funding for the speaker series is made in part by Warren County, the towns of Lake Luzerne and Hadley, and donations from members, residents and visitors.
'Christmas in July' fair set Saturday
TICONDEROGA — "Christmas in July and So Much More" is coming to The Ticonderoga First United Methodist Church from 9 a.m. to 2 p.m. Saturday at 1045 Wicker St. rain or shine. The fair will be held inside Fellowship Hall and around the outside of the church. The Thrift Shop will also be open.
Church members have been working on seasonal decorations and crafts. There will be special edibles at the bake sale table to take home and a snack bar for lunch including hot dogs, nachos and homemade ice cream sandwiches.
For more information about the fair and the church, call the church office at 518-585-7995.
Student breakfast program underway
LAKE LUZERNE — The First United Methodist Church and St. Mary's Episcopal Church of Lake Luzerne will once again be hosting breakfast at the Stewart M. Townsend Elementary School for the students of the Hadley Luzerne Central School from 8:15 to 9:15 a.m. four mornings a week for four weeks. The program started July 8.
The children of the HL Playground Program and the Summer Success and Summer school programs will be able to receive a hot breakfast. This program is possible thanks to donations from Stewart's Holiday Match, The HL Lions, St. Mary's ECW, Tops and Walmart.
Sensory friendly time set Sunday
GLENS FALLS — The World Awareness Children's Museum will offer a Sensory Friendly Morning from 10 a.m. to noon Sunday at 89 Warren St. Sensory Friendly Mornings are a time for families with children who have sensory sensitivities or are on the Autism Spectrum to visit the museum for an experience catered to their needs. The museum will dim the lights, turn off exhibit sounds, and provide sensory equipment as necessary (headphones, weighted vests and fidget toys). There will be a certified Special Education teacher on site to provide specialized programming and act as a resource for parents and caretakers.
This program is free for families with children who have sensory sensitivities or are on the Autism Spectrum.
Free meeting for farm women set
GREENWICH — Cornell Cooperative Extension and Ag Stewardship Association are hosting a free meeting for farm women called "Reducing Your Liability Risk When Visitors Come to Your Farm" with speaker Steve Hadcock, team coordinator for CCE Capital Area Ag & Hort Program, from 6 to 8:30 p.m. at the Washington County Fair office meeting room, 394 Old Schuylerville Road.
As farm entrepreneurs, one of the key actions many businesses take is to invite people onto their farm property. Unfortunately, that comes with a host of issues and liabilities which can enhance or endanger the business. Understanding where the risks are and how to mitigate them can save time, stress and money.
Inspired by Annie's Project, a working group of farm women selected this topic as a key skill which they wanted to learn. The meeting is free and no reservations are required. There is limited space. For helpful handouts and space, call 518-380-1497 or 1-800-548-0881 or email seh11@cornell.edu.
'Taste' event set in Diamond Point
DIAMOND POINT — The 12th annual "A Taste of Diamond Point," a fun-filled afternoon presented by the friends, volunteers and congregation of the Diamond Point Community Church, will be from noon to 2 p.m. Saturday under tents set up on the grounds of the church, 3699 Lake Shore Drive.
Ten Diamond Point area establishments will be offering samples of their cuisine. Church members will be selling tickets for $1 each which "tasters" will use to purchase food samples.
The businesses will be competing for a trophy for collecting the most tickets. Tasters can "vote" for their favorite establishments by purchasing samples from their booth. Soft drinks and cold water will be sold by church members for $1 as well. This will be a rain or shine outdoor event and is open to the public.
The fund-raising affair for the 140-year-old house of worship will also include musical entertainment. Tickets will also be for sale for $1 each for raffle drawings every 10 minutes during the event.
County band to perform Thursday
SOUTH GLENS FALLS — The Moreau and South Glens Falls Historical Society will hold a free community concert featuring the Washington County Band at 7 p.m. Thursday on the lawn of Parks-Bentley Place, the home of the Historical Society, at 53 Ferry Blvd. The concert is for the whole family as the band director will be talking to the audience about the instruments and the music during the concert.
Shakespeare Co. to perform locally
HUDSON FALLS — The Hudson River Shakespeare Company will present its summer production of "Much Ado About Nothing" at 8 p.m. Friday and Saturday and at 2 p.m. Saturday and Sunday at the Strand Theater, Main Street.
Quakers to host Kenyan speaker
The Adirondack Friends Meeting will host guest speaker Judith Nandikove, a Quaker visiting from Kenya, at 7 p.m. Saturday at 27 Saratoga Ave. Nandikove will share about her experiences on being a Quaker woman in Kenya. A light buffet supper will be served. For questions, call 518-793-3755.
Hometown is compiled by Gretta Hochsprung. If you'd like to let her know about an upcoming event, email ghochsprung@poststar.com or call 518-742-3206.