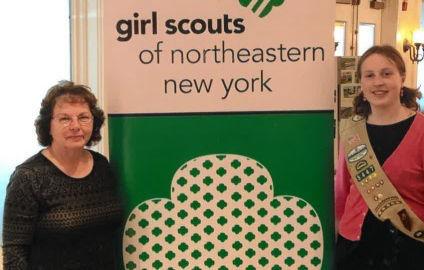 Girl Scout honored with Gold Award
Amanda Ennis from Girl Scout Troop No. 3447 in Greenwich received her Gold Award on May 19 at the Glen Sanders Mansion in Scotia. Fewer than 6% of all Girl Scouts receive this award. Amanda's project was Alzheimer Awareness. She created a documentary using interviews she conducted with people who had been personally impacted, including caretakers and those who had lost family members to Alzheimer's. She also created a presentation with neuroscientific research relating to modifiable risk factors, to empower people to take steps to reduce their risk of developing the disease and become involved in the fight against Alzheimer's.
Warrensburg summer concert series start
WARRENSBURG — The town of Warrensburg will kick off its summer concert series from 7 to 9 p.m. Wednesday with Tommy Burke and The Hand Picked Band at the bandstand in the center of town. Rain location will be the town recreation field pavilion on Library Avenue.
Community sing and ice cream social set
HEBRON — The Hebron United Presbyterian Church East will host a Fourth of July Community Sing and ice cream social at 6 p.m. Wednesday at 6559 state Route 22. Ice cream will be served at 6 p.m. Singing will begin at 7 p.m. "Battle Hymn of the Republic," "Over There," "America the Beautiful," and "Let There be Peace on Earth," will be among the many selections that will be sung. The evening will be led by Debi Craig, a retired music teacher in Saratoga Springs City School District and resident of Hebron. Susan Snyder, organist of the Hebron Presbyterian Church will be accompanying the singing.
The Community Handbell Choir from the Greenwich/Easton, Cambridge and Schuylerville areas will be guest entertainers, also under the direction of Debi Craig.
Members of the armed services past and present are also invited to attend. This event is open to the public at no charge. There will be the opportunity to make a free-will donation. Money collected will be donated to Operation Adopt-A-Soldier in Wilton, which sends care packages to service men and women. If there is someone who you think should be receiving care packages or if you would like to volunteer to help out with this project, contact Operation Adopt-a-Soldier at 518-260-9922
For more information on the Fourth of July Sing, call Debi Craig at 518-854-3102 or the Hebron United Presbyterian Church at 518-854-3729.
Queensbury church to host bible school
QUEENSBURY — The Queensbury United Methodist Church's Vacation Bible School invites area children from 4 years old through sixth grade to travel "To Mars and Beyond!" Enjoy activities, crafts and dinner from 5:30 to 7:30 p.m. July 8-12 at 460 Aviation Road. Contact Rhonda Becker to register your child at rbecker1105@gmail.com or contact the church office at 518-793-9728 or qumc@icloud.com.
Cornell Co-op gathers produce for schools
Cornell Cooperative Extension of Warren County is seeking local produce vendors for the 2019-2020 school year. Warren and Washington county schools would like to purchase apples, arugula, asparagus, basil, beans, blueberries, broccoli, Brussels sprouts, cantaloupe, carrots, cauliflower, celery, corn, cucumbers, eggplant, lettuce, mushrooms, onions, parsnip, peas, peaches, pears, peppers, potatoes, radishes, raspberries, strawberries, winter squash, summer squash, tomatoes and watermelon. Call or email Annie Mills at 518-623-3291 or akm233@cornell.edu for inquiries. Participating schools include Bolton, Fort Ann, Glens Falls, Glens Falls Common, Hadley-Luzerne, Johnsburg, Lake George, North Warren, Queensbury, Warrensburg and Whitehall.
Fort William Henry to show Hamilton exhibit
LAKE GEORGE — A national traveling panel exhibition about Alexander Hamilton is on display at Fort William Henry. "Alexander Hamilton: The Man Who Made Modern America," tells the story of Hamilton, the statesman whose face is on the $10 bill, but whose life is a mystery to most Americans. Hamilton (1757-1804), became the first U.S. Secretary of the Treasury at age 32, and was a Revolutionary War soldier, financial and legal genius, opponent of slavery, and author of most of the Federalist Papers, which were critical in 1787-1788 in gaining popular support to ratify the Constitution.
You have free articles remaining.
Tuesday concerts set in South Glens Falls
SOUTH GLENS FALLS — The SGF/Town of Moreau Chamber of Commerce will kick off its Village Summer Concert Series at 6:30 p.m. Tuesday with Bobby Dick & Susie Q at the gazebo on First Street by Coopers Cave Museum. Concerts run Tuesday nights until Aug. 20 (no concert on July 2). Attendees are invited to bring lawn chairs. Details are available on Facebook at South Glens Falls Chamber of Commerce.
Sembrich previews Seagle's 2019 season
BOLTON LANDING — The Sembrich will present a recital previewing The Seagle Music Colony's 2019 season at 1:30 p.m. Wednesday at 4800 Lake Shore Drive. The performance will include selections from Andrew Lloyd Webber's "Evita," Mozart's "Le Nozze di Figaro," "The Manchurian Candidate" by Kevin Puts and Mark Campbell, and the ever-popular "Oklahoma!" by Rodgers and Hammerstein.
Seagle Music Colony in Schroon Lake is the oldest and one of the most distinguished summer vocal training programs in the U.S. celebrating its 104th season in 2019. Former Seagle artists now sing on stages around the world including the Metropolitan Opera and on Broadway.
Tickets are $35 and may be purchased in advance. Later in the summer, on July 17, The Sembrich will present Seagle's children's opera Monkey and Francine in the City of Tigers.
Folklife Gallery hosts two new exhibitions
GLENS FALLS — The Folklife Center at Crandall Public Library will host a gallery reception from 6 to 8 p.m. Wednesday for two new exhibitions on display in its downstairs Folklife Gallery in downtown Glens Falls. "Old Homesteads & Good Residences: 19th Century Photographs of the Northern Survey Company of Albany, N.Y." is an original exhibition on display from May 15 to Nov. 15. The 2018 Audubon Photography Awards Show will be on display from Wednesday until Aug. 31.
Greenwich library to offer film on slavery
GREENWICH — The film, "Traces of the Trade: a Story from the Deep North," which tells the story of the DeWolf family and its highly profitable participation in the Triangle Trade, is now available for loan from the Greenwich Free Library. The Greenwich-Easton Historical Association has made DVD a gift to the library. The largest slave-trading company in the history of the United States was located in New England, in the country's smallest state, Rhode Island.
Vacation bible school to feature superheroes
HEBRON — Children in grades kindergarten through fifth grade are invited to attend Vacation Bible School from 5:30 to 7:30 p.m. June 30 through July 3 at Hebron Presbyterian Church, 3153 county Route 30 in West Hebron. There will be games, crafts, and music and song, all with a superhero theme. Dinner will be served each evening. Call 518-854-9883 with any questions or for more information.
Summer reading to focus on Apollo 11
CORINTH — The Corinth Free Library is kicking off its Summer Reading Program with a "Universe of Stories" theme inspired by the 50th anniversary of the Apollo 11 Moon landing. All of the programs will be space-inspired. Sign-ups start Thursday, and they will start things off with a very special preview of the new American Experience Documentary "Chasing the Moon" at 2 p.m. July 1 and at 7 p.m. July 2 at 89 Main St.