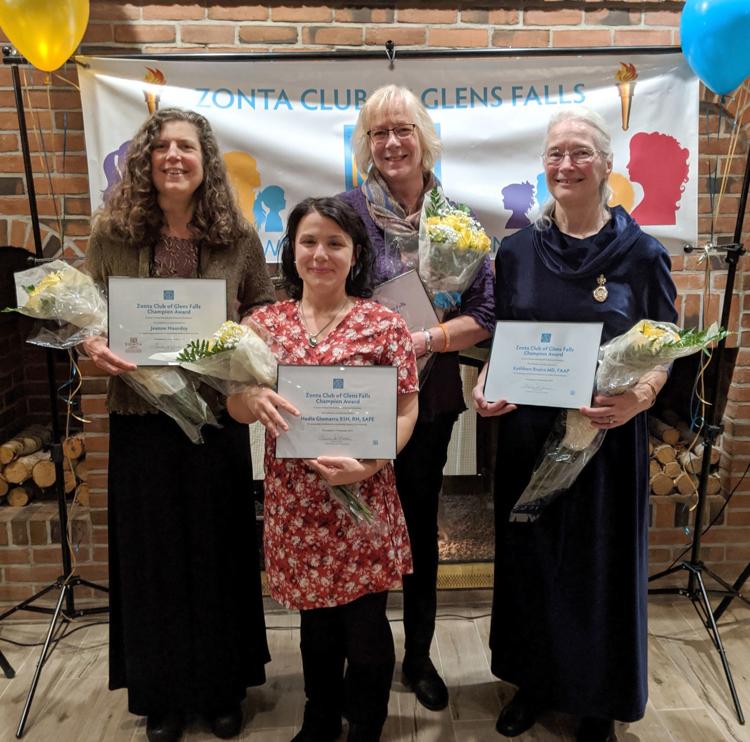 Zonta Club honors four at celebrationQUEENSBURY — The Zonta Club of Glens Falls honored four women with the Champion Award at its Centennial Celebration recently at the Hiland Country Club.
Dr. Kathleen Braico, a retired pediatrician, has actively promoted safe health care locally and internationally. Among numerous projects, she has worked to train medical personnel in developing countries to reduce mortality rates of mothers and babies during childbirth.
Nadia Guimarra, the SAFE Coordinator at Glens Falls Hospital. This team of dedicated medical professionals, the Sexual Assault Forensic Team, is available 24/7 to support victims of assault through the process of evidence collection and follow-up, treating the whole person. SANE has coordinated with Zonta and the Domestic Violence Project of Warren and Washington Counties for three years to offer a community educational event. The Zonta Club provides direct support to the team.
Jeanne Noordsy has worked tirelessly to bring awareness of violence against women as head of the regional Domestic Violence Coordination Council and as part of the leadership team of the Domestic Violence program of Catholic Charities of Glens Falls.
Beverly Saunders, a local business woman and artist, is a tireless supporter of efforts to end domestic violence against women through her art work and advocacy. Beverly has worked with Zonta in its efforts to do the same.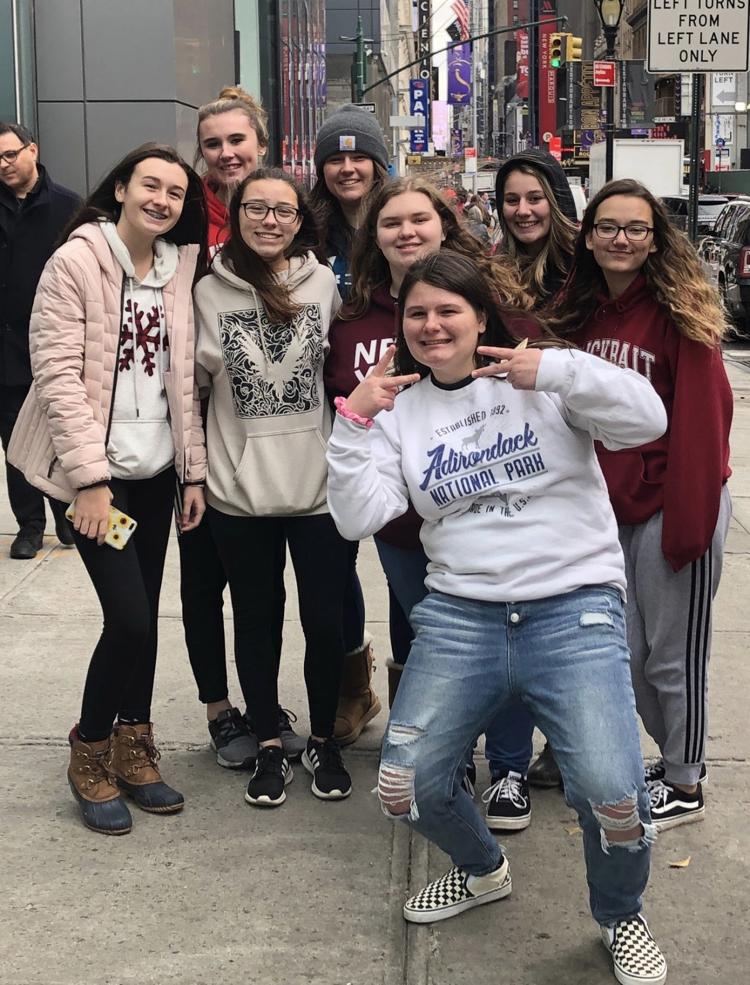 Granville students take in 'Hamilton'
GRANVILLE — Students from Granville Central School recently took a field trip to New York City to see "Hamilton," part of the Hamilton Education program. The HEP is in conjunction with the Gilder-Lehrman Institute, which provides access to primary documents, and the Richard Rodgers Theater.
The school won 70 student tickets provided at only the $10 cost for processing.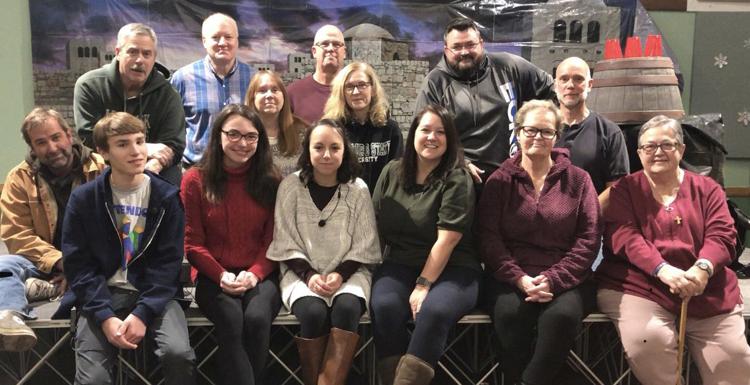 Church to put spin on nativity story
QUEENSBURY — The Spirited Players: The Drama Ministry at Queensbury United Methodist Church presents "Psyched in Bethlehem" at 7 p.m. Friday and noon Dec. 8 at 460 Aviation Road. The traditional Nativity story is told with a humorous twist, including a couple of con women. A freewill offering will be taken to fund a new sound system at QUMC. Call 518-793-9728 or visit umcq.org for details.
Adirondack Fiddlers to perform concert
SCHUYLERVILLE — The Adirondack Fiddlers will perform from 1 to 4:30 p.m. Dec. 8, at the American Legion Hall, Clancy Street. All fiddlers and musicians young and old and the public are welcome. There will be round and square dancing and food available. For details, call 518-274-6817.
Quakers to host Coffee and Canvas event
SOUTH GLENS FALLS — Adirondack Friends Meeting will host a Coffee and Canvas at 6 p.m. Saturday at 27 Saratoga Ave. The all-inclusive event will have instructions, materials and refreshments for $25 for adults and $15 for children. RSVP to Shannon at 518-638-6786.
Kids learn about life on a submarine
Members of the Albany-Saratoga Submarine Veterans incorporated brought a presentation of "life on a submarine" to a group of children affected with spina bifida at the Double H. Ranch in Lake Luzerne recently. Included with the presentation was an open sided model of a submarine. The members of USSVI showed where the crew worked, where they ate and where they slept. Children were presented with an official certificate and a ball cap, making them honorary submariners.
Kaps(SS) 4 Kids(SS) is a program that is part of the USSVI Charitable Foundation, which is an arm of the USSVI. The goal of the program is to bring comfort and joy to a child with challenging medical conditions and let them know they are not alone.
Historical society to host Holiday Dinner
WARRENSBURG — The Warrensburgh Historical Society will host its annual Holiday Dinner at 6 p.m. Dec. 11 at the Grist Mill Restaurant. Social hour will begin at 5 p.m. The price is $35.50 with tax and tip included. Call the restaurant at 518-623-8005 for a reservation by Dec. 8.
Churches to hold noon prayer service
SALEM — Salem Area Churches invite all to attend a brief ecumenical prayer service at noon Friday at the Holy Cross Catholic Church, 247 S. Main St. The simple service concludes each month with "The Coventry Litany of Reconciliation" in hope and faith that worldwide peace and reconciliation will one day come to be. The Litany comes out of the poignant story of forgiveness and reconciliation between England and Germany. For more information, call the Rev. Laura Mitchell at 518-854-3729.
Queensbury to fete holidays on Friday
QUEENSBURY — The Town of Queensbury Holiday Party will be from 6 to 8 p.m. Friday at the town hall.
Santa and Mrs. Claus arrive at 6 p.m. with the tree lighting immediately following. Balloon animal artist Mr. Twisty, horse and wagon rides, games, prizes, snacks to follow in the Activity Center. There will be raffles to collect for the adopt-a-family. Elsa and Olaf will be there.
Church to host bazaar, luncheon
WARRENSBURG — A Bazaar and Quiche Luncheon will be held at Church of The Holy Cross from 9 a.m. to 3 p.m. Saturday at 3764 Main St., part of the Christmas in Warrensburg festivities. The traditional quiche luncheon, desserts and warm beverages will be available from 11 a.m. to 2:30 p.m.
A Cookie Walk, Candy Walk and other homemade baked goods and holiday foods will also be offered. Traditional fresh green wreaths and kissing balls will be featured. Vendors and parish members will present a variety of crafts and gifts to meet your holiday shopping needs and gently used treasures will be found in Grandmother's Attic. Free children's activities include making candy with the Christmas Elf and choosing a toy from Santa's Sack. The ticket drawing for the annual raffle will also be held.
Church to host Christmas event
GREENWICH — The Greenwich Bottskill Baptist Church will host a Hometown Christmas Event from 7 to 8 p.m. Friday at 26 Church St. Christmas carols will be sung, and the Ecumenical Choir will perform, followed by hot chocolate and cookies.
A craft fair will take place from 9 a.m. to 3 p.m. Saturday featuring fine crafts and gifts by local crafters. Available for lunch will be homemade soups and sandwiches, cookies and hot and cold beverages. Santa will be there from 1 to 3 p.m. Smith's orchard pies will be available.
Workshop to make furry-friendly treats
WARRENSBURG — Cornell Cooperative Extension is offering a Treats for Your Furry Friend workshop from 1 to 3 p.m. Dec. 8 at Cornell Cooperative Extension of Warren County, 377 Schroon River Road.
The family-friendly workshop will allow participants to make and bring home several no-bake and baked healthy dog treats. Additional treat recipes will be provided, that are not only safe for doggie consumption, but can also double as people snacks.
The class has a fee of $15 for the class and all materials, and preregistration is required. For more information, or to sign up, contact Marybeth at Cornell Cooperative Extension of Warren County at: mem467@cornell.edu or 518-623-3291.
VFW Auxiliary to hold senior dinner
GLENS FALLS — The VFW Post No. 2475 Auxiliary will hold its annual Senior Dinner from 1 to 3 p.m. Saturday at 30 Cooper St. The dinner is free to the local senior community. Menu includes a ham dinner with all the fixings, dessert, coffee and tea. Take-outs will not be available. Consider donating a non-perishable food item, which will be distributed to local food pantries, or an unwrapped toy to be donated to the Marine Corps League's Toys for Boys & Girls program.
Christmas Bazaar planned in Hadley
HADLEY — The VFW Post No. 5836 Auxiliary will hold its annual Christmas Bazaar from 8:30 a.m. to 3 p.m. Saturday featuring baked items, soup, hotdogs and hot meatball sandwiches, at Rockwell Street. Eat in or take out. There will be raffle baskets (drawing to be held on Dec. 14). Call J.L. Tooker with questions at 518-696-3352.
Lecture to focus on military roads
You have free articles remaining.
CHESTER — The Town of Chester Library will present the Friends of the Library Lecture Series "Military Roads in the Adirondacks," with presenter Dan Smith at 7 p.m. Wednesday. The event is free. For more information, call 518-494-5384.
Church to host shopping night
LAKE GEORGE — St. James Episcopal Church will host a Holiday Shopping Bag for Parents from 1 to 5 p.m. Saturday at 172 Ottawa St. There will be free fun activities and crafts for children 3 and older. Register by Tuesday. Call the church at 518-668-2001.
Veterans group to hold meeting, party
QUEENSBURY — The Chapter 60, Korean War Veteran Association will hold its December meeting and Christmas party at noon Thursday at the Log Jam Restaurant, Route 9. Patti and Gene Slavin will host the event. Door prizes will be awarded. For a reservation or more information, contact the Slavins at 518-793-2358 by Tuesday. Ordering will be off the menu. All veterans who served anywhere during the Korean War, in Korea at any time, spouses, widows, family and friends are all invited to attend. For an application to join the organization, contact Comm. Robert Garland at 518-280-0075. Annual dues are $10 for veterans and $5 for all others.
Choral Society to hold two concerts
CAMBRIDGE — The Community Choral Society will present its annual Christmas concerts at 3 p.m. Saturday and Sunday, Dec. 8, at Jacob's Fellowship Center, Main Street.
The concerts will feature a wide variety of Christmas favorites including traditional Christmas carols, as well as some classical favorites such as "And the Glory of the Lord," by George Frederic Handel. The concert will also feature contemporary Christmas songs such as "Christmastime" and "Sing Noel, Sing Hallelujah," by Steven Curtis Chapman.
A reception with free Christmas desserts will follow each concert performance on Saturday and Sunday. All are welcome. In addition, the chorus will hold its annual bake sale on Saturday and Sunday. All proceeds from the bake sale will go directly toward the 2020 concert season.
While there is no admission cost for the concert performances, a goodwill offering will be taken at each performance.
Church to hold Christmas Bazaar
LAKE LUZERNE — St. Mary's Episcopal Church will hold its annual Christmas Bazaar from 9 a.m. to 2 p.m. Saturday at 220 Lake Ave. Featured will be the Fish Bowl with more than 100 prizes, a cookie walk, homemade crafts, a bake table, jewelry and attic finds. Homemade soup and sandwiches will be served.
Corinth library to hold painting event
CORINTH — The Corinth Free Library will host a program for children called "Do You Want to Paint a Snowman," at 10 a.m. Saturday at 89 Main St. Attendees will hear two snowman stories and make their own snowman on a painted rock.
There will also be a one-day-only book sale from 10 a.m. to 4 p.m. Saturday. Items for sale include children's books, puzzles, paperback books and other select items.
Festival set at West Fort Ann church
FORT ANN — A Christmas Festival will be held at the West Fort Ann United Methodist Church from 9 a.m. to 4 p.m. Friday and Saturday at Copeland Pond Road. Activities include a cookie walk, vendors/crafters, bake sale and basket raffles. Lunch will be served from 11 a.m. to 2 p.m. with a variety of soups and sandwiches. The cost for lunch is $8. For questions, call 518-793-0969.
Lake George library to hold story time
LAKE GEORGE — The Caldwell-Lake George Library will host its annual Holiday Pajama Storytime at 6 p.m. Wednesday at 336 Canada St. Gather around the fireplace for some holiday stories and a make-and-take art project inspired by the season. Enjoy a snack and refreshments while awaiting a surprise visitor. Wear pajamas and bring a stuffed friend to cuddle. The program is recommended for children ages 3-10. This event is free but space is limited. Reservations are recommended. Register before Tuesday by contacting the library at 518-668-2528.
Catholic Daughters plan next meeting
SARATOGA SPRINGS — The Catholic Daughters of the Americas, Court McClaughlin No. 422, will hold the next monthly meeting at 6 p.m. Tuesday at the Knights of Columbus Hall, 50 Pine Road. Members gather at 6 p.m. for social time, and bring a dish to share, and the meeting will begin promptly at 6:30 p.m.
The December meeting will assist Shelters of Saratoga/Code Blue. Members will be bringing the following donation items: coffee, sugar, bottled water, hearty soups with pop-tops preferred, fruit juice, protein/granola bars, fruit cups, shelf stable milk, ready-made meals, instant oatmeal, ramen noodles, slim jim, tuna, crackers, cereal, Ziploc bags, plastic wrap, paper plates/cups, women's underwear (M-XL), insulated boots and gloves, umbrellas, socks, razors, hand wipes, cleaning products, sleeping bags, tents and small propane tanks.
New members are always welcome to attend. For questions or further information, contact Regent Ann Argentine at 518-306-6060.
Church to hold Advent service
GLENS FALLS — The First Presbyterian Church of Glens Falls will hold an Advent Service of Wholeness and Healing at 7 p.m. Tuesday at 8 W. Notre Dame St.
Candles will be set up to provide a special warmth and glow to create a beautiful, intimate and spiritual setting. Special piano and organ music will be played.
Village teams for living Advent project
CAMBRIDGE — A group of community volunteers, with help from the Cambridge Valley Chamber of Commerce, will create a "living Advent calendar" in the village and surrounding area this December. Windows in 24 homes, businesses, and churches will be decorated and illuminated each evening between Dec. 1 and Christmas Eve. There is no theme for the windows; participants are just encouraged to use their creativity.
A map of the window locations and the dates when they will be lit up is available at: fb.me/adventwindows12816. Locations with an asterisk will serve refreshments. Most windows will be illuminated at 5 p.m. unless otherwise noted. The windows will stay lit until Jan. 6.
Basket raffle to benefit youths
ARGYLE — The Argyle Youth Commission is holding its fourth annual Basket Raffle at 1 p.m. Saturday at the Argyle Central School. Doors open at 11 a.m.; drawings starts at 1 p.m. You must be present to win. Admission is one non-perishable food item to be donated to the Argyle School backpack program. Lunch, drinks and desserts will be offered for sale. For more information, call Renee at 518-222-1251.
Group to discuss Gen 'Differences'
Event to discuss 'Sunken Bateaux'
SARATOGA SPRINGS — Wilton maritime archaeologist Joseph W. Zarzynski will sign copies of his new book, "Ghost Fleet Awakened — Lake George's Sunken Bateaux of 1758," (SUNY Press, $24.95) at Northshire Bookstore from 6 to 8 p.m. Thursday at 434 Broadway. The book signing corresponds with the Saratoga Springs Victorian Streetwalk. Several other authors will also be signing their books at the bookstore during this event.
Holiday Vendor Fair set at high school
LAKE LUZERNE — The Hadley Luzerne Class of 2021 is hosting a Holiday Vendor Fair from 8 a.m. to 2 p.m. Saturday at the George Doherty Gymnasium at the Hadley Luzerne Jr/Sr High School. More than 45 vendors and concessions are available. There will be hot lunch items and hot and cold beverages.
Program to focus on Social Security
NORTH CREEK — The Johnsburg Public Library will be offering a free Social Security information program at 6 p.m. Thursday. The program is designed to help pre-retirees learn how to maximize their Social Security retirement income benefits.
The program is being presented as a community service by Retirement Solutions, LLC. Seating is limited and advance registration is required. To RSVP, call the library at 518-251-4343.
Wine event to benefit Double H
GLENS FALLS — Morgan & Co. Restaurant will host a wine dinner and auction fundraiser to benefit Double H Ranch.
The event will be held at XX p.m. Thursday and cost $50 per person for a three course meal.
Following dinner a wine auction will be held to benefit the ranch.
For more information call 518-409-8060.
Hometown is compiled by Gretta Hochsprung. If you'd like to let her know about an upcoming event, email ghochsprung@poststar.com or call 518-742-3206.