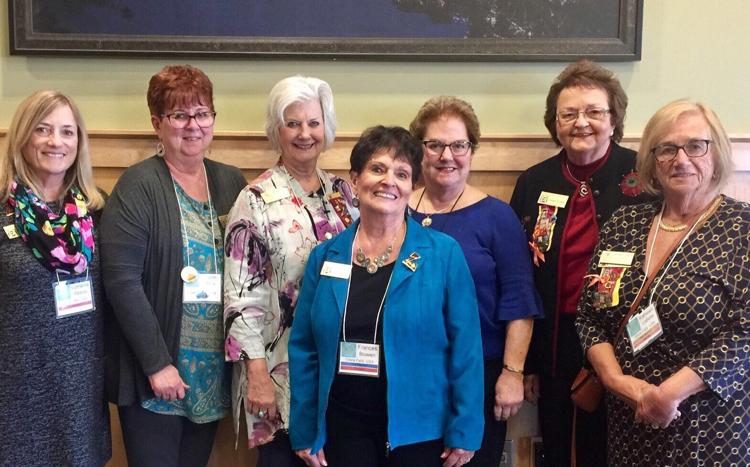 Zonta Club attends conference
LAKE PLACID — District 2 of Zonta International held its biennial conference from Oct. 18 to 20 in Lake Placid. Delegates, alternates and members of the Zonta Club of Glens Falls were in attendance. Presiding during the House of Delegates Sessions was International Governor Irene Orton, a member of the Glens Falls Club. There were 132 members from Canada, Northern and Western New York present.
Colleen Lemza, Associate Professor, Plattsburgh University was a Keynote Speaker. The topic was "Shine On," how young girls are taught to look past the glamour of the media and Hollywood and be proud of themselves.
Early childhood marriage was another topic brought before the members. New York is one of two states that does not require a girl to be 18 years of age to be married. Members of the Glens Falls Club will be writing letters to state representatives and the governor to change the law in the next session.
At the awards luncheon, Frances Bowen, president, accepted the Spirit of Zonta International Award on behalf of the Club membership. The award was given in appreciation of the club's consistency in giving one-third of fundraising profits to international projects, of which eradicating early childhood marriage is one.
Zonta's Mission is to empower women in our community and globally.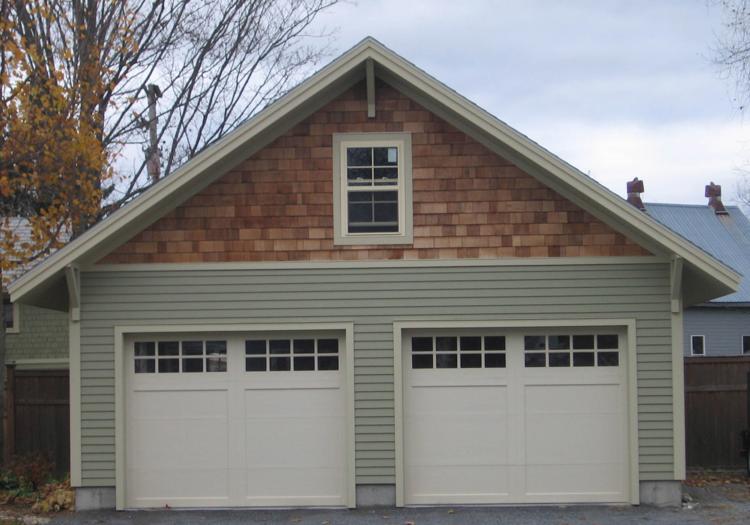 Family awarded for preservation
SALEM — The Salem Historic Preservation Commission awarded a certificate of recognition at a recent meeting to the Donald and Carol McPhee family for efforts in maintaining the architectural integrity of their home, located within the Salem Historic District on West Broadway.
The McPhees constructed a new arts and crafts-style garage next to their arts and crafts-style home, also known as the bungalow style — a style sold by Sears Roebuck in kit form in the early 1900s. The mission of the Historic Preservation Commission is to encourage owners within the historic district to maintain the architectural style of their properties through Historic Preservation Commission approved preservation, restoration, renovation, or new construction.
The district containing 80 structures and the separate Revolutionary War Cemetery site on Archibald Street runs from the Salem Community Courthouse Center on East Broadway to the railroad track crossing on West Broadway. North and south boundaries are from the Delaware and Hudson Depot on North Main Street to the former C. A. Baltz, Inc. garment building on South Main Street.
Examples of 19th Century commercial buildings are located on Main Street. In the rest of the district, houses and other buildings dating from as far back as 1796 continue to function as schools, community centers, churches, homes and apartments.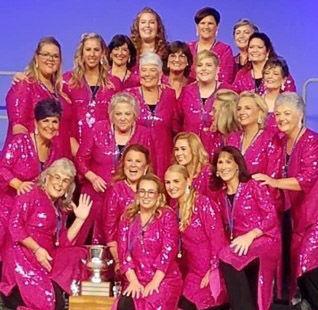 Fedele part of award-winning chorusMillennium Magic Chorus, out of central Massachusetts, won the gold medal at the 2019 Sweet Adelines International, Harmony Classic world competition, held in New Orleans on Sept. 17. The chorus includes baritone Lisa Fedele of Queensbury.
Sweet Adelines is a worldwide organization of women singers dedicated to music education and spreading the joy of barbershop harmony. With 75 years of history and over 20,000 members, the yearly international competition draws singers from around the world.
Millennium Magic Chorus is home to 21 active members who travel to Sturbridge, Massachusetts, from all over New England for weekly rehearsals. Their mutual dedication to their art form and the joy they find in making music together has made them more of a family than a chorus.
To learn more about the chorus, visit Millennium Magic on Facebook, contact Anne Wilson at Bariannie@aol.com or call 413-320-3355.
Longtime hospital nurse to be feted
HUDSON FALLS — There will be a party to celebrate the retirement of Elaine Williams, a nurse practitioner who has worked for Glens Falls Hospital for more than 50 years, from noon to 3 p.m. Nov. 17 at the 1925 Barn, 89 county Route 41. Stop by and wish Williams happiness and say goodbye as she embarks on her retirement.
Ti church to host holiday bazaar
TICONDEROGA — The Episcopal Church of the Cross will hold a holiday bazaar from 9 a.m. to 2 p.m. Saturday in the parish hall on Champlain Avenue. Take a chance on a turkey dinner basket or the lottery tree. Shop at the craft, jewelry, white elephant, and book and children's' toys tables. There will be a cookie walk and bake sale. Lunch will feature homemade soups, chili, Michigan hot dogs and desserts served until 1 p.m.
American Legion Auxiliary to meet
HUDSON FALLS — The American legion Auxiliary Unit, Post No. 574, will hold its November meeting at 6 p.m. Wednesday at the post on Pearl Street. The meeting will not be held on Tuesday, due to elections.
Church to host ice cream social
ROCK CITY FALLS —Simpson United Methodist Church will host an ice cream social and bake sale from 4 to 7 p.m. Tuesday, Election Day, at 1089 Rock City Road. Admission is $2 for children 12 and younger; $4 for adults.
Election night pork dinner to be served
ARGYLE — The Argyle United Methodist Church will host its annual Election Night pork dinner from 5 to 6:30 p.m. Tuesday at 12 Sheridan St. The menu will include roast pork loin, mashed potatoes and gravy, dressing, squash, coleslaw, apple sauce, homemade pie and beverage. The cost is $12 for adults; $5 for children 5-12; and free for kids 4 and under. No reservations are needed. Take-outs will be available.
Museum visits SUNY ADK
QUEENSBURY — SUNY Adirondack will mark Black Solidarity Day on Monday with a public viewing of the True Black History Museum and a lecture on the significance of the annual event.
The True Black History Museum will be open for public viewing from 12:45 to 5:30 p.m. in the Northwest Bay Conference Center on the Queensbury campus. The traveling museum features more than 150 artifacts and original documents from historic figures, including Martin Luther King Jr., Mary McLeod Bethune, Booker T. Washington, Rosa Parks, George Washington Carver, Angela Davis, President Barack Obama and many other noted African Americans.
Fred Saffold, curator of the museum, will present a lecture at 12:45 p.m. on the origins of Black Solidarity Day and its current relevance.
Panamanian-born activist, historian and playwright Carlos E. Russell was inspired by the fictional play "Day of Absence" by Douglas Turner Ward to create Black Solidarity Day in 1969. The event is observed annually before an Election Day in November.
The Black Solidarity Day programming, which is free and open to the public, is sponsored by the SUNY Adirondack Senate, College Activity Board, Faculty-Student Association and the Residence Hall Association.
Men's retreat set at Christ the King
EASTON — Christ the King Center invite men to attend "A Retreat for Men: Finding Truth in a World of Lies, Political Correctness and Fake News," from 3 p.m. Nov. 15 through 3 p.m. Nov. 16 at Christ the King Center, 575 Burton Road.
Stan Key, president of the Francis Asbury Society, will lead three sessions designed to help attendees refocus their decision making skills, as they seek to live a more abundant life. A former senior pastor at Loudonville Community Church, Key speaks frequently at conferences, retreats, camps and churches both in the U.S. and abroad.
The event fee, which includes dinner on Friday night and breakfast and lunch on Saturday, costs $99. For more information and to view various lodging options, visit CTKCenter.org or call 518-692-9550.
Election Day chicken and biscuits set
LAKE LUZERNE — The First United Methodist Church of Lake Luzerne will hold its annual Election Day Dinner from 4 to 6 p.m. Tuesday at the corner of Main and Church streets. The menu will be chicken and biscuits with vegetable, coleslaw, cranberry sauce, dessert, and beverage. The asking donation is $10 for adults; $5 for children 5-10; and younger than 5 eat free. Take-outs will be available by calling 518-696-7192 by Monday.
Library to host CDPHP talk
LAKE LUZERNE — Hadley-Luzerne Public Library will host a CDPHP 2020 product presentation at 10:30 a.m. Tuesday at 19 Main St. Jody Leavens, Medicare account manager, will be discussing CDPHP HMO and PPO 2020 plans, a little bit of Part D, formulates, and extra benefits like vision, hearing and dental.
Stewart's donates to Glens Falls YMCA
GLENS FALLS — The Family YMCA of the Glens Falls Area was recently awarded $6,199.20 from the Stewart's Shops Coffee for a Cause fundraiser. Spanning from Schroon Lake to Glens Falls, over the course of one week, 13 Stewart's Shops sold more than 30,000 cups of coffee and donated 20 cents from each cup to the Y's Annual Campaign.
The Y's Annual Campaign enables every member of the community to have access to diverse programs and activities that meet their needs. The Coffee for a Cause funds will help support free programs, memberships and childcare assistance for neighbors in need.
Church to bake pies for Thanksgiving
NORTH RIVER — The North River United Methodist Church members will be having a Thanksgiving Pie sale this holiday season. There will be three varieties to choose from: apple, pumpkin and cherry. Each pie costs $12. Call Roxie Freebern at 518-251-4129 to place your order by Nov. 15. Proceeds to benefit the North River United Methodist Church.
Bancroft Library hosting wreath sale
SALEM — The Bancroft Library is conducting its 26th annual Friends of Bancroft Library Wreath Sale to benefit the library. Orders are due by Nov. 16. There are two decorating options: wreath with burgundy or red ribbon for $26 or kissing ball with burgundy or red ribbon for $30.
Pick-up time will take place from 11 a.m. to 1:30 p.m. Dec. 1 in front of the Bancroft Library and Proudfit Hall. Contact Meg Adams at 518-791-0530 or Wendy Hunter at 518-728-1886 with questions.
Drama club to show 'Be More Chill'
LAKE GEORGE — The Lake George High School Drama Club, in collaboration with Director Mickey Luce, Music Director Catherine Reid, and Producer Amy Baker, will present "Be More Chill," a play based on the novel of the same name by Ned Vizzini, at 7 p.m. Friday and Saturday.
The play tells the story of an average high school student and the lengths to which he will go to achieve popularity. The cast consists of 40 students in grades 7-12. Audiences can expect high energy; singing and dancing; accompaniment by a professional band; and an upbeat, funny message for the modern experience.
Tickets are $10 for general admission. Call Lake George Jr.-Sr. High School at 518-668-5452 to reserve tickets.
Take a veteran to school on Friday
SALEM — Salem Central School District will host the eighth annual "Take A Veteran To School Day" at 9 a.m. Friday. Veterans will meet in the cafeteria starting at 8:30 a.m. for coffee and refreshments. At 9 a.m. they will proceed into the gym as a group.
Contact Maura Rapp at mrapp@salemcsd.org or call her at 518-854-7855 to let her know the name of the veteran attending.
Historical society to hold open house
QUEENSBURY — The Warren County Historical Society will hold its annual Open House from 11 a.m. to 2 p.m. Saturday at its headquarters and museum at 50 Gurney Lane. The society's new permanent exhibition, "Warren County 306: Celebrating Place and People," will be featured along with a display of Warren County postmarks and post office history, as well as a "Hands-On-History" station. The book and gift shop will be open for shopping, and refreshments will be provided. The event is free and open to the public. For more information, call 518-743-0734.
Hometown is compiled by Gretta Hochsprung. If you'd like to let her know about an upcoming event, email ghochsprung@poststar.com or call 518-742-3206.
Get local news delivered to your inbox!
Subscribe to our Daily Headlines newsletter.